Business Continuity Management
Business Continuity Management Training
This Business Continuity Management training course explains the basic principles and benefits of the Business Continuity Management process. Through real-world examples and scenarios, employees learn about their roles and responsibilities during a business disruption or incident.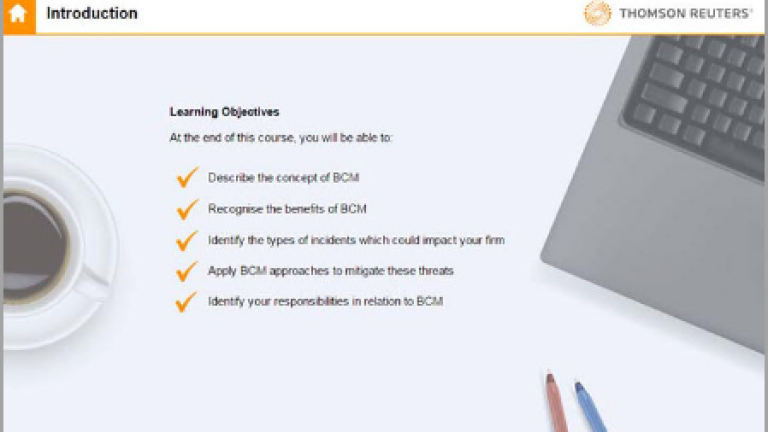 Geography Covered: Global | Duration: 15 minutes

In recent years a number of incidents — such as natural disasters, pandemic viruses, transportation issues, terrorism and information failures — have made the headlines. The impact of such events on businesses can be severe. If a firm has to close down or its employees are unable to get to work, it could face a tremendous loss of business.
Business Continuity Management (BCM) is a management process that identifies threats that can disrupt a business and finds ways to reduce or remove the risk and impact of those threats. BCM is not just up to management; all employees have a role in preparing for these potential incidents and minimizing the impact that they could have on their firm. BCM not only makes good business sense but it is also the law for financial services firms in certain jurisdictions, including the United Kingdom and the United States, hence the need for business continuity management training.
The topics covered in the course include:
What is BCM?
Benefits
Identifying threats
Roles and responsibilities
Like with all our courses, the Business Continuity Management training courses are written by experts and powered by world-leading regulatory intelligence, which tracks more than 900 regulators and exchanges globally to ensure the course content is always up to date.

All our training courses are driven by practical examples and interactive scenarios to ensure users truly understand and recognize the issues of most importance to your business and learn to instinctively act to support them.

We employ instructional design techniques optimized for risk and compliance training, enabling your business to educate in a way that reduces risk and helps you build a culture of integrity and compliance.

Educate your teams with Compliance Training from Thomson Reuters

Try a course and see how easy it can be to keep your employees up to speed