Business Ethics
The Business Ethics training course is intended to help employees develop an understanding of business ethics so that they can identify and deal appropriately with ethical issues that arise in the workplace.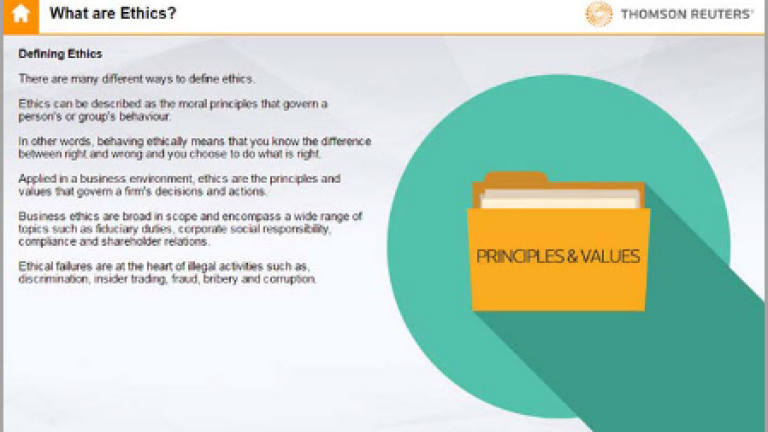 Geography Covered: Global | Duration: 30 minutes

A firm's success is directly influenced by the ethical behaviour of its employees. Abiding by good business ethics is the foundation for earning and keeping the trust and loyalty of customers. Nothing is more important to a firm's future than customer trust. Once it is lost, trust is very difficult to win back.
The negative consequences of unethical behaviour can impact many areas. Besides damaging a firm's reputation, brand and shareholder value, misconduct can undermine public confidence in the markets, hurt the firm's work culture and lead to more financial crime. Negative publicity from ethical misconduct can also hurt a firm's ability to attract and retain outstanding employees.
The Business Ethics training course covers the importance of 'doing the right thing' and behaving ethically in a business context, the principles behind ethical decision making and employees' responsibility to recognise and prevent unethical conduct.
Topics covered in this course include:
Introduction
Background
How Do We Define Ethical Behaviour?
Code of Conduct
Making the Right Decision
Putting Ethics into Practice
Social Media
Conclusion
Test Your Understanding

Like with all our courses, the Compliance Induction training course was written by experts and powered by world-leading regulatory intelligence, which tracks more than 900 regulators and exchanges globally to ensure the course content is always up to date.

All our training courses are driven by practical examples and interactive scenarios to ensure users truly understand and recognize the issues of most importance to your business and learn to instinctively act to support them.

We employ instructional design techniques optimized for risk and compliance training, enabling your business to educate in a way that reduces risk and helps you build a culture of integrity and compliance.

Educate your teams with Compliance Training from Thomson Reuters

Try a course and see how easy it can be to keep your employees up to speed