Code of Conduct
This Code of Conduct training course provides essential training on the most important topics found in almost every company's Code of Conduct, including conflicts of interest, information security, insider trading, bribery, alcohol and drug abuse, and many others. The purpose of our online Code of Conduct training course is to help you mitigate potential penalties through a formal employee training policy, and includes pop quizzes, news clippings and a final quiz highlighting real-world Code of Conduct compliance and ethical issues that employees should learn to recognize and deal with appropriately.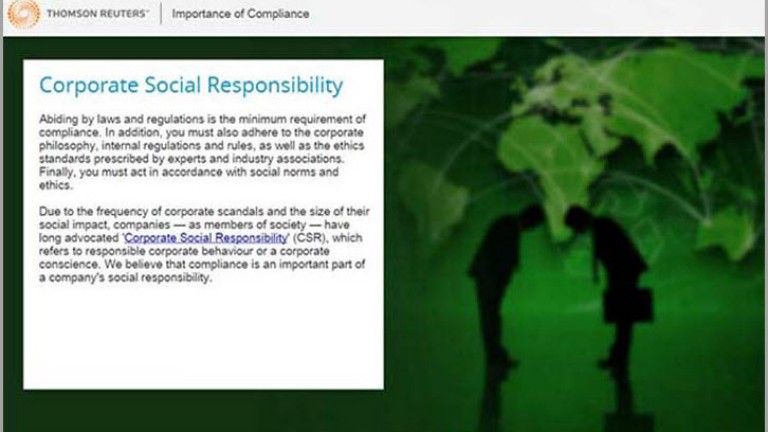 Geography Covered: Global | Duration: 40 minutes

An organization's code of conduct is often defined as an established set of legal and ethical guidelines and communicates expected standards of behaviour and procedures to all employees and other agents. 
It's widely agreed that every company needs to have a policy statement on ethics in business and legalities stipulated in code of conduct. In some countries, like the U.S., companies can mitigate potential penalties by adopting an effective Code of Conduct training program. For example, the U.S., has Organizational Sentencing Guidelines that require a company to "have taken steps to communicate effectively its standards and procedures to all employees and other agents, e.g., by requiring participation in Code of Conduct training courses or by disseminating publications that explain in a practical manner what is required." Thus, if a company hopes to qualify for more lenient treatment under the Guidelines in the event of employee or corporate misconduct, having, disseminating, and enforcing a Code of Conduct is essential.
The topics covered in the course include:
Fair dealing
Preventing discrimination and harassment
Conflicts of interest
Business courtesies
Information security
Business records
Accurate accounting
Protecting company assets
Health, safety and the environment
Alcohol and drug abuse
Workplace violence
Political activity
Insider trading
Anti-competitive conduct
Bribery and kickbacks
Sanctions and trade embargoes
Working with integrity
Reporting violations
Acknowledgement
Code of Conduct policy
Code of Conduct (US)
Code of Conduct (Middle East)
Code of Conduct (APAC)
Code of Conduct (English) [Gamified]
Code of Conduct (Arabic/English) [Gamified]
FX Code of Conduct
Global Code of Conduct
Code of Business Conduct (Global)

Like with all our courses, the Code of Conduct training courses are written by experts and powered by world-leading regulatory intelligence, which tracks more than 900 regulators and exchanges globally to ensure the course content is always up to date.

All our training courses are driven by practical examples and interactive scenarios to ensure users truly understand and recognize the issues of most importance to your business and learn to instinctively act to support them.

We employ instructional design techniques optimized for risk and compliance training, enabling your business to educate in a way that reduces risk and helps you build a culture of integrity and compliance.

Educate your teams with Compliance Training from Thomson Reuters

Try a course and see how easy it can be to keep your employees up to speed