Consumer Financial Protection
Consumer Financial Protection
The course describes the consumer financial protection landscape since establishment of the CFPB and provides an overview of the CFPB's role in preventing UDAAP.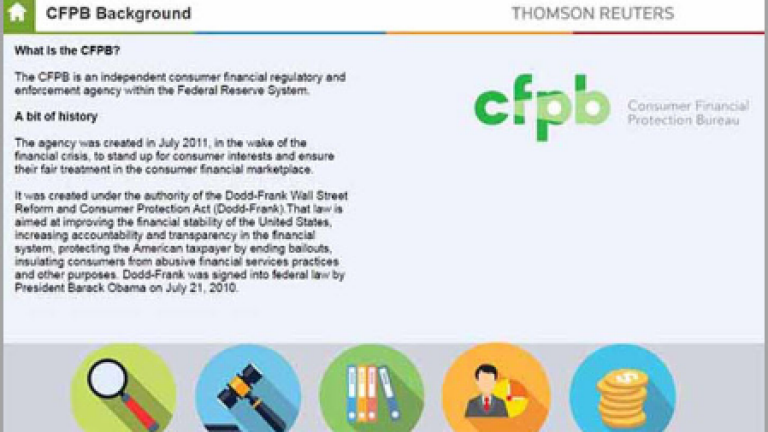 Geography Covered: USA | Duration: 30 minutes

Leading up to the 2008 financial crisis, seven different regulators had authority over the consumer financial services marketplace, resulting in inadequate oversight and a lack of accountability. This fragmented system received blame for permitting irresponsible practices that contributed to the financial crisis. Recognizing the need for reform, Congress passed the Dodd-Frank Wall Street Reform and Consumer Protection Act of 2010 (Dodd-Frank Act). Among other things, the Dodd-Frank Act established the Consumer Financial Protection Bureau (CFPB).
The CFPB is an independent consumer financial regulatory and enforcement agency within the Federal Reserve System. Its job is to stand up for consumer interests and ensure their fair treatment in the consumer financial marketplace. The CFPB protects consumers by enforcing federal consumer financial laws and promoting financial education. The CFPB also writes rules that restrict unfair, deceptive and abusive acts or practices (UDAAP) and outlaw unfair treatment in consumer finance.
Thomson Reuters' UDAAP training course explains what constitutes an unfair, deceptive and abusive act or practice; outlines several other rules that govern the conduct of mortgage lenders, brokers and servicers; describes how the CFPB rewards responsible business conduct; and applies UDAAP rules to business scenarios. 
CFPB Essentials: Unfair, Deceptive and Abusive Acts or Practices (UDAAP) (US)

Like with all our courses, the Consumer Financial Protection Training course was written by experts and powered by world-leading regulatory intelligence, which tracks more than 900 regulators and exchanges globally to ensure the course content is always up to date.

All our training courses are driven by practical examples and interactive scenarios to ensure users truly understand and recognize the issues of most importance to your business and learn to instinctively act to support them.

We employ instructional design techniques optimized for risk and compliance training, enabling your business to educate in a way that reduces risk and helps you build a culture of integrity and compliance.

Educate your teams with Compliance Training from Thomson Reuters

Try a course and see how easy it can be to keep your employees up to speed