Equality Act
This Equality Act course is intended to familiarize employees with the benefits of working in a diverse and inclusive environment, enable them to recognize discrimination and other barriers, and inform them of how to comply with the UK Equality Act 2010 and safeguard equality, diversity and inclusion in the workplace.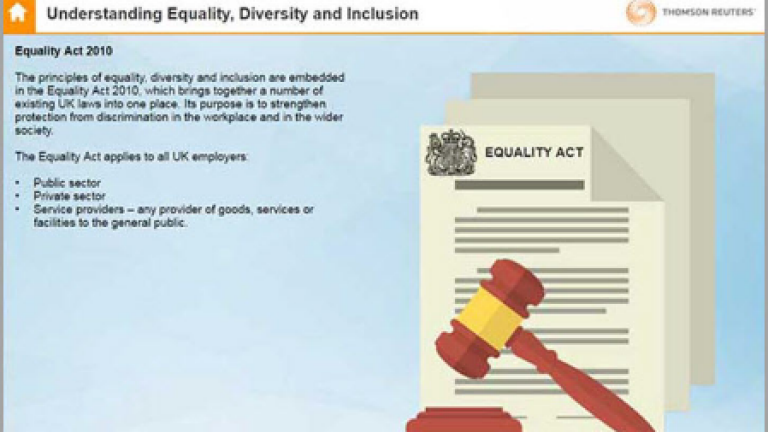 Geography Covered: EMEA | Duration: 20 minutes

Equality in the workplace is not just good management practice, but it also makes a lot of sense as a business strategy. Firms enable employees to give their best when they provide an environment in which the workforce is representative of all sections of society and where employees feel respected.
In recent years there have been great improvements in the way firms have approached equal opportunities and diversity. Yet, much work still needs to be done. Further improvement is necessary in areas such as age discrimination, workplace bullying, the pay gap between men and women, and more. In order for an equality policy to be effective, senior management must fully support and enforce it. This entails ensuring fairness in all policies and procedures related to training, development and progression opportunities. Furthermore, employees should understand their obligations under the UK Equality Act 2010, and learn to recognize and respond appropriately to barriers to equality, diversity and inclusion.
Equality Act (UK and Europe) - covers the UK Equality Act 2010


Like with all our courses, the Equality Act training course was written by experts and powered by world-leading regulatory intelligence, which tracks more than 900 regulators and exchanges globally to ensure the course content is always up to date.

All our training courses are driven by practical examples and interactive scenarios to ensure users truly understand and recognize the issues of most importance to your business and learn to instinctively act to support them.

We employ instructional design techniques optimized for risk and compliance training, enabling your business to educate in a way that reduces risk and helps you build a culture of integrity and compliance.


Educate your teams with Compliance Training from Thomson Reuters

Try a course and see how easy it can be to keep your employees up to speed