Fraud Awareness
This Fraud Prevention training course provides an overview of several types of financial fraud, including loan fraud, insurance fraud and investment fraud. The course explains each offence, highlights certain red flags that should raise concerns and explains how these concerns should be escalated to the compliance department.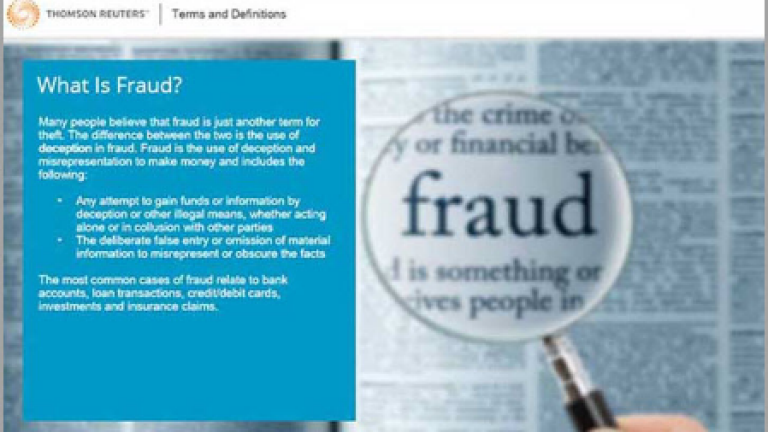 Geography Covered: Global | Duration: 30 minutes

Fraud, or the use of deception to dishonestly acquire a personal gain, is a global problem affecting economies, businesses and individuals. Bribery, corruption, identity fraud, counterfeit goods, and Ponzi schemes are all examples of fraudulent activities. Fraud is a particularly serious threat to the financial services industry – and it's on the rise.
Frequently in cases of fraud, unscrupulous employees prey upon unsuspecting co-workers and supervisors, or shrewd third parties use "social engineering" tactics to penetrate a company's defenses. Because successful fraud schemes are hard to detect, it is critical that employees at all levels have a basic knowledge of how these schemes work and how to recognize the warning signs. Proper fraud awareness training is crucial to a culture of compliance.
Like with all our courses, the Fraud Awareness training courses are written by experts and powered by world-leading regulatory intelligence, which tracks more than 900 regulators and exchanges globally to ensure the course content is always up to date.

All our training courses are driven by practical examples and interactive scenarios to ensure users truly understand and recognize the issues of most importance to your business and learn to instinctively act to support them
We employ instructional design techniques optimized for risk and compliance training, enabling your business to educate in a way that reduces risk and helps you build a culture of integrity and compliance.

Educate your teams with Compliance Training from Thomson Reuters

Try a course and see how easy it can be to keep your employees up to speed