Information Security Awareness
Information Security Awareness
This Information Security training course provides important employee training on the essential principles, policies and practices that organizations use to protect and secure personal, proprietary or confidential data.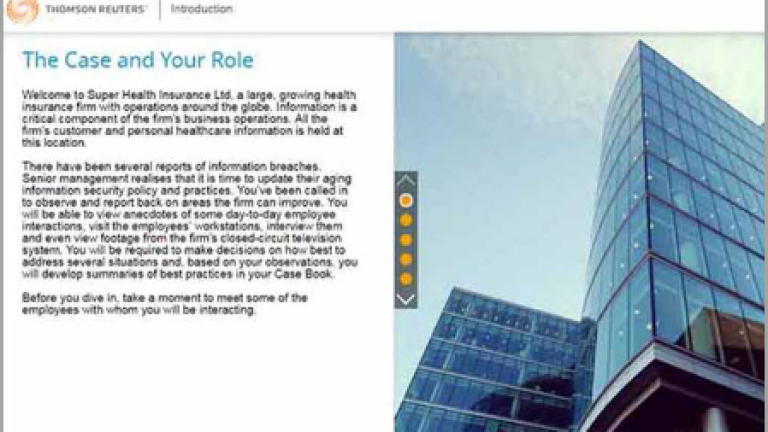 Geography Covered: Global | Duration: 50 minutes

In today's business world, information is increasingly digital, making it easy to misuse. Organizations are struggling to protect their confidential information and to keep pace with the increasingly stringent laws that protect consumer and employee privacy, and information security compliance is becoming therefore becoming more difficult. An organization that experiences an information security breach suffers significant negative consequences. For example, customers and regulators may lose trust in its reliability, its reputation may suffer, and it may incur financial losses due to the cost of enhancing its information and cyber security capabilities.
Key risk factors for information security breaches are (1) insiders leaking information, either on purpose or accidentally, and (2) outsiders intruding on the organization's systems. This makes internet security and information security training crucial to a culture of compliance.
Although hackers frequently make the headlines, ordinary breaches of information security often start with things such as an intruder in the workspace, an unscrupulous co-worker or a stolen laptop. Preventing grave damage to an organization's financial status and reputation requires employees to be vigilant against both internal and external risks.
With respect to external risks, organizations around the globe are seeing an uptick in cyber crime, as criminals use computers to exploit the speed and anonymity of the Internet. In fact, cyber crime has been ranked as one of the top four economic crimes. Cyber attacks via botnets, malware, and network intrusion have targeted computer hardware and software. Therefore, employees must take care in their electronic communication to minimize risk.
Information security compliance laws demand that employees take specific precautions with certain types of personal information they handle. But even organizations that are not subject to these laws must be sure that their employees understand and follow internal policies for protecting proprietary and/or confidential data in all forms.
The topics covered in the course include:
Online activities/social media
Mobile security
Removable devices
Working remotely
In-office security protocols
Client confidentiality
Protecting hidden data (metadata)
Strong passwords and other technology safeguards
Phishing, malware, and hacker attacks
Social engineering
Incident reporting
Information Security and Cyber Risk Awareness (Global)
Information Security and Cyber Risk Awareness (Insurance)
Information Security and Cyber Risk Awareness (Arabic/English) – Game-based

Content for the Thomson Reuters MicroLearning Suite is powered by world-leading regulatory intelligence, which tracks over 900 regulators and exchanges globally. Intended as a supplemental solution to our 800+ customizable compliance training course library, this learning suite changes the approach to online Information Security compliance training, from a 'once-a-year' event to a steady flow of interesting and informative trainings that reinforce both the 'tone from the top' and an organization's core values.

Educate your teams with Compliance Training from Thomson Reuters

Try a course and see how easy it can be to keep your employees up to speed