Introduction to Solvency II
Introduction to Solvency II
The purpose of this Introduction to Solvency II course is to provide an overview of Solvency II and what it means for your firm.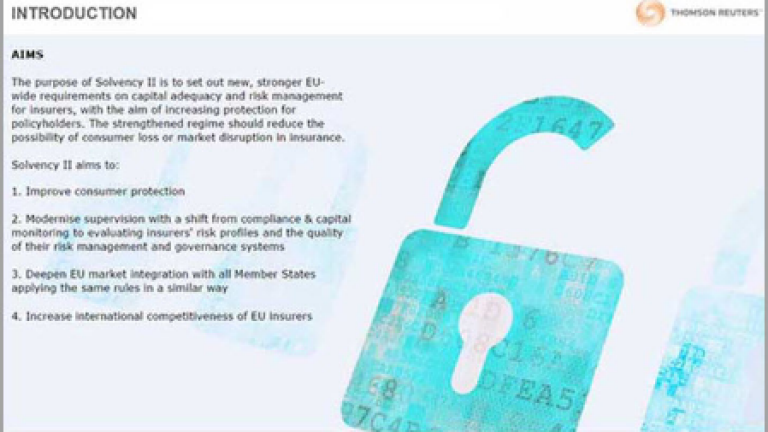 Geography Covered: Global | Duration: 30 minutes

Solvency I, introduced in the early 1970s, was a minimum harmonization directive for the insurance industry. Unfortunately, however, it allowed for differences to emerge in the way that insurance regulation was applied across Europe, which resulted in different regimes. It also primarily focused on the prudential standards for insurers and did not include requirements for risk management and governance within firms.
The purpose of Solvency II is to set out new, stronger EU-wide requirements on capital adequacy and risk management for insurers, with the aim of increasing protection for policyholders. Solvency II goes beyond capital to include a program of regulatory requirements for insurers, including authorization, corporate governance, supervisory reporting, public disclosure, risk assurance, solvency and reserving. Solvency II applies to all insurance firms in the 32 member states of the European Economic Area (EEA) that have gross premium income exceeding €5m or gross technical provisions in excess of €25m.
The topics covered in the course include:
Background on Solvency I and Solvency II
Purpose of Solvency II
The "three pillars"
Policy, processes and procedures
Key functions
Introduction to Solvency II (UK and Europe)

 

Like with all our courses, the Introduction to Solvency II training course was written by experts and powered by world-leading regulatory intelligence, which tracks more than 900 regulators and exchanges globally to ensure the course content is always up to date.

All our training courses are driven by practical examples and interactive scenarios to ensure users truly understand and recognize the issues of most importance to your business and learn to instinctively act to support them.

We employ instructional design techniques optimized for risk and compliance training, enabling your business to educate in a way that reduces risk and helps you build a culture of integrity and compliance.


Educate your teams with Compliance Training from Thomson Reuters

Try a course and see how easy it can be to keep your employees up to speed