Thomson Reuters Microlearning
Thomson Reuters Microlearning
Thomson Reuters Microlearning consists of short and impactful interactive learning modules that reinforce key compliance concepts between annual trainings, helping to minimize the knowledge gap. Through the use of videos and actionable takeaways the modules address long-term knowledge retention and enable organizations to deepen, optimize and energize their compliance awareness program.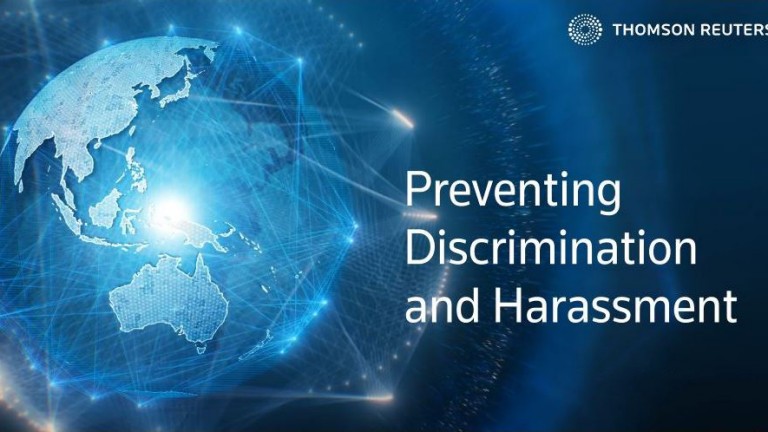 Geography Covered: Global | Duration: 5-10 minutes per module

To safeguard your organization, it's critical for you to build a culture that actively adheres to internal policies and external regulations. Your compliance program needs to incorporate a steady stream of education throughout the year to facilitate awareness of compliance policies and regulatory updates. Our Thomson Reuters Microlearning courses are available in a range of topics and are developed based on recent events, providing continuous education to update your managers' and employees' knowledge.
AML and Counter-Terrorism Financing

Staying One Step Ahead of Funnel Accounts
This course explains how criminals use funnel accounts to launder money and what employees need to do to detect, identify and report suspicious activities and behavior.

Identifying Beneficial Ownership Is Key to Customer Due Diligence
The course illustrates how beneficial ownership information helps prevent money laundering and the financing of terrorism.

An Overview of the Fourth Money Laundering Directive
This regulatory update to the AML (UK and Europe) course summarizes the main elements of the EU Fourth Money Laundering Directive (4MLD).

Terrorist Attacks Highlight Importance of AML/CTF
This module provides an overview of the role that employees play in detecting and preventing money laundering and terrorist financing in light of a wave of terrorist attacks in Paris, Mali, Egypt and elsewhere.

Commerzbank AML Sanctions
This course covers Commerzbank's recent settlement with US state and federal regulators for sanctions violations and other lapses and provides guidance on what learners need to know and do with respect to sanctions compliance.

Paradise Papers: Offshore Empires*
This course provides an overview of the Paradise Papers and tax havens, as well as guidance on the key actions firms and employees should take to effectively respond to these events.

The Fifth Money Laundering Directive (5MLD)
This Thomson Reuters Microlearning course provides a brief overview of what employees need to know about the Fifth Money Laundering Directive (5MLD).

Conduct Risk

An Overview
The overview is the first course in the Conduct Risk series. It provides an introduction to mitigating behavior-based risk, or "conduct risk," as a way to benefit customers and clients.

What Happens in Chat Rooms May Be Tomorrow's Headline
In light of recent enforcement actions surrounding the misuse of chat rooms, this course covers the benefits and risks of using electronic chat rooms and other forms of communication to conduct business.

Conflicts of Interest
In this 15 minute game-based assessment, the learner is placed in a fictitious company. They need to explore the office space and respond correctly to conflict of interest situations.

Facebook and the Company Logo
This course provides a brief overview of what employees need to know to recognize and avoid the dangers of improper social-media use in the workplace.

New Conduct Rules Strengthen the Personal Accountability of UK Senior Managers
This module provides an overview of the Conduct Rules that form part of the UK Senior Managers and Certification Regime.

Environmental, Social and Governance Investment (ESG)*
This class focuses on defining ESG Investment and its Financial Impact. Learners will also learn about the different 6 types of Sustainable Investment Techniques 7.

Employee Conduct & Business Ethics

How To Handle a Workplace Bully
This course covers the various forms of workplace bullying, how it affects the workplace, and what employees should do when confronted with bullying behavior.

Workplace Diversity: Eye on Ethnic Origin
This training promotes workplace diversity by identifying conduct that can create a hostile work environment and highlighting what employees can do to avoid harassment based on ethnic origin and culture.

Importance of Treating Everyone with Respect
This module discusses the importance of creating and maintaining a respectful workplace and provides employees with examples of acceptable and unacceptable behavior.

Prevention of Discrimination & Harassment
This module highlights things you should know and do in the rapidly changing environment of Discrimination and Harassment.

Market Conduct and Fraud

Accounting Irregularities: Sometimes You Need To Speak Up
This training course focuses on the importance of employees' maintaining accurate accounting records, complying with applicable laws and regulations and spotting potential irregularities caused by fraudulent activity.

Antitrust: Dealing with Competitors
This course provides a brief overview of what employees need to know to avoid violating anti-competition laws when dealing with competitors.

Citibank To Pay $770 Million Over Deceptive Credit Card Practices
Review the Consumer Financial Protection Bureau's recent enforcement action against Citibank for using deceptive marketing tactics to promote credit card add-on products and services to consumers in this course.

Failure To Disclose Conflicts Leads to Bad Day at BlackRock
This course reinforces the importance of disclosing conflicts of interest in light of BlackRock Advisors' USD 12 million settlement with the SEC over charges it failed to disclose a conflict of interest involving one of its top portfolio managers.

Internal Controls: What Auditors Really Think
This overview for employees reviews the things they need to know and do to improve and comply with their organization's internal controls.

First Trader Convicted Under US Anti-Spoofing Law
This module provides an overview of the first US criminal conviction for "spoofing" — a form of market manipulation — and covers what employees need to know to recognize and prevent illegal market behavior.

Trading on Insider Information
This course explains insider trading and the consequences of misusing nonpublic information, whether intentional or not.

Red Flags of Fraud *
This module helps learners identify a fraudster, as well as the primary red flags to detect external fraud.

Investor Protection under MiFID II*
This training course focuses on key investor protection features of MiFID II, specifically Marketing and Communication, Client Agreements and the Pre-trade Suitability Statement, Conflicts of Interest, Fee Structure and Disclosures, and The 10% Loss Reporting Rule.

US Companies and the General Data Protection Regulation (GDPR)*
This module explains the impact of GDPR on US companies, including practical tips for complying with the GDPR.

Prevention of Corrupt Practices

Anti-Bribery: A Gift by Any Other Name
This course provides a brief overview of what employees need to know when giving gifts to business partners, clients and potential clients.

Lessons From the FIFA Corruption Scandal
An overview of the ongoing FIFA corruption investigation, this course reviews how employees can spot and respond to situations that pose threats of bribery and corruption.

Anti-Corruption: Working With Government Officials
For those working with government officials, this course explains what employees need to know and do to avoid corrupt activities.

Are You Ready for FATCA?
This course provides a brief overview of what employees need to know and do in preparing for FATCA.

Alstom Pays Record Fine To Settle FCPA Charges
Highlighting the largest FCPA criminal penalty to date, this training provides an overview of the Foreign Corrupt Practices Act (FCPA).

When Is a Business Gift Really a Bribe?
This module helps learners distinguish legitimate business gifts from bribes. The module also includes a review of what is acceptable in the course of business, and provides a set of best practices to follow.

Privacy, Confidentiality, and Information Security

Data Privacy: Keeping Passwords Safe, Strong and Secure
This training provides employees with the things they need to know and do to keep their passwords safe and secure and avoid costly security breaches.

Keeping Customer Data Private Is Everyone's Job
This module provides a brief overview of what employees need to know to protect the personal information of customers, business partners and other employees.

Compliance Lessons from Bangladesh Bank Cyber Heist
With an overview of one of the largest cyber heists in history at the Central Bank of Bangladesh, this course also discusses steps employees can take to strengthen their firm's cyber resilience.

Standard Bank Settles With UK and US over Bribery Charges
This course provides an overview of Standard Bank's USD 37 million settlement with the UK Serious Fraud Office (SFO) and the US Securities and Exchange Commission over bribery charges. The case marks the SFO's first use of a deferred prosecution agreement and the first indictment under Section 7 of the UK Bribery Act 2010.

Cybersecurity: Preventing Information Security Attacks
Focusing on what employees can do to keep information secure and prevent sensitive data from falling into the wrong hands, this course covers phishing scams, social engineering and suspicious emails.

Careful Communication: Communicating Effectively with Mobile Device
This training course details the risks of communicating via mobile devices, and provides useful best practices for mitigating those risks.

Information Security: Don't Click That Link
The module focuses on the importance of protecting firms from phishing attacks, and provides useful tools to do so in the course of everyday business.

Risk Management

FCA's Supervision Principles
This course provides a brief overview of what employees need to know and do concerning the Financial Conduct Authority's Supervision Principles.

Insurers, Solvency II and the Three Pillars
This overview highlights what European insurers and their employees need to know and do to comply with Solvency II and its three-pillar approach to EU-wide requirements for capital adequacy and risk management for insurers.

US Justice Department Targets Individuals for Corporate Wrongdoing
Relevant for both criminal and civil cases, this course focuses on the impact of the US Department of Justice's new approach to focusing on individual wrongdoers.

Barclays Hit with Record Fine for Lax Customer Due Diligence
This course discusses the UK Financial Conduct Authority's record fine of Barclays Bank for mishandling potential financial crime risks in a deal involving wealthy politically exposed persons.

The content for our Thomson Reuters Microlearning courses is powered by world-leading regulatory intelligence, which tracks over 900 regulators and exchanges globally.

Intended as a supplemental solution to our online compliance course library, this learning suite changes the approach from a 'once-a-year' event to a steady flow of interesting and informative trainings that reinforce both the 'tone from the top' and an organization's core values.

Educate your teams with Compliance Training from Thomson Reuters

Try a course and see how easy it can be to keep your employees up to speed