Mis-selling and Suitability (APAC)
Mis-selling and Suitability (APAC)
The purpose of this course is to explain the problem of mis-selling financial products and create awareness of the risks of this inappropriate market conduct. The course introduces the concept of suitability so those in the financial industry know how to match products with customers appropriately. Additionally, it covers methods to avoid mis-selling, the implications of engaging in misconduct and regulatory efforts to minimize this inappropriate behavior.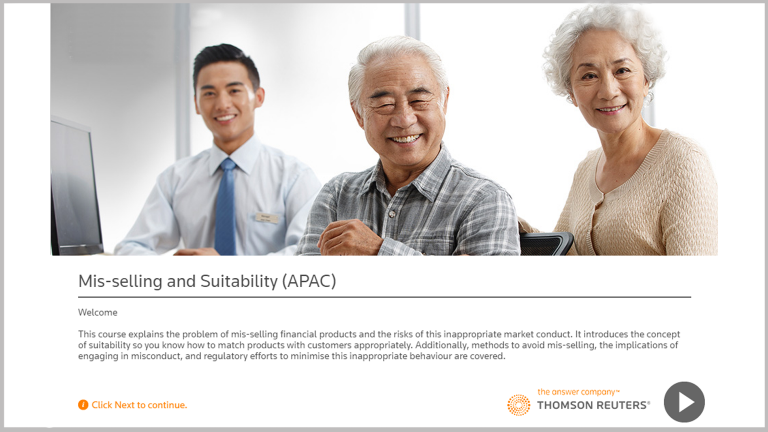 Geography Covered: APAC | Duration: 40 minutes

Today, occupational safety and health regulations are broad and far-reaching. They require employers in most industries to keep their places of employment safe and free of recognized hazards likely to cause death or serious harm to employees and to maintain workplace health and safety.
Accordingly, more and more companies are tightening their workplace health and safety policies, demanding that everyone — from top manager to most recently hired trainee — play an important role in maximizing workplace health and safety. By following a few simple guidelines, such as those outlined in this course, the risks of injury or illness can often be reduced or eliminated.
Employee injury often results in absences, which have a negative impact on productivity. There can also be indirect costs, such as poor morale and damage to a company's reputation. In some cases the company could be subject to fines and compensation claims for failure to comply with workplace health and safety laws.
Health and Safety (UK)
This Health and Safety course is intended to provide employees with an understanding of the importance of health and safety at work, how to identify risks and hazards, and how to contribute to and support a 'safe and healthy' workplace environment.

Workplace Health and Safety (Australia)
Covers the Work Health and Safety Act and other regulations relating to health and safety in an office environment and identifies the common risks and hazards at the workplace and how to manage them.

Workplace Health and Safety (Global)
This course is intended to provide an understanding of how to maintain a healthy and safe working environment. It includes applicable health and safety laws, regulations and standards, as well as best practices to safeguard health and safety in an onsite or remote workplace.

As with all our courses, the Workplace Health and Safety training courses are written by experts and powered by world-leading regulatory intelligence which tracks more than 900 regulators and exchanges globally to ensure the course content is always up to date.

All our training courses are driven by practical examples and interactive scenarios so that users truly understand and recognize the issues of most importance to your business and learn to instinctively act to support them.

We employ instructional design techniques optimized for risk and compliance training, enabling your business to educate in a way that reduces risk and helps you build a culture of integrity and compliance.

Educate your teams with Compliance Training from Thomson Reuters

Try a course and see how easy it can be to keep your employees up to speed