Introduction to PCI Data Security Standards
Introduction to PCI Data Security Standards
As an employee of an organization that processes, transmits or stores payment card details on its network, you must comply with the Payment Card Industry Data Security Standards (PCI DSS). This Introduction to PCI DSS compliance training course will give you an overview of these requirements and guidance to help you to meet them.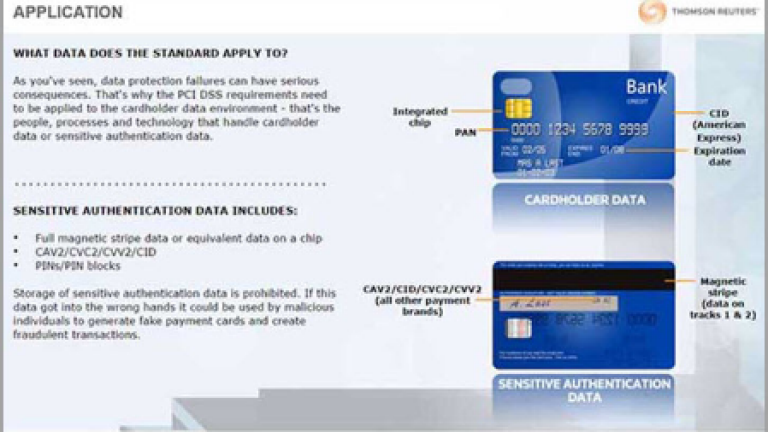 Geography Covered: Global | Duration: 30 minutes

The Payment Card Industry Data Security Standard (PCI DSS) was adopted in 2004 by five major credit-card companies. Its purposes are to promote consistent global security standards and to protect cardholder data from fraud and security breaches. All merchants or service providers who store, process or transmit payment-card account numbers are subject to PCI DSS.
PCI DSS is not just a technical concern. Its compliance mandates are also directed at those in "low-tech" positions, such as cashiers and anyone else who processes credit-card information. Even with all the right technical safeguards, human error, or ignorance can be the cause of severe security lapses.
A security breach can affect the whole organization in profound ways — fines, loss of reputation or business, and even our ability to accept major payment cards, to name a few. This course instructs employees who handle payment-card information how to do so in accordance with PCI-DSS. This proper PCI DSS compliance training is crucial to a culture of compliance.
The topics covered in the course include:
An overview of PCI-DSS
PCI-DSS objectives and requirements
Costs of non-compliance
Sensitive Authentication Data
Hard-copy storage
Protecting cardholder information
Payment-card transactions
Remote access
Good work practices
Security incidents
Restricted computer access
Restricted physical access
Tracking and monitoring
Social engineering
Introduction to PCI Data Security Standards (Global)

Like with all our courses, the PCI DSS compliance training course was written by experts and powered by world-leading regulatory intelligence, which tracks more than 900 regulators and exchanges globally to ensure the course content is always up to date.

All our training courses are driven by practical examples and interactive scenarios to ensure users truly understand and recognize the issues of most importance to your business and learn to instinctively act to support them.

We employ instructional design techniques optimized for risk and compliance training, enabling your business to educate in a way that reduces risk and helps you build a culture of integrity and compliance.


Educate your teams with Compliance Training from Thomson Reuters

Try a course and see how easy it can be to keep your employees up to speed