Sanctions and Embargoes
These courses cover sanctons, their purpose, and the various types of sanctons and who imposes them, as well as the serious consequences for financial institutions for non-compliance.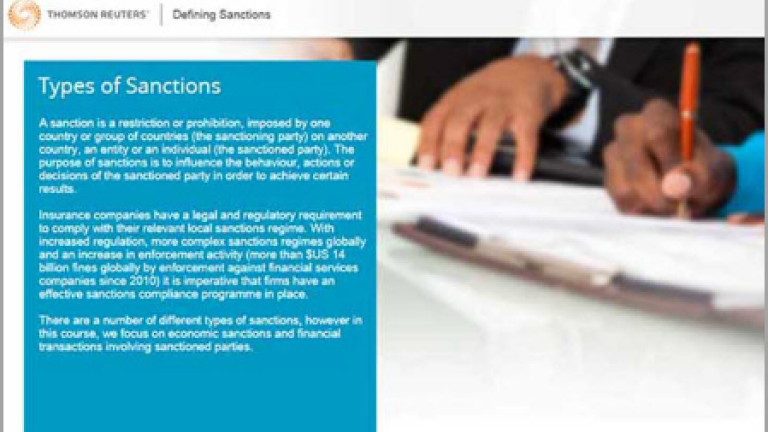 Geography Covered: Global | Duration: 45 minutes

Economic and trade sanctions aim to achieve domestic and foreign policy goals set by national governments and international bodies, such as diminishing the power of regimes considered to be a security threat or oppressive to their subjects, cutting off international criminals from the financial system, and preventing the proliferation of weapons of mass destruction. Organizations must know which individuals, entities and countries are subject to sanctions and must not conduct any transactions involving sanctioned parties.
Most sanctions-setting bodies publish lists that allow organizations to determine whether a specific transaction is prohibited because it involves a sanctioned party. These lists are subject to change at any time and therefore organizations must ensure they are using current information. Organizations have the additional legal obligation to report transactions when it is suspected that money laundering or terrorist financing may be involved. There are severe regulatory penalties for noncompliance, for both the individual and the organization. Businesses may also be at risk of significant reputational harm for any infringements. Proper sanctions compliance training can help to avoid that kind of damage.
Global courses


Sanctions (Global)
This course covers sanctions, their purpose, and the various types of sanctions and who imposes them, as well as the serious consequences for financial institutions for non-compliance.

Sanctions for Insurance Companies (Global)
The purpose of this course is to create awareness around the concept of sanctions and the implications that breaches of sanction rules can have on insurance firms, their employees and their customers. The course introduces the types of restrictions applied by various governments and international agencies to prevent terrorism-related activities, the unlawful financing of weapons of mass destruction (WMDs), funding drug cartels and prolonging human rights abuses/violations of international law.

Americas courses


OFAC Sanctions and Embargoes (US)
This course provides an overview of the economic sanctions programs administered by the Office of Foreign Assets Control (OFAC), including their key provisions and targets. It explains practical applications of the OFAC regulations, the penalties for noncompliance and how to recognize potential problems and avoid violations.

Content for the Thomson Reuters MicroLearning Suite is powered by world-leading regulatory intelligence, which tracks over 900 regulators and exchanges globally.

Intended as a supplemental solution to our 800+ customizable compliance training course library, this learning suite changes the approach to online Office of Foreign Assets Control compliance course compliance training, from a 'once-a-year' event to a steady flow of interesting and informative trainings that reinforce both the 'tone from the top' and an organization's core values.

Educate your teams with Compliance Training from Thomson Reuters

Try a course and see how easy it can be to keep your employees up to speed