Social Media Compliance
The social media phenomenon has revolutionized both personal and business communications. As we are now able to instantly share any part of our lives with the world it is now, more than ever, important to understand the compliance risks associated social media misuse. Our online compliance training course provides employees with the tools and knowledge they need to navigate the very public nature of the connected Social Media world we live in today and helps them to understand the negative consequences that can arise.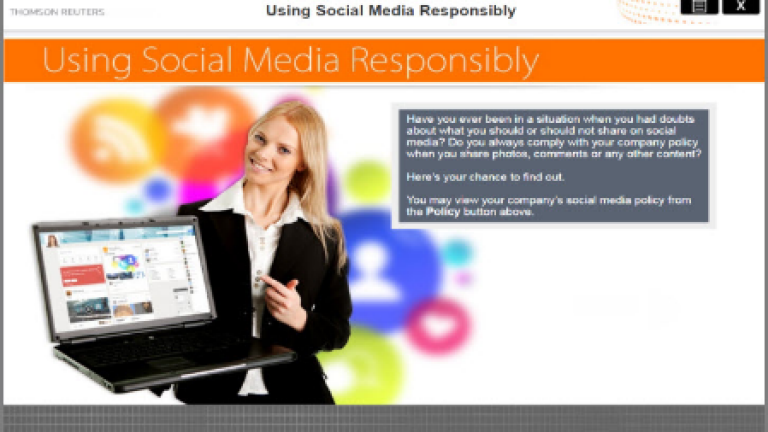 Geography Covered: Global | Duration: 30 minutes

The topics covered in the course include:
Social media at home and work
Dangers of misuse
Social media in the courts
Effective business use
Guidelines for business use
Guidelines for personal use
Handling problems arising from social-media use
Responsible Social Media Use (Global)
Responsible Social Media Use (US)

Like with all our courses, the Online Sensitivity training courses are written by experts and powered by world-leading regulatory intelligence, which tracks more than 900 regulators and exchanges globally to ensure the course content is always up to date.

All our training courses are driven by practical examples and interactive scenarios to ensure users truly understand and recognize the issues of most importance to your business and learn to instinctively act to support them.

We employ instructional design techniques optimized for risk and compliance training, enabling your business to educate in a way that reduces risk and helps you build a culture of integrity and compliance.

Educate your teams with Compliance Training from Thomson Reuters

Try a course and see how easy it can be to keep your employees up to speed