Features
The capabilities and features that help simplify your practice and enhance productivity
Face challenges head-on with a fully connected solution. By combining client and matter management, time entry, billing, and accounting, ProLaw helps you simplify your practice and enhance productivity firm-wide. Meet your unique business needs with on-premises or cloud-hosted deployment. Plus, tight integration with Microsoft Outlook and the Office suite of products lets your staff work in programs they already know.
Connect your financial and matter management so there's no loss of billable time
Track all matter updates, making it easy for lawyers to collaborate
Keep everyone current with visibility to new versions of every document
Serve clients anywhere with secure, on-the-go access to critical files
Take control of your finances and increase profitability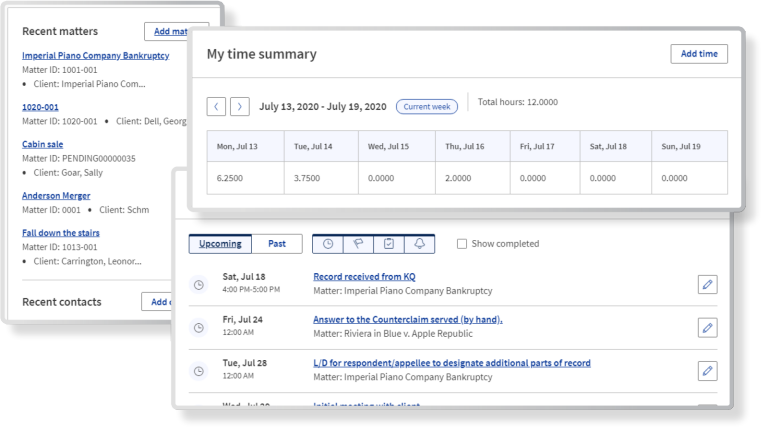 Streamline your processes by managing your accounting, time and expenses, invoicing, and payables all from one location.
Organize Accounting, Payables and Collections: Automate core accounting functions to improve cash management and increase your bottom line
Improve Time and Expense Management: Built-in tracking tools help you increase billable hours and recoup client cash
Enhance Firm-wide Reporting: Sophisticated tools capture information on all activities so you can efficiently analyze firm performance
Client and Matter Management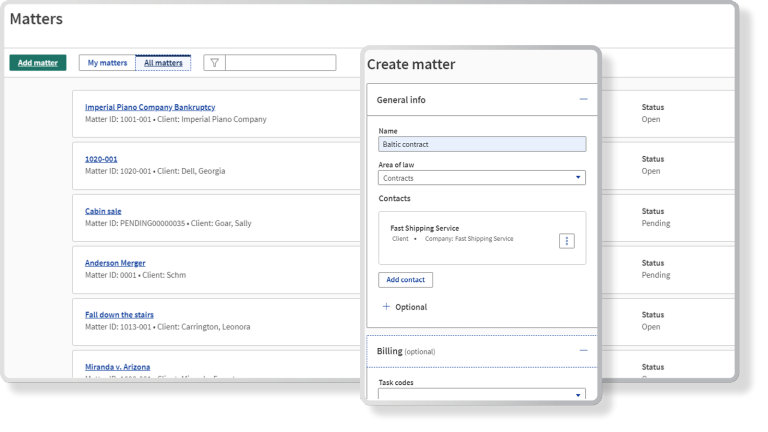 Transform interactions with clients via seamless access to all the matter information you need. ProLaw places at your fingertips the essential information you need to collaborate with both clients and colleagues. Plus, with several options for remote access, ProLaw allows you and your staff to stay connected while on the go.
Streamline Case and Matter Management: Get immediate access to the important information you need when you need it
Centralize Document Management: Quickly file and retrieve documents from a centralized, secure repository
Stay Connected with ProLaw Mobile: View and edit data such as time worked, appointments, and matter information from your mobile device
Lead your business with confidence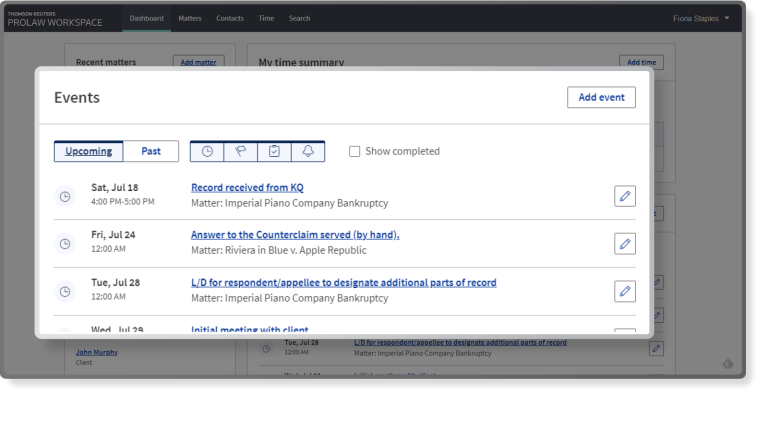 From business intake, to contact management, to docketing and calendaring, ProLaw helps protect your firm and your clients. By combining front office functionality with back office financial management applications, you have greater visibility into your firm's overall performance and health.
Gain Industry-leading Security: 

Keep your confidential data secure

Identify Conflicts: Before you take on new clients, easily spot potential conflicts of interest
Stay Ahead: Award-winning rules-based court docketing and calendar management combines with powerful docketing and case management capabilities to keep you on top of all key appointments, tasks, deadlines, and details