Regulatory Intelligence

Confidently anticipate and navigate global regulatory compliance

Access the most trusted intelligence available in a single solution
Regulatory Intelligence helps your organization anticipate and manage global regulatory developments in a single solution, removing the burden of having to manually track multiple sources of regulatory information.
Exclusive news and expert analysis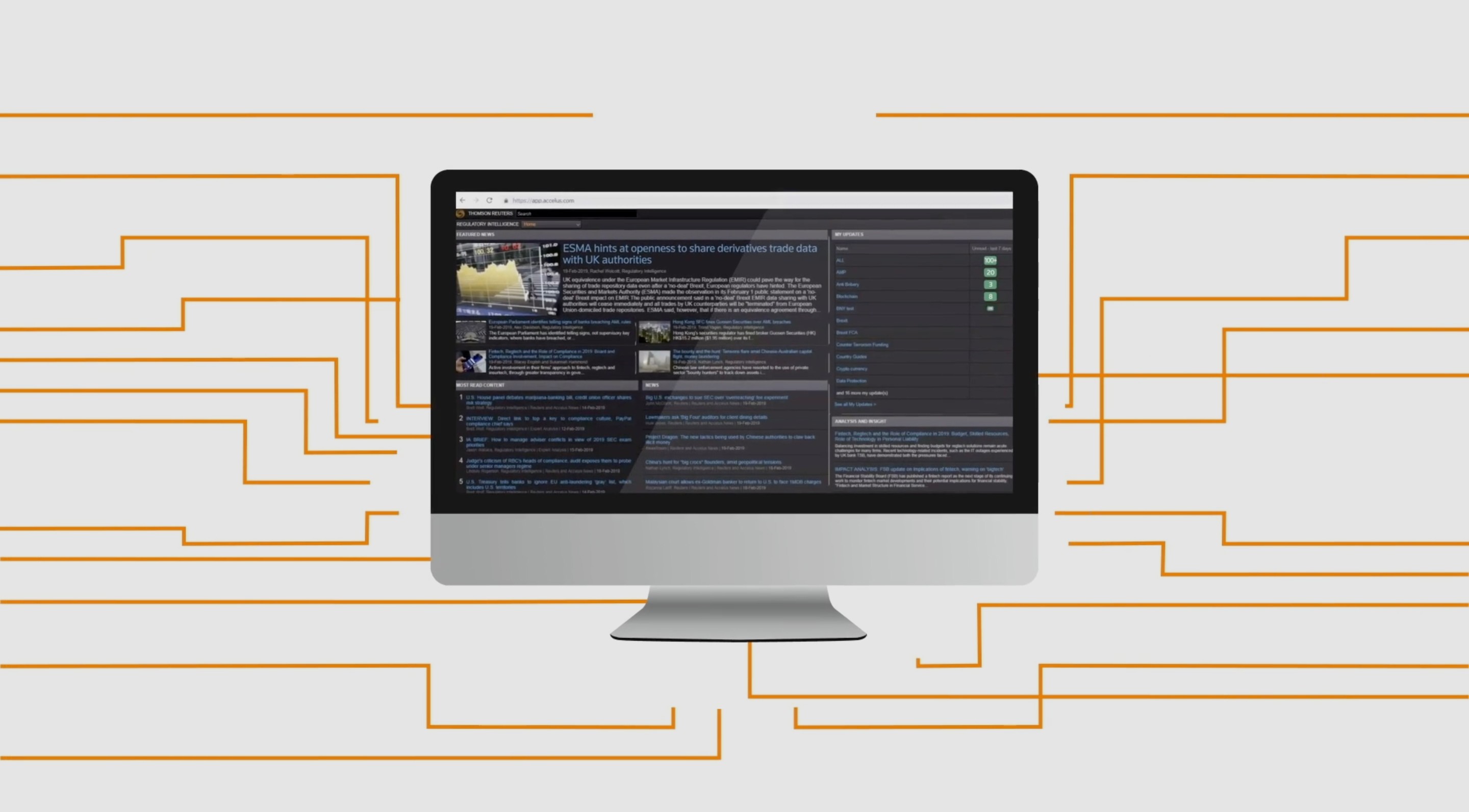 02:53
The expertise and knowledge of our regulatory intelligence experts and editorial team are second to none. They report directly from the key conferences, events, and centers of policy making and are often the first to break news that you need to know. Their expertise means that as well as having access to the latest regulatory developments you can understand the actual impact of these developments to your organization and stay one step ahead of regulatory changes.
Increase efficiency

Automate regulatory updates and create reports directly within the Regulatory Intelligence platform

Mitigate risk

Horizon scan to proactively anticipate the developments that lie ahead and take swift action to make the necessary changes

Reduce costs

Decrease operational overhead through increased efficiency in tracking updates and executing regulatory change processes
Determine the regulations that apply to you
Browse the collection of 2,500 regulatory and legislative materials including rulebooks, rule changes, and reg events with coverage of over 1,300 regulatory bodies. Easily understand which specific obligations apply to your business.
Actively track regulatory changes and analyze their impact
Using our exclusive taxonomy, locate the most critical upcoming regulatory events, targeted news, analysis, and practical guidance from our global team of regulatory experts and journalists with a simple search. Automate your monitoring and tracking process by customizing your alerts to receive relevant updates on regulatory developments, pending events, analysis, and practical guidance.
Map your obligations to internal controls, policies, and procedures
Save valuable time when tracking regulatory change by using the Obligations Library to determine the relevance of the codified laws and regulations to your organization's product lines, business units, internal controls, and reporting role. Manage regulatory change directly within your preferred workflow solution by integrating with our API.
What you get with Regulatory Intelligence
The most comprehensive collection of regulatory intelligence content, ensuring you keep up to date with the global regulatory environment
More than 1,300 regulatory bodies and more than 2,500 collections of regulatory and legislative materials
Automatic updates on regulatory developments as they happen, with advance notification of changes so you have time to proactively plan your responses
Choose how you access based on the needs of your organization. With API, perform regulatory intelligence all within your organization's workflow software
Take the next step with Regulatory Intelligence

Contact us today to see for yourself how the compliance solution Regulatory intelligence can keep your organization in touch with the constantly changing regulatory landscape