Quick Check
Intelligent document analysis
Discover a new level of confidence
Simply upload a brief and Quick Check will produce a report with recommendations for additional relevant authority, warnings for cited authority, an analysis of quotations, and a table of authorities.
Use this in-depth analysis to jumpstart your research, strengthen your arguments, pinpoint weaknesses in your opponent's positions, and compare multiple filings from a matter.
See how Quick Check works
Use Quick Check to check your own work, analyze your opponent's work to identify potential weaknesses, or compare multiple filings from a matter.
Once you securely upload your brief, Quick Check leverages state-of-the-art AI to examine the text, citations, and structure of your uploaded document to detect the legal issues covered. It then identifies recommendations that are highly relevant to the issues in the input document, but not otherwise cited.
Use Quick Check to give your brief a final quality check or to refresh a past winning argument. Feel confident you've found the strongest authority for your case and quickly verify your citations and quotations.
Analyze your opponent's brief to view KeyCite information for their citations, an analysis of quotations, and to surface relevant cases that oppose your opponent's position.
Upload multiple filings to receive an easy-to-view report where you can quickly compare the citations relied upon by both parties, plus relevant authority that was omitted.
Find an on-point brief or trial court filing for your issue and submit it directly to Quick Check to view relevant authority and KeyCite information.
See recommendations for relevant authority without leaving the research process by selecting a significant portion of text from a case, trial court order, brief or trial court document and submitting it directly to Quick Check.
Enabling more efficient research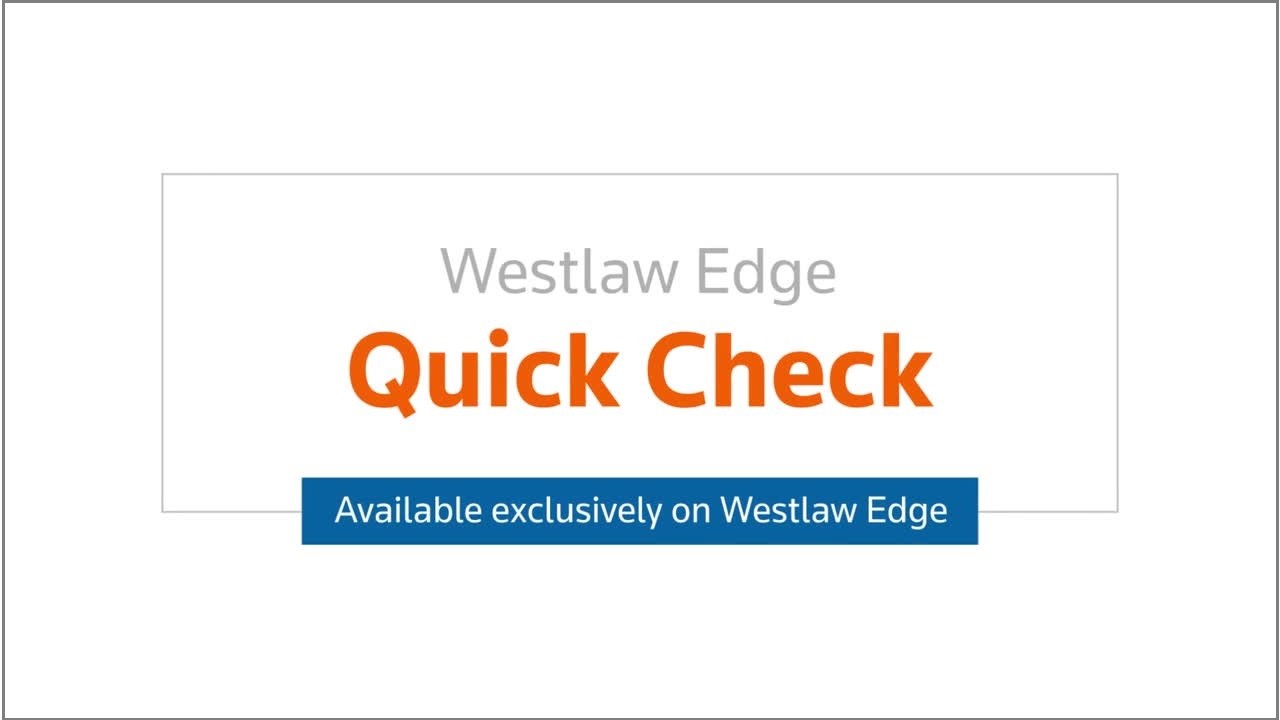 02:01
I use Quick Check for my own briefs, to give me peace of mind that I didn't miss something or that at the very least I had looked at it and made a determination. That helps me sleep at night.
2021 Legal Technology Trailblazers
The National Law Journal recognized Quick Check Judicial as a legal technology trailblazer in 2021.
Advantages of intelligent document analysis
In just minutes, Quick Check reviews your documents to identify the legal issues and show you highly relevant authority that traditional research may have missed.
Fully integrated with Westlaw Edge, Quick Check allows you to quickly verify citations using KeyCite and filter out the legal documents you've already viewed or saved to a folder.
Review the quality of a completed legal document, improve an early draft, update a filing from a prior matter, compare multiple filings, or jumpstart your research.
Upload an opponent's document to review warnings for cited authority, an analysis of quotations, and relevant authority contrary to their positions.
Quick Check gives me superior confidence in my work product before it goes out the door or gets submitted to the court.