AI-powered Document Intelligence for commercial real estate
Reduce the time it takes to draft and review commercial real estate documents using Thomson Reuters Document Intelligence. Experienced attorneys with deep real estate knowledge trained innovative AI to help you significantly reduce tedious tasks so you can focus more on negotiations and finding essential terms.
Use AI at every stage of real estate document drafting and review
Confidently draft and negotiate stronger contracts with insights into historical data, pricing trends, and negotiation outcomes.
Ensure adherence to best practices and avoid costly deviations with your legal playbook delivered directly in Microsoft Word.
Proactively ensure contract compliance with less headache and complexity. Avoid missing critical issues that could cost or disrupt the business with comprehensive review.
These models are ready for immediate use, benefiting from thousands of training hours and continuous improvements made by experienced attorneys.
Decrease drafting time and improve quality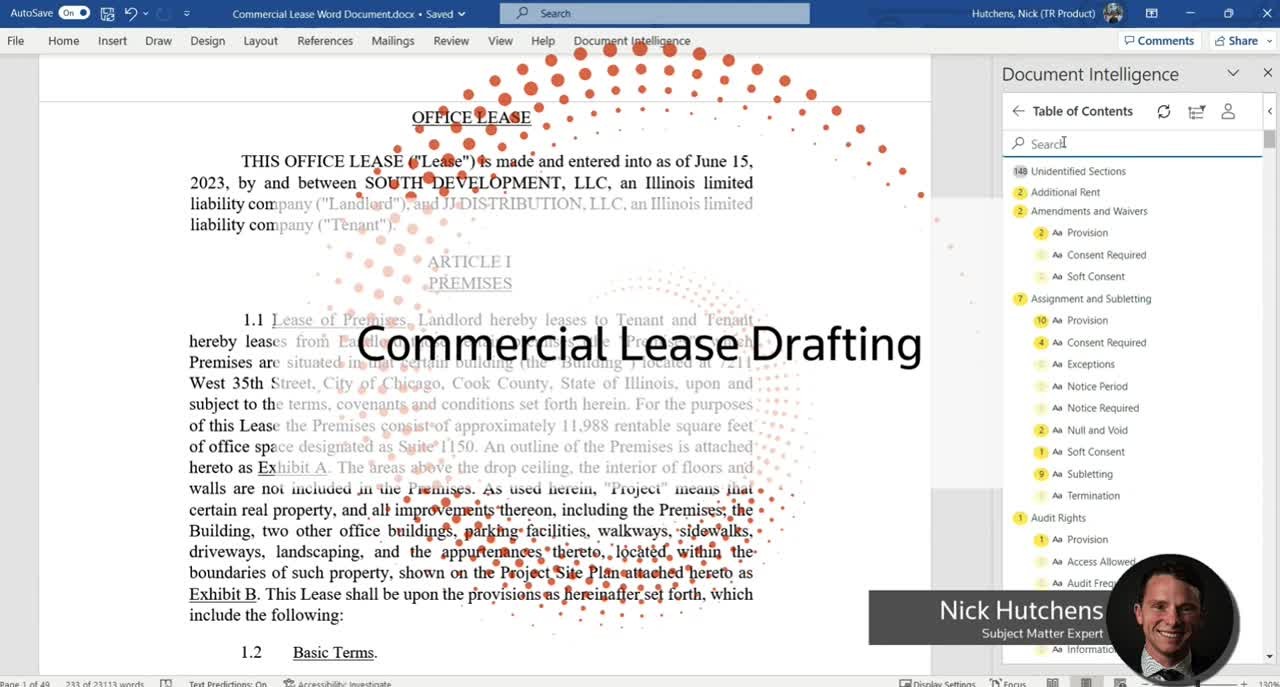 01:36
Drafting commercial leases can be very challenging. You are expected to analyze every word in a lease that can be over 50 pages to identify missing clauses that require inclusion and discern which clauses you should eliminate. Document Intelligence uses pre-trained AI to recognize over 300 commercial lease clauses out of the box. This technology reduces the time it takes to ensure your leases have the most favorable terms, significantly improving confidence in your document. 
Spend less time reviewing contracts and find risks and cost savings faster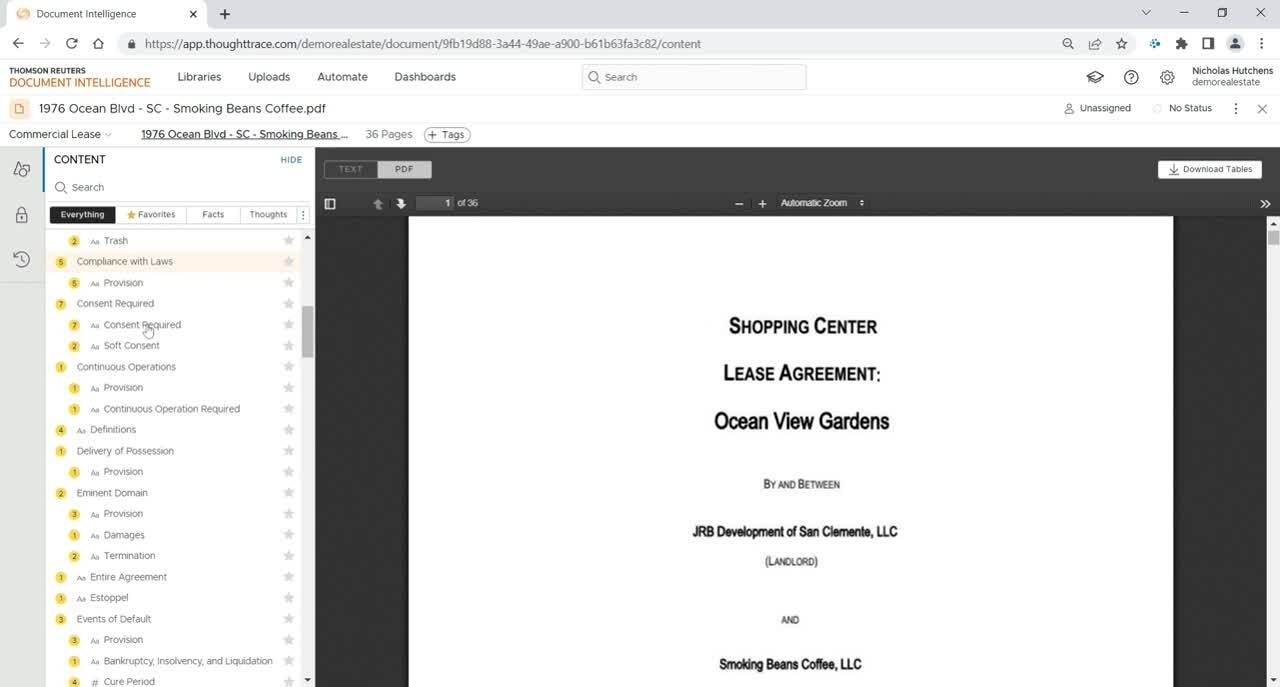 02:00
Some real estate review projects only focus on key information, leaving large portions of the document to be skimmed over or even ignored for the sake of time. Any oversight can be costly down the road. Experienced real estate attorneys have specifically trained Document Intelligence to comprehensively analyze entire documents, taking contextual factors into account. It efficiently provides a structured overview of the relevant content, enabling legal teams to allocate less time to contract reviews and devote more time to offering valuable advice to their clients.
Whether you're engaged in lease abstraction — where specific information needs to be extracted — or undertaking a comprehensive cost-optimization project across a client's entire portfolio, Document Intelligence streamlines and enhances the process, making it simpler and more precise to locate and extract the essential terms you require.

Integrated systems and workflows
Document Intelligence capabilities are integrated with HighQ and other contract lifecycle management systems, along with hundreds of other applications, so you can access the information you need right in the system you are familiar with.
The HighQ AI Hub provides a single integration point and an easy-to-use interface that automates and simplifies processes. Using HighQ iSheets and automation, you can quickly create data visualizations, workflows, risk evaluations, and more.
Experience real estate-specific AI that works on day one
Request a Thomson Reuters Document Intelligence demo today