Secure online collaboration
Stay ahead of the competition through online collaboration
Innovative solutions from HighQ, now part of Thomson Reuters, offers a competitive advantage by empowering your law firm to increase efficiency, improve client and partner collaboration and transform the way you work
HighQ is a cloud-based solution for law firms streamlining collaboration, legal operations and client management. HighQ connects your teams and improves your ability to serve clients in a meaningful way. On a unified, secure, and seamless platform trusted by many of the world's leading law firms, you can take performance to new heights.
Elevate productivity on a secure, user-friendly platform
HighQ provides law firms a secure, user-friendly platform that brings your teams, documents and projects together anytime, anywhere. Streamline collaboration, improve client engagement, discover new efficiency savings and innovate your operations firm-wide.
---
The best of its kind in cloud security
Trusted by leading law firms
Protecting your highly sensitive data is imperative and your law firm's security infrastructure can make or break your ability to win new clients. What makes our approach different? HighQ guards your data in a best of its kind, safer and more cost-effective security environment.
Eliminate risk on a cloud platform that isn't soft on security
Your data is protected by security experts with an average of more than 15 years of industry experience
Add an extra layer of protection with two-step authentication
---
Simple technology and superior user experience
No more convoluted workspaces
We understand implementing new technology can come with a variety of unique challenges — and finding a cross-functional software solution that fits your law firm's needs may seem like a daunting task. It doesn't have to be. That's why we created an easy-to-adapt platform with your entire firm in mind.
Cut costs and save time on extensive training by integrating HighQ's intelligent work platform
Intuitive functionality enables you to customize sites based on your law firm's needs
Offer more value to clients by uncovering solutions to their functional needs
---
A better way to work together
Flooded inboxes are a thing of the past
How does your law firm juggle multiple projects while meeting increasing client expectations? Accelerate your productivity and efficiency with HighQ, the easy-to-adapt enterprise solution that unlocks your team's full potential by improving the way you work together.
Stay in sync with your teams, work more efficiently, and improve client relationships
Drive better decision-making in a timely manner and find key information instantly all in the same place
Improve internal communication and create a more connected workplace culture by making it easier for everyone to share key information
---
Connect and collaborate anywhere, anytime
Stay productive on the go
Working remotely can be difficult if you aren't able to access your projects and share information with your teams. HighQ's built-in features make it easy to stay connected and collaborate with your team no matter where you are. The HighQ drive app works in sync with our platform, so you don't miss a beat.
HighQ evolves with your firm in a constantly changing legal landscape where clients expect more efficiency, transparency and value.
Watch the video to learn how HighQ can enable your firm to:

Improve decision-making and efficiency firm-wide – Combine your intelligence with ours and you will be confident you are providing the right answers
Enhance the client experience – Offer clients transparency in a customized online portal with 24/7 access to expert content, tools and matter status
Stand out from the competition – Prospective clients have countless options for which firm to choose. HighQ can help you meet their key requirements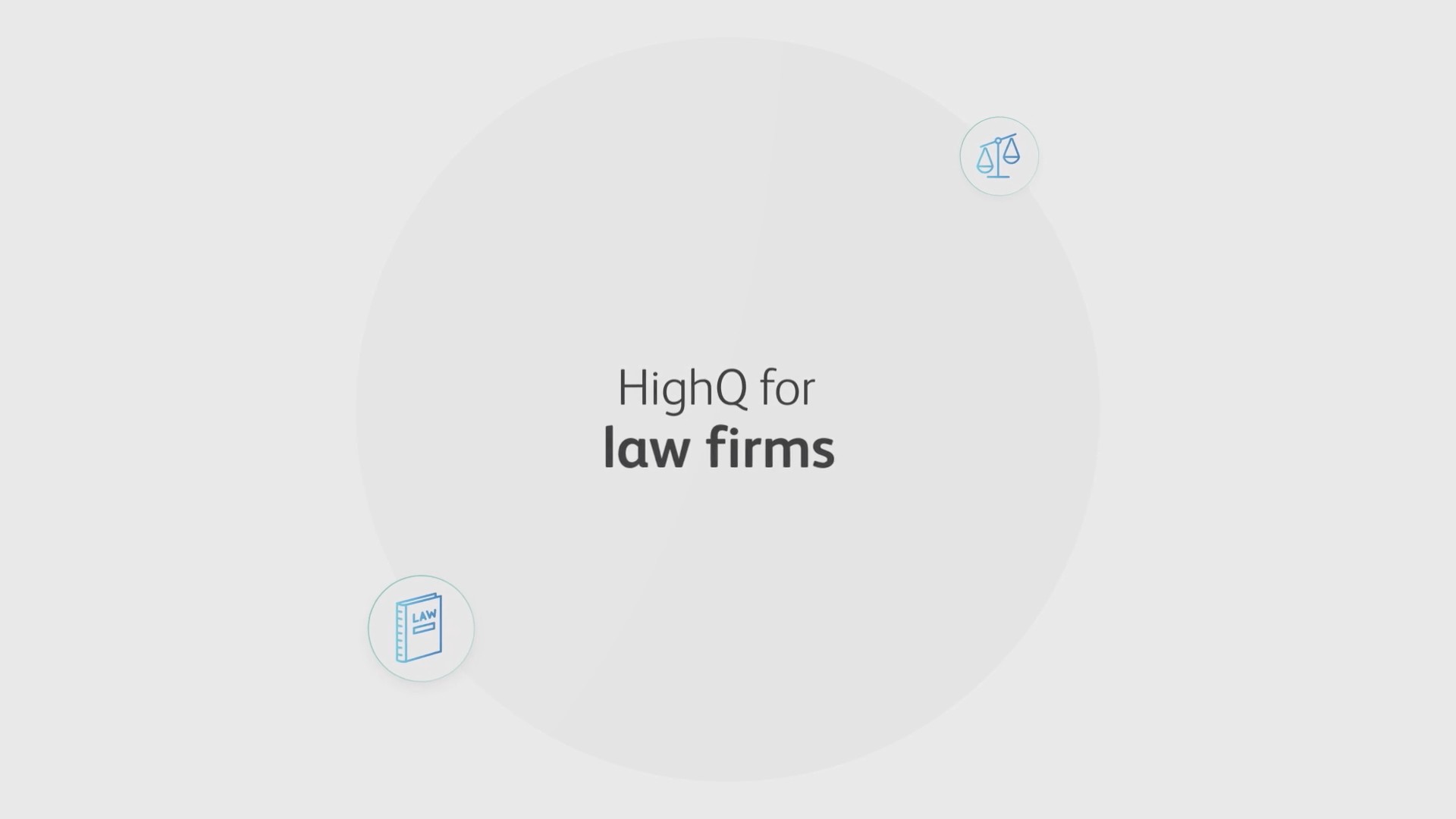 01:48
HighQ drives significant efficiency savings
Irwin Mitchell LLP, one of the UK's largest law firms, wanted to improve its project efficiency and ensure continuity across 15 offices staffing more than 2,500 employees. That's where HighQ came in. Since adapting HighQ's user-friendly software, Irwin Mitchell LLP has strengthened collaboration capabilities and boosted efficiency firm-wide by automating a wide range of legal processes through a platform backed by extensive levels of security.
---
HighQ, as it stands, is the best that we can find in the market
01:21
Irwin Mitchell LLP's story
Request a free demo of HighQ
Discover how HighQ can transform the way you deliver services. Ask for a tailored demonstration today to find out more.