The standard for legal research
Westlaw Edge is built from decades spent collaborating with customers, combined with the collective brainpower of top legal professionals and best-in-class technology. First-of-its-kind solutions like intelligent document analysis, integrated litigation analytics, and advanced citator warnings expedite legal research tasks that were once incredibly complex and time-consuming.
Westlaw has always been the standard for legal research. Westlaw Edge raises that standard through our commitment to customer-inspired innovation, which has enabled us to go beyond Westlaw's foundational features to bring you to new levels of thoroughness and efficiency.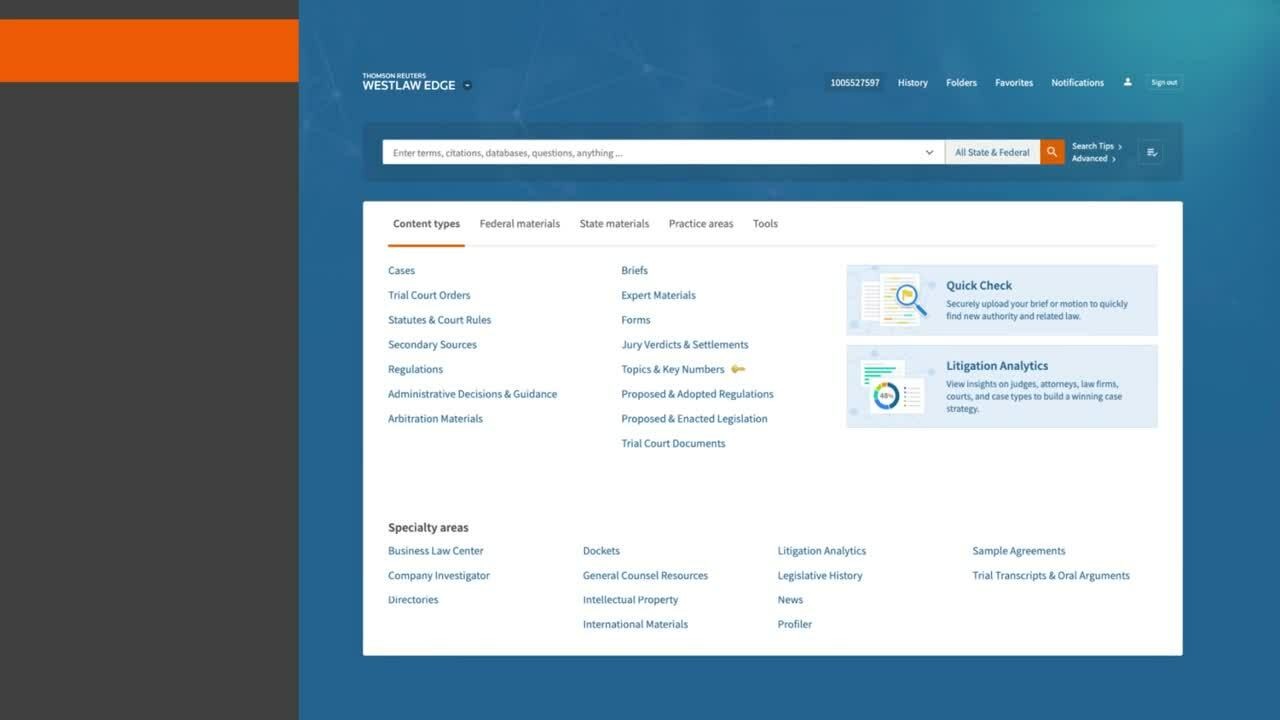 01:40
See Westlaw Edge for yourself.
Westlaw Edge saves at least a few minutes for each search that you're doing, which certainly adds up. Even just saving 5-10 minutes per research assignment can add up to an hour a day.
Unrivaled research capabilities
Westlaw Edge includes access to powerful tools designed to help you complete research tasks in less time without sacrificing accuracy.
Analyze briefs with Quick Check
Quickly complete a comprehensive review of your brief – or your opponent's. Quick Check securely analyzes briefs to suggest highly relevant authority that traditional research may have missed. Use it to check your own work, identify potential weaknesses in your opponent's document, or compare multiple filings from a matter.
Review data and opponent information with Litigation Analytics
Develop a stronger litigation strategy and better manage client expectations in terms of cost, timing, and likely outcome. Informed by data points mined from litigation documents, Litigation Analytics can give you insight on your judge's ruling tendencies, your opponent's experience on a particular issue, and more.
Identify implicit risks with KeyCite Overruling Risk
Celebrating 25 years of KeyCite on Westlaw
25 years ago, we introduced KeyCite, which has always been relied upon as the most accurate, complete, and trusted citator to verify whether you are relying on good law. The foundation of KeyCite and our commitment to customer-inspired innovation has led to the development of state-of-the-art features like KeyCite Overruling Risk.
Traditional citators identify when a case has been explicitly invalidated by a subsequent ruling. However, they don't warn when similar cases may have also been implicitly overruled or abrogated by subsequent new developments in the law. KeyCite Overruling Risk marks cases that have no direct citations pointing to their invalidity.
Save time with Statutes Compare and Regulations Compare
Save time manually comparing legislative changes with Statutes Compare and Regulations Compare. With the click of a button, you can instantly compare any two versions of a statute or regulation and see exactly what has changed.
AI powered search with WestSearch Plus
WestSearch Plus utilizes advanced artificial intelligence to surface the information you need right to the top of your results. Save time digging through results lists and complete your research with confidence using the next generation of legal search.
---
Making it easier to get the right answers right away
Westlaw Edge builds off 150 years of customer-inspired innovation that generations of attorneys have relied on for thorough and accurate research
Complete complex and time-consuming research faster with best-in-class research technology.
Enhancements such as the Key Number System, Headnotes, and Notes of Decisions make it easier for you to find, validate, and interpret the law.
Access the most comprehensive collection of legal information, backed by a rigorous editorial process, so you can be confident you'll find what you are looking for.
94% of surveyed respondents agreed with the following statement:
"Westlaw Edge has improved the quality of my legal research."
Source: TechValidate survey of 427 users of Westlaw Edge
Westlaw Edge was voted #1 legal research provider
The National Law Journal's Best of 2023 survey
Westlaw Edge was voted #1 legal research provider
The Recorder's Best of 2023 survey
Start your free trial of Westlaw Edge today
Get instant access to AI-powered tools to complete your research faster. No credit card required.