Westlaw Precision now has generative AI
With AI-Assisted Research on Westlaw Precision, simply ask a question in everyday language and get a relevant answer with links to trusted Westlaw authority in moments
Jumpstart your legal research with AI-Assisted Research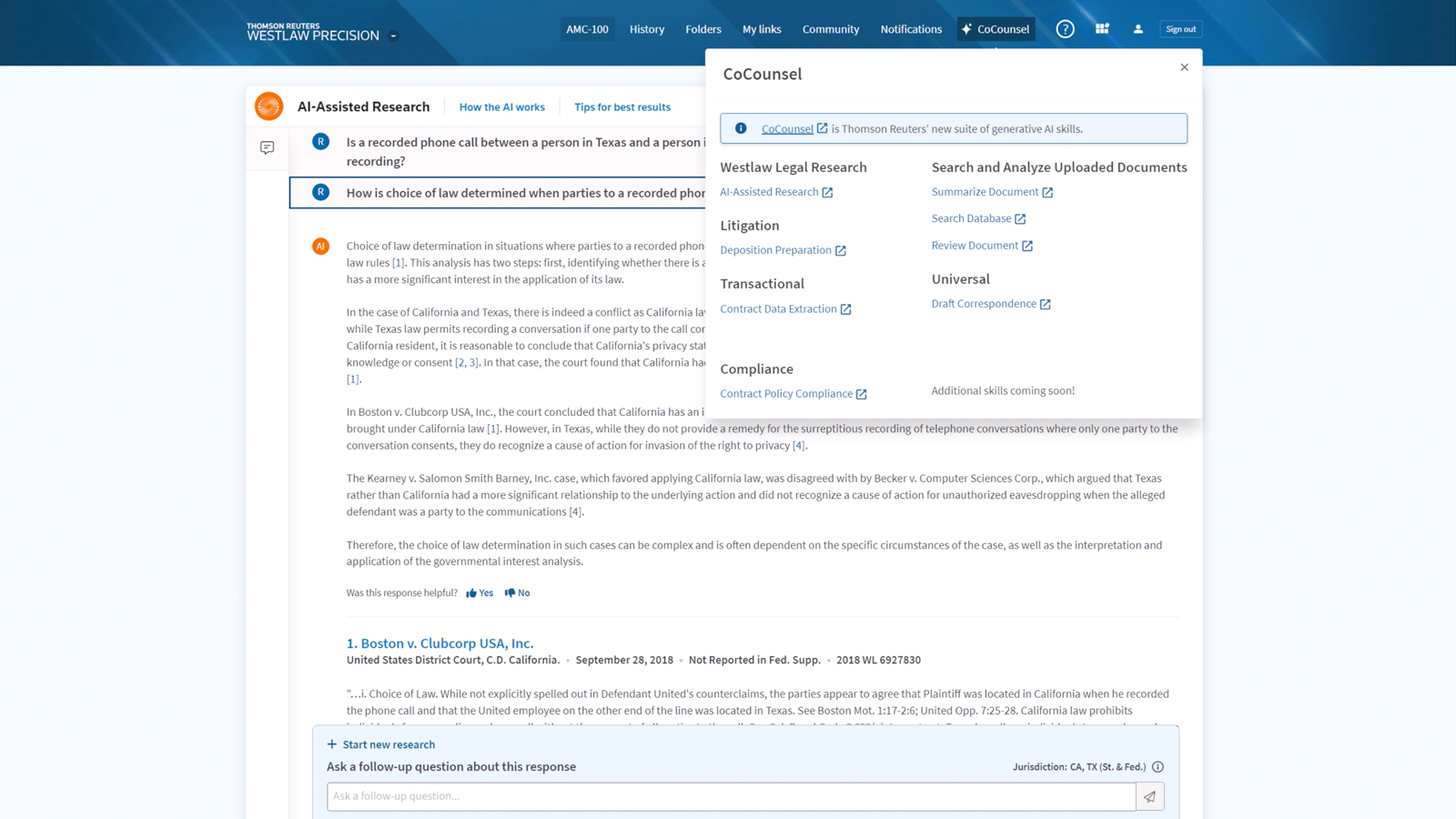 00:33
What do you get when you combine generative AI with Westlaw Precision's industry-leading legal content, unmatched editorial enhancements, and over 150 years of legal industry expertise? The answer: AI-Assisted Research. With AI-Assisted Research on Westlaw Precision, you can harness the power of generative AI — grounded in Westlaw's trusted content — to quickly get relevant answers to your legal research questions, allowing you to make more well-informed decisions for the direction of your legal research.
 
As lawyers, we should be cautious when using AI to develop responses to complex legal issues that are often dependent on nuance. Because AI-Assisted Research relies on Thomson Reuters' proven database, I can have the confidence that the response generated from AI is relying on actual sources and not something that is made up.
The perfect complement to Westlaw Precision: CoCounsel Core
Want access to even more legal generative AI? When you pair AI-Assisted Research on Westlaw Precision with CoCounsel Core, you will have an unparalleled, industry-leading suite of legal generative AI tools right at your fingertips. Not only will you be able to get quick legal answers grounded in trusted content with AI-Assisted Research, but CoCounsel Core's innovative AI can help you with contract analysis, document review, deposition preparation, and so much more.
Generative AI will completely change how you research the law
Using AI-Assisted Research, simply type in your legal issue, and it will generate a high-quality legal summary for you.
Get an answer grounded in results from the most powerful legal search engine, WestSearch Plus, and the latest in large-language models.
With AI-Assisted Research, you can rely on legal summaries based solely on Westlaw content — the industry's most comprehensive and accurate.
Request your free trial today
Experience AI-Assisted Research on Westlaw Precision for yourself