Quick Check Judicial
New! Intelligent document analysis built to take your research to the next level.
Built for judges. Essential for attorneys.
Gain access to the same powerful tool that courts across the country can now leverage. With Quick Check Judicial you can analyze multiple documents from a single matter - your own and your opponent's. Quickly compare the citations you each relied on, plus gain an understanding of what relevant authority was omitted and how that may affect your argument.
Benefits of using Quick Check Judicial
Review the briefs filed by you and your opponent to gain an inside look at the same analysis your judge will see
Check a drafted reply against documents that have already been filed to ensure nothing was missed
Compare your opponent's work against your own to find new ways to strengthen your argument
Powered by advanced artificial intelligence, Quick Check Judicial allows you to upload and compare up to six documents from a matter. The resulting report displays relevant authority that was omitted, a list of citations found in all of the uploaded documents, and any differences between case quotes and the cited case language on Westlaw Edge.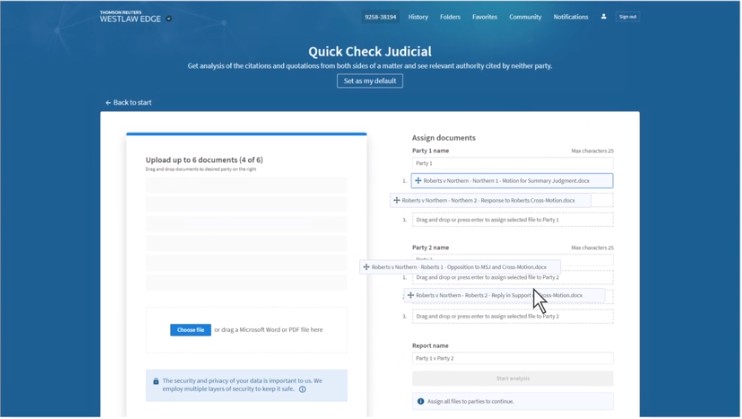 00:37
Attorneys only argue before the court so often, and even though the judge might hear the same cases a lot, attorneys aren't arguing them every day. No matter how good a lawyer is, it's hard to stay up to date with everything, but with Quick Check Judicial, you can go into court with confidence.
Unrivaled features set Quick Check apart
Quick Check securely analyzes your uploaded document to detect the legal issues covered. It then identifies highly relevant authority that traditional research may have missed.
Fully integrated with Westlaw Edge, Quick Check allows you to quickly verify citations using KeyCite and filter out the legal documents you've already viewed or saved to a folder.
View an at-a-glance report that displays the differences between case quotes in your uploaded document, and the cited case language on Westlaw Edge.
Start your free trial of Westlaw Edge today
Get instant access to Quick Check Judicial to begin comparing your and your opponent's briefs