Unemployment Insurance Programs Using CLEAR

ONLINE INVESTIGATION SOFTWARE
Thomson Reuters Risk & Fraud Solutions for unemployment insurance
Unemployment agencies need solutions that can provide financial relief to citizens in need and illuminate the criminal networks that are responsible for billions of dollars in pandemic-related fraud.
Prevent fraud, detect anomalies, streamline investigations, and recover funds
Ensure your agency has the right resources to stop fraud and overpayments, while prioritizing your backlog of claims so you can quickly get payments to legitimate claimants and investigate high-risk claims further. Keep your community moving forward with Thomson Reuters Risk & Fraud Solutions.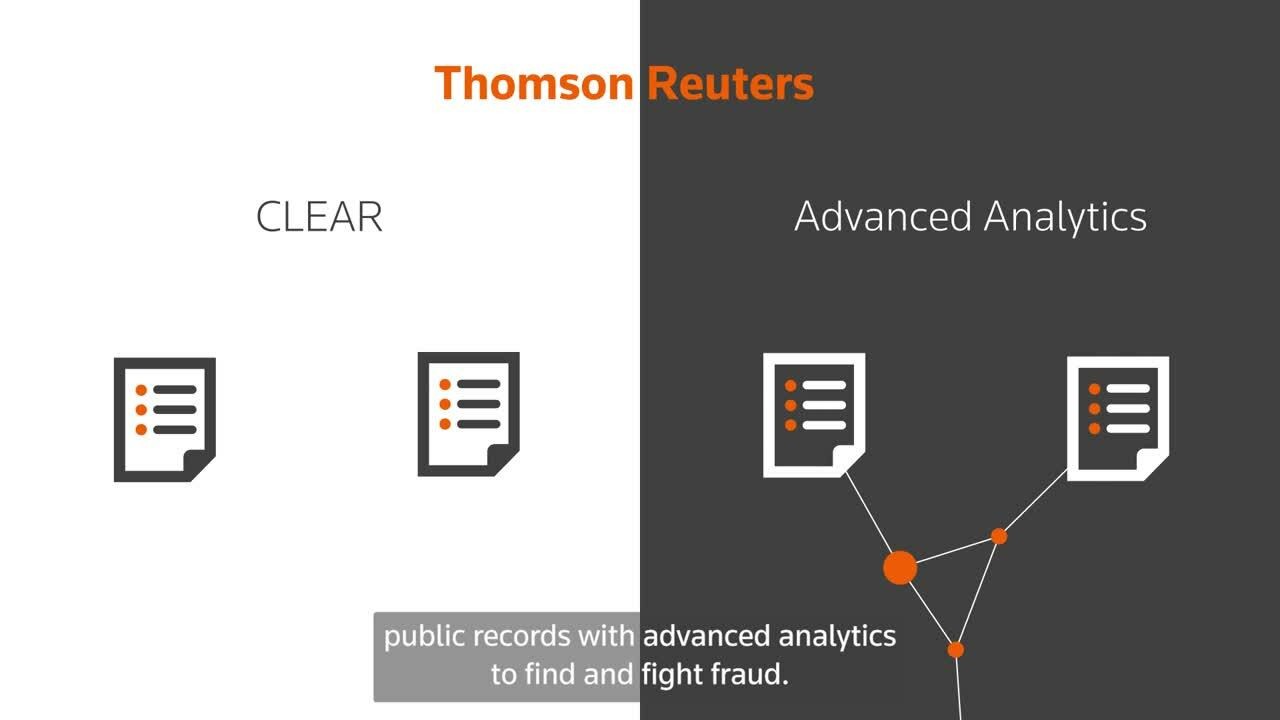 01:51
Detect potential fraudulent claimants
With CLEAR ID Confirm, teams can identify deceased or synthetic identities, as well as fictitious employers and businesses. Identify any risk associated with the subject you are investigating, such as deaths, redundant SSNs, OFAC listings, and businesses tied to the same FEIN.
Prioritize investigation based on high-risk indicators
Thomson Reuters ID Risk Analytics equips your team with a holistic, prioritized view of identity-based risk within your program by combining your agency data with identity verification and behavioral analytics— all in an intuitive dashboard.
Detect sophisticated fraud with an integrated solution
Detect fraudulent behavior with confidence
Thomson Reuters Fraud Detect combines your agency data with Thomson Reuters CLEAR data to enable detailed analyses that provides investigation-ready leads with risk scoring, intuitive analytics, and a comprehensive view of program participants. Simplify your process by importing legacy case data from Fraud Detect or other sources to assign and route cases through your resolution process using Case Tracking.
Access actionable data to help recover funds
Uncover billions of dollars of pandemic-related fraud through prosecution target packages that utilize Thomson Reuters unemployment fraud subject matter experts and data science to help you uncover criminal networks buried layers deep within your agency data. Thomson Reuters Fraud Recovery Services and technology help you parse through mountains of agency data to provide high-value prosecutor reports, helping to move you towards recovering dollars and stopping the worst criminal networks.
Request a free consultation
Understand how Thomson Reuters Risk & Fraud Solutions can help you streamline and strengthen your UI benefits process.
Submit the form and one of our experts will contact you to schedule a quick consultation.
Thomson Reuters is not a consumer reporting agency and none of its services or the data contained therein constitute a 'consumer report' as such term is defined in the Federal Fair Credit Reporting Act (FCRA), 15 U.S.C. sec. 1681 et seq. The data provided to you may not be used as a factor in consumer debt collection decisioning, establishing a consumer's eligibility for credit, insurance, employment, government benefits, or housing, or for any other purpose authorized under the FCRA. By accessing one of our services, you agree not to use the service or data for any purpose authorized under the FCRA or in relation to taking an adverse action relating to a consumer application.