Thomson Reuters highlights its CLEAR solutions as law enforcement look to equip their teams for the future
Jump to:
SAN DIEGO — As thousands of law enforcement and public safety professionals perused innovative tech tools, learned about new techniques and challenges, and sought to equip their teams for the future, Thomson Reuters was able to highlight its law enforcement solutions — including its CLEAR platform — at the recent annual International Association of Chiefs of Police (IACP) Conference and Exposition.
Indeed, the Thomson Reuters team was able to engage with many of the 16,000 attendees at the IACP Conference and Expo — one of the largest law enforcement events of the year — about the impact of technology on the efficiency and effectiveness of police work and community policing.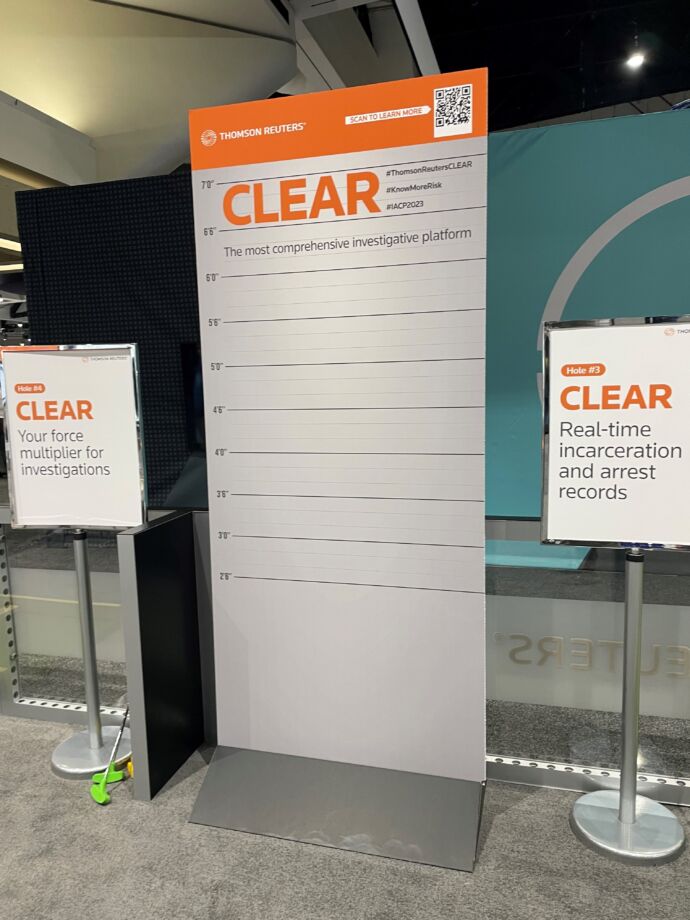 Showcasing the latest police technology
One of the key attractions of the IACP Conference and Expo, of course, is the chance for law enforcement attendees to get hands-on demonstrations with dozens of vendors of police technology solutions and tools. Organizations showcased innovative police tech, such as police body cameras and video abilities, automated call management and case management solutions, and advanced data search capabilities.
Throughout the conference, the Thomson Reuters team was able to create an engaging and impactful presence at the IACP Conference and Expo, leveraging the integration of live, customized demos at designated CLEAR stations, which both enhanced customer engagement and facilitated meaningful conversations with potential clients. "The promotion of various CLEAR capabilities — such as around batch services and data integration — was essential for highlighting the diverse range of services that Thomson Reuters Risk & Fraud solutions offers to our law enforcement client group," a Thomson Reuters team member said.
Throughout the Expo, it became clear that, with some applications of technology already in use, more advanced tech can be expected to grow increasingly important to facilitate investigations, identify persons of interest, and find patterns of behavior that can expose criminal networks. Indeed, more advanced technology can be expected to "radically alter information and how police receive data, visualize phenomena, and find and recognize patterns in a large amount of data," one attendee explained.
Further, tech usage in police work can also help to protect victims of crime, bring a better understanding of risks, identify patterns for predictive policing, and even allow for the more effective deployment of law enforcement resources.
What is on the horizon for law enforcement data trends in 2024?
One key emerging trend in law enforcement continues to be the move toward the synergizing of all this data, said one conference attendee, adding that a look at the main vendor booths at the event showed how many were demonstrating such data-driven technology solutions as computer-aided dispatch and records management systems, license-plate readers, forensics data analysis, and more. "Law enforcement needs these resources streamlined in order to manage the same, or often times, heightened, level of crime taking place in communities today," the attendee said. "In fact, if you sum up a trend or theme from this year's conference, it'd be the need for a deeper synergy of resources."
Another attendee noted that need for synergy around all the information and data that law enforcement currently deals with has added to everyday concerns around such tasks as tracking social media to finding profiles that could be attached to email or IP addresses. "This remains a perennial topic of need and a topic of much discussion," the attendee said.
One event panel suggested several steps that law enforcement should take now to improve their technology implementation, including: i) inventorying their current technology use; ii) developing a roadmap for near-, mid-, and long-term tech use; and iii) developing a governance structure to manage current and future use. To that end, police forces will need specialized training in the more advanced aspects of tech as well as the ability to build up their knowledge about its use, especially around accountability and auditing.
Not surprisingly, the panel added, is that the legal and ethical concerns of more advance tech can impact both law enforcement organizations and the very processes that police use to do their jobs. Police should be aware that government legislation frequently cannot keep up with new technology and these debates over the ethical use of advanced tech in police work will continue and should be monitored.
Overall, the Thomson Reuters team was able to leverage their presence at the IACP Conference and Expo to not only demonstrate the advantages of CLEAR to law enforcement participants, but also to critically engage attendees around where their future tech needs may be, readying the next generation of law enforcement for a more data-driven, tech-collaborative future.
Thomson Reuters is not a consumer reporting agency and none of its services or the data contained therein constitute a 'consumer report' as such term is defined in the Federal Fair Credit Reporting Act (FCRA), 15 U.S.C. sec. 1681 et seq. The data provided to you may not be used as a factor in consumer debt collection decisioning, establishing a consumer's eligibility for credit, insurance, employment, government benefits, or housing, or for any other purpose authorized under the FCRA. By accessing one of our services, you agree not to use the service or data for any purpose authorized under the FCRA or in relation to taking an adverse action relating to a consumer application.
Facebook
Twitter
Linkedin