It's 5:00 pm on a Friday, and you see an email pop into your inbox. One of your firm's Partners has a rush research request that needs to be done before you can leave the office. Specifically, they need a list cases that interpret whether entering into a lease in Illinois would submit a party to jurisdiction in Illinois, per the state's long-arm statute.
Here's a quick tip you can use to get out the door faster: You can jumpstart your research by browsing the long-arm statute's "Notes of Decisions."
Notes of Decisions are annotations written by attorney editors that summarize important cases interpreting a statute or regulation, giving you a more complete picture of how the law has been applied.
Pulling up a statute on Westlaw Edge
First, let's find the Illinois long-arm statute. Select Illinois as your jurisdiction and search the terms "long-arm statute." Once the results load, select "Statutes & Court Rules" on the left-hand side.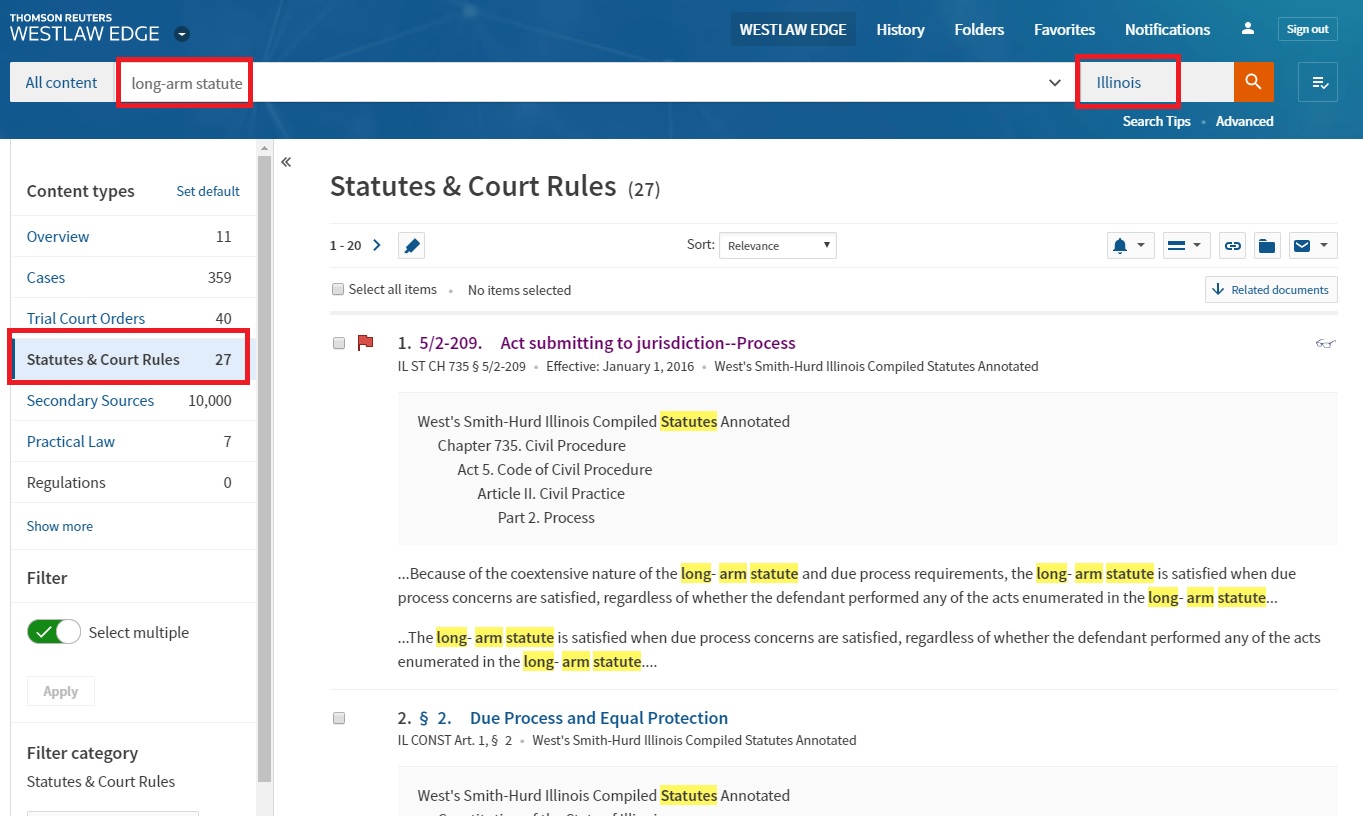 As you can see, the Illinois long-arm statute is delivered directly to the top of the list despite the fact that the actual phrase "long-arm" does not appear in the statutory text. Westlaw Edge was able to find the correct statute because it employs advanced artificial intelligence built upon more than 100 years of editorial enhancements, like Notes of Decisions, to instantly deliver the most relevant documents.
One important note: This statute has a red flag, meaning some part of it may be unconstitutional or preempted. So, this is something you will want to look into after you find the lease-related cases in the Notes of Decisions.
Accessing the Notes of Decisions
Now that you have located the statutory section you need, there are two easy ways you can access the Notes of Decisions:
Click the "Notes of Decisions" tab
Scroll through the document and click "View all" Notes of Decisions below the statutory text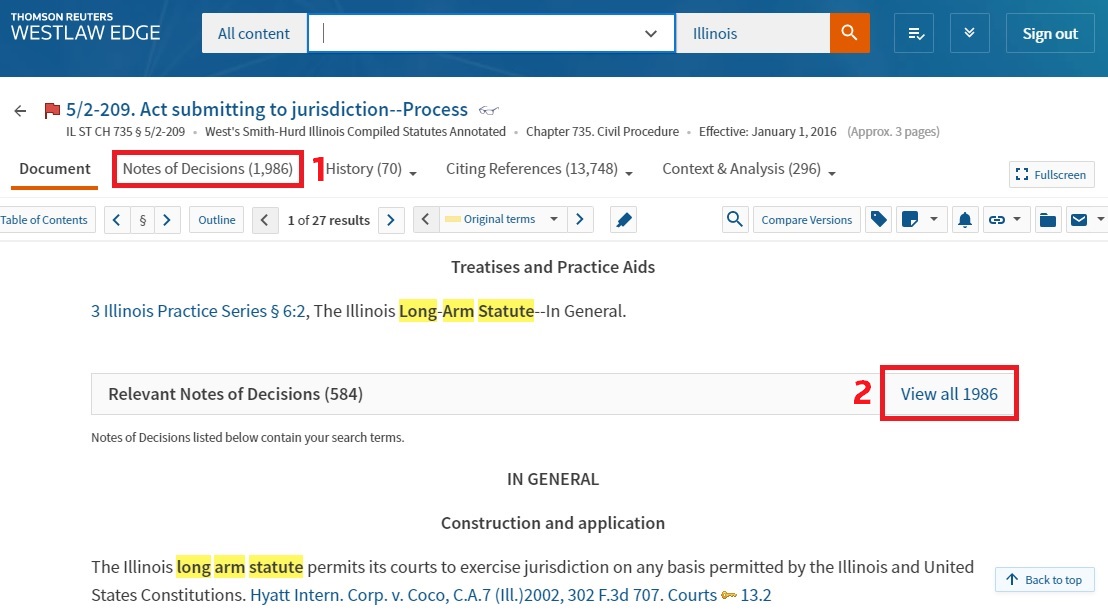 Attorney editors organize Notes of Decisions into broader headings and then into more precise topics so you can easily navigate directly to the most relevant Notes of Decisions for your issue.
Click the "+" sign next to "Minimum Contacts" since that is the most applicable topic to this issue. Several more precise topics appear below for you to browse, including Leases, which is exactly the issue being researched. You can now click on "323. Leases, generally."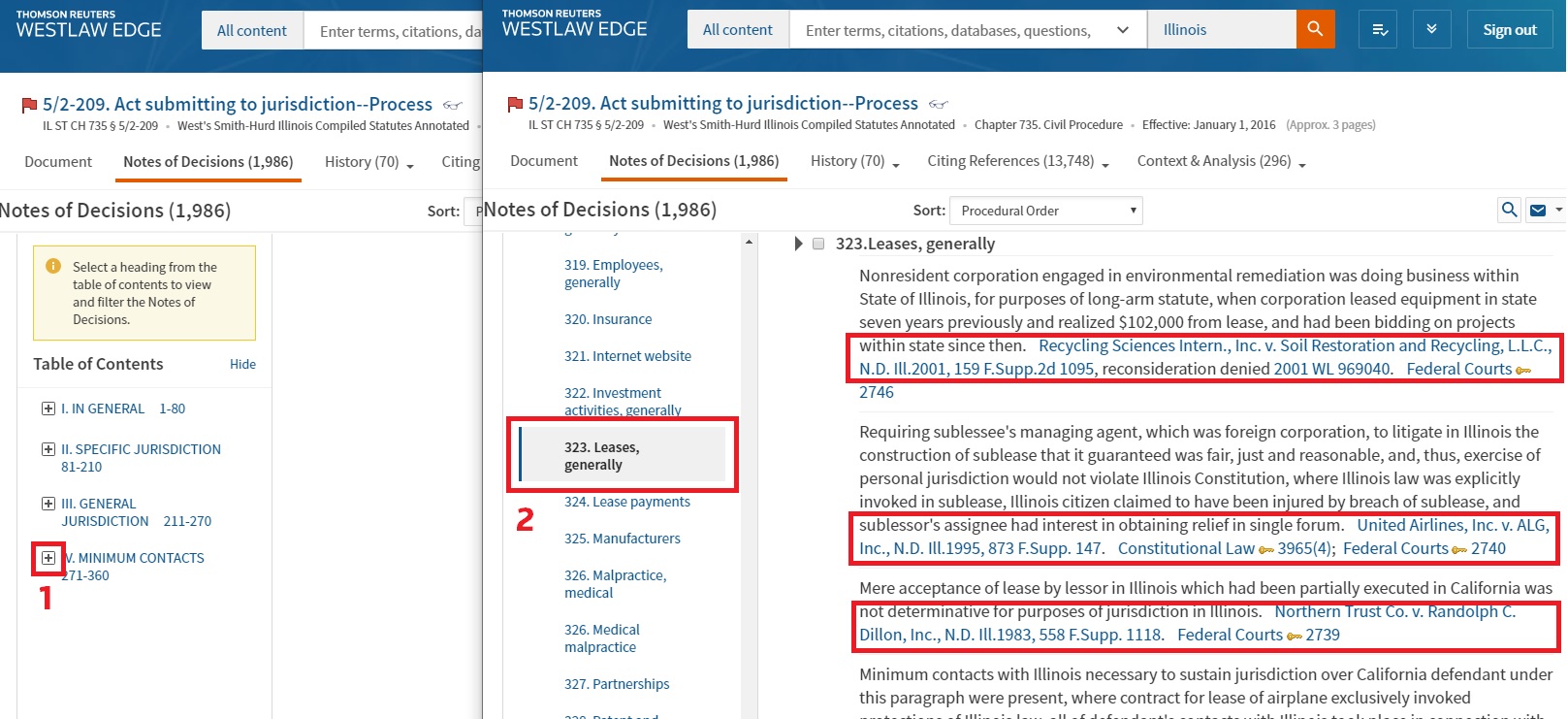 As you can see, there are several different Notes of Decisions regarding leases under Illinois' long-arm statute. And each Note of Decision links to the citing case as well as the relevant Key Number for the topic(s) discussed, giving you seamless access to a network of cases on a precise topic.
Facebook
Twitter
Linkedin