Generally, there are two types of legal precedents:
Binding precedent – Precedent that a court must abide by in its adjudication of a case.
Persuasive precedent – Precedent that a court may, but is not required to, rely on in deciding a case.
Definition taken from the Practical Law glossary pictured below.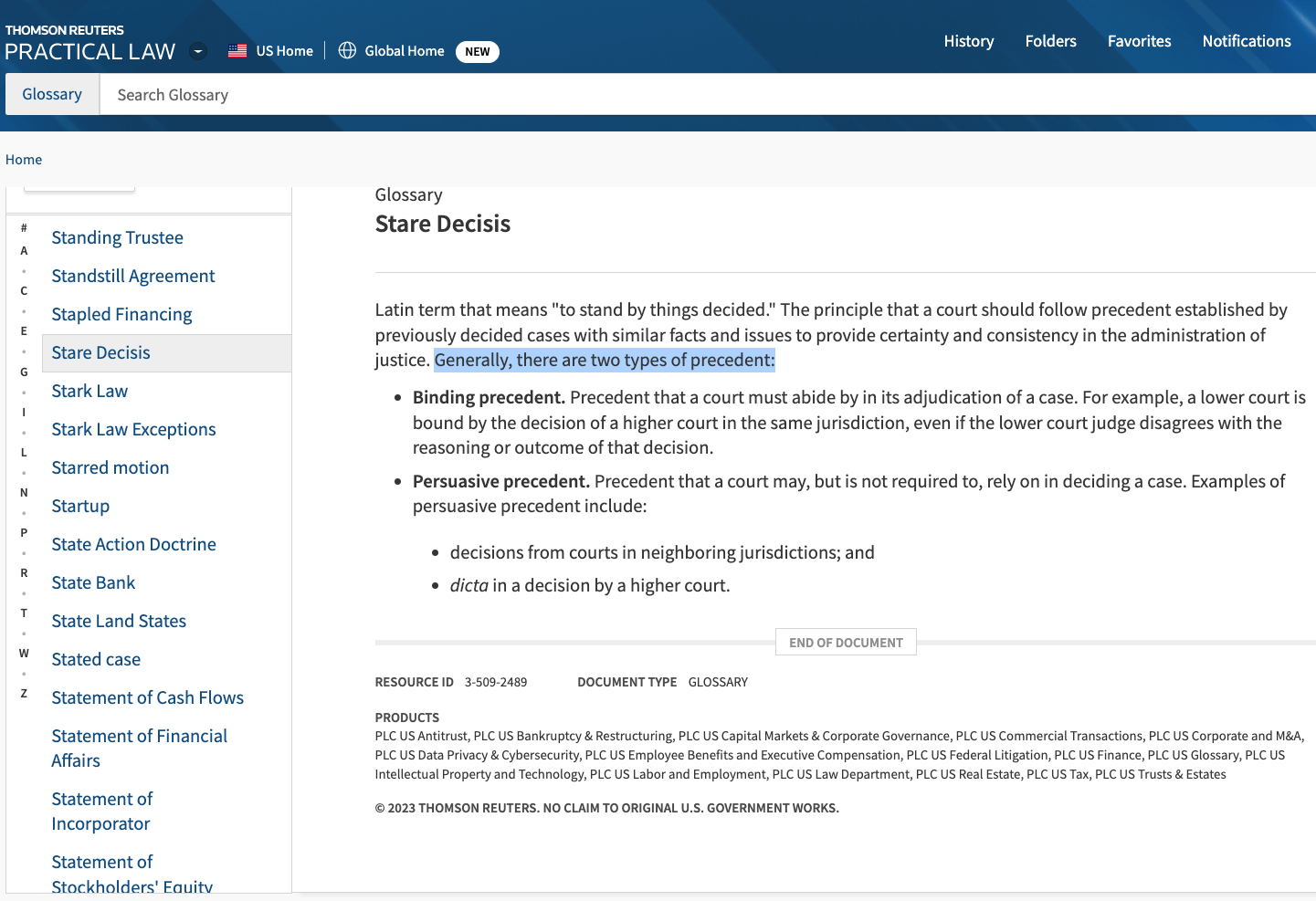 Legal precedents play an important role in decision-making and aids the judicial officers in referring to similar case laws, ultimately saving time and scrutinizing results. And of course, it's usually a research paralegal or associate tasked with a case law study and discovery concerning a legal matter. This case-building work takes thorough research, where paralegals or associates comb through law books, legal databases, and case law statutes in both physical and digital form. Researching large databases can understandably be a tedious job, but with the most practical case law research tools these tasks can be simplified.
Legal precedent example
In Kudlacik v Johnnys Shawnee Inc, it was observed that once a legal principle has been established by a court, as per the doctrine of stare decisis, it will typically be upheld by the same court when the same legal issue is brought up in consecutive instances, and in all courts of lower rank.
So what transpired? The Supreme Court upheld a district court's decision to dismiss the plaintiff's lawsuit against the defendants (two commercial drinking establishments) for injuries sustained in a collision with a vehicle whose driver had consumed alcoholic beverages at the defendants' establishments prior to the collision.
On appeal, the plaintiff urged the Supreme Court to re-examine the district court's case law shielding commercial drinking facilities from liability for the wrongs perpetrated by their inebriated customers. The Supreme Court upheld the district court's ruling after restating the common law in accordance with the stare decisis principle, ruling:
This court declines to overturn Ling v. Jan's Liquors, 703 P.2d 731 (Kan. 1985), and the plaintiff failed to state a claim for negligence; and
Plaintiff failed to state a claim for aiding and abetting under Restatement (Second) of Torts.
---
"Legal researchers have one perennial question: Have I done enough?"

Helping the legal researcher feel confident they've done enough – Read the full white paper.
---
How to use case law as a precedent in a report
Legal reports are typically prepared in one of two ways: in a straightforward, neutral-explanatory tone or in a more persuasive manner.
Include basic elements of a brief
Though writing styles and document templates differ, a report should contain:
A brief description of the issue that is to be explained in detail further with a simple resolution;
A statement of facts at hand;
A comparative study drawn analytically with the facts and the issue concerning the laws;
A conclusion to the issue, its facts, and its legal analysis.
Align facts and legal issues
Legal precedents are when a case's circumstances and legal requirements match those of a contemporary legal dispute; unless a party can demonstrate that it was incorrectly resolved or that it differed materially, the precedent will typically govern the outcome of a later similar case.
For judges, it is important to discern the "ratio decidendi," or the grounds for the decisions taken in previous cases, to apply the precedents stated in a report. In cases where the reasoning is similar enough to lead to the same or similar conclusion, it is the reasons—and nothing else—that "link" subsequent cases.
Additional citations and considerations
When reviewing law reports to cite valid case law it is important for lawyers, paralegals, and students to understand the significance of learning how to navigate and analyze a law report swiftly. The judgment is only one part of a legal report. It starts off with the names of the parties, the hearing date, the judge or judges' names, and, typically, the court. The headnote includes a summary of the relevant facts and the judge's decision, followed by catchwords and indexing terms. While working on the report, it is important to ascertain the precedents referred to in drawing the conclusion and upon whom the decision has been relied upon.
Following are the points to be kept in mind while citing case law and constructing a reliable report:
Write in simple and standard legal language
Use short sentences
Employ fewer jargons
Follow the IRAC Method (Issue, Reasoning, Analysis, and Conclusion)
Create sub-topics to improve readability
Maintain the flow of the report
Final thoughts on precedents
It's often challenging to determine what "the law" is in any given legal situation. In order to determine the actual law that applies to your case, you may need to compare many different instances to the particular facts of your case.
Do you know the laws and rules that apply to your case? Have you located a case or cases from the past that have similar facts and legal issues to yours? Finding a case that is on point or similar enough demands a lot of time and cumbersome research. If that's where you find yourself today, request a free trial of Westlaw Precision to drastically streamline your case law research or try Practical Law to get access to thousands of expert-written how-to guides, forms, templates, checklists, and more across all major practice areas today.
---
The content appearing on this website is not intended as, and shall not be relied upon as, legal advice. It is general in nature and may not reflect all recent legal developments. Thomson Reuters is not a law firm and an attorney-client relationship is not formed through your use of this website. You should consult with qualified legal counsel before acting on any content found on this website. 
Facebook
Twitter
Linkedin