Finding definitions in statutes can be tricky. If you've already ran a search in Westlaw Edge and still can't seem to find what you are looking for, you may not know what else to do. Well, there are several tricks you can use to find specific definitions in Westlaw Edge.
Use the table to contents to find a definition section
Many times, the first section in a statutory chapter or Act is the definition section. For example, say you are reading 17 USCA § 302 – Duration of copyright – on Westlaw Edge, and you see subpart (c) is talking about "Anonymous Works, Pseudonymous Works, and Works Made for Hire." Those are three rather technical terms that, unless you know copyright law, you may not know.
In situations like this, try going to the table of contents for either the subpart or the overall chapter and see if the first section lists the definitions.

In this case, 17 USCA §101 is entirely definitions, and all three of those terms are defined in that section.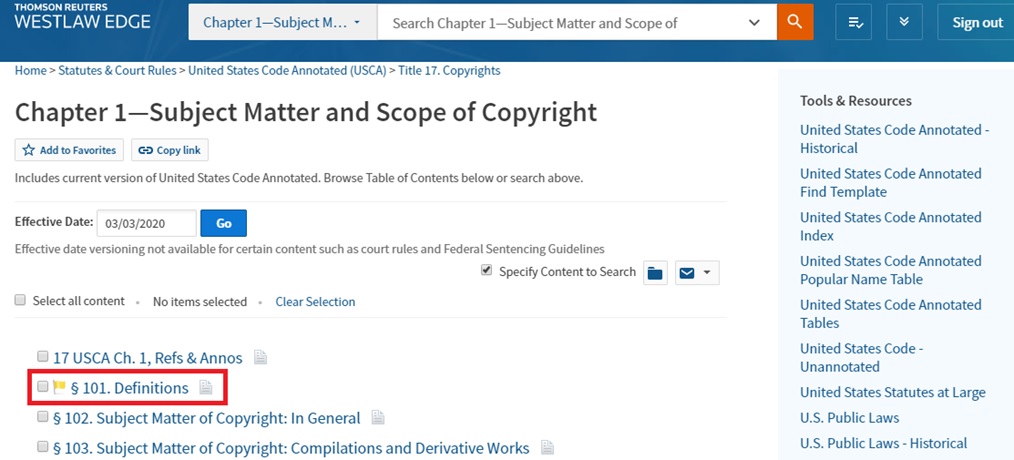 Use a terms-and-connectors search to find a statutory definition
Surprise, you can still run old-school Boolean terms-and-connectors searches in Westlaw Edge. While you may not use this type of search often, it does come in handy when you are looking for something very specific in statutes — like definitions. Simply go to the statutes for the relevant jurisdiction (like the USCA) and run the following search:
TI(definition) & te(insert term)
For example: TI(definition) & te(work-made-for-hire)
This will run a specific search for statutory sections within the USCA that are titled "Definition(s)" and have the desired term within the text of the statute. And don't worry about changing your search settings in order to run a search like this. Westlaw Edge automatically recognizes when you are using terms and connectors, and it will run the appropriate search for you.
Search case law and secondary sources for a definition
And even if you cannot find the appropriate statute — or the statutory chapter or Act doesn't have a definition section — you can still try to find a definition in case law and secondary sources for the appropriate jurisdiction. Here are some sample terms-and-connector searches you can use to search for definitions:
WP([insert term])
This searches the Words and Phrases field of a case or statute, which will contain definitions, this search won't work for secondary sources
Defin! OR Mean! OR Interpret! OR Explain! OR Constru! OR Constitut! OR Typical! Or Entail! /5 [insert term]
This search is usually the most effective in finding definitions, and works well in case law as well as secondary sources
Term OR Word OR Phrase +1 [insert term]
This search is a little more restrictive so you will get fewer results, but it is a good second option
Facebook
Twitter
Linkedin