Keeping public records data fresh
In an effort to keep things simple, detective Joe Friday, a character from the classic 1950's television show Dragnet, would famously implore female informants to state, "Just the facts, ma'am."
Times were simpler when the show premiered more than 60 years ago. For today's investigators and public records searchers, identifying the facts can be a complicated, sometimes frustrating endeavor.
To help investigators and risk managers locate the facts they need most efficiently, we've created this data life cycle and compiled tips on how you can successfully manage each of the cycle's phases.
Consider the data life cycle
Why should investigators and public records searchers care about the life cycle of data? Because the work you do has significant consequences. With enormous volumes of data being generated by an ever-increasing number of devices all over the world, it's important to understand how to manage data through each stage of its life cycle.
Although specific models vary, the general principle of the data life cycle is "the sequence of stages that a particular unit of data goes through, from initial generation to eventual archival and/or deletion at the end of its useful life."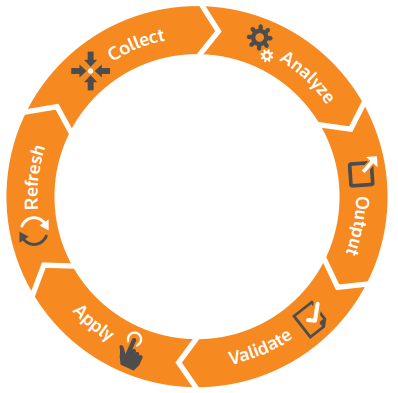 Collect
The mere act of collecting the right data from the right sources is challenging because of the vast array of potential sources available to you. Among them:
Free, online people locators
Vital personal records like birth, death, marriage, and divorce documents
Professional licensing boards
Military records
Criminal records
Business records like Secretary of State filings, incorporation documents, and SEC filings
Property records
Motor vehicle records
Financial information
Docket information and court filings
There are also helpful sources that many searchers may not consider data, including social media posts, email messages, calendar and scheduling information, advertisements, news outlets, even face-to-face verbal conversations.
Collecting relevant information from disparate sources like these can quickly devour resources. As one insurance supervisor told Thomson Reuters, "[You can have] sixteen people out running around trying to collect public records to even [decide whether an investigation is warranted]."
Tip – Ask yourself these questions before you start any public records search to ensure you're collecting the right information from the most reliable sources:
What do I need to do?
Locate one or more people
Locate a business or asset
Verify someone's identity
Manage risk for your organization
Investigate wrongdoing
What kind of records are most important for my work?
Name/identity
Residence/location
Business ownership/financial
Criminal
Analyze
Once you have your data compiled, there's no substitute for the human eye in analyzing it. But some searchers report that the sheer volume of data resulting from a search of just one individual, or entity, can be overwhelming. In the words of an insurance special investigator, "I have to put a puzzle together. If I've got to bounce between screens, it's like I'm writing notes and everything just so I can keep track of what I found where."
Tip – To get at relevant facts and make connections as quickly as possible, trim your search results of unwanted information. Deleting irrelevant data eliminates the wheat from the chaff. While it may seem like an unnecessary step, taking the time to "clean" your data can save wasted time and effort during your analysis.
Output
Format of information matters, especially when your job requires that you save every document you pull. "We save everything," an anti-money laundering officer reported in a Thomsen Reuters interview. "[Y]ou haven't done something if you haven't documented it, right?"
Tip – To compile the detail you need in a manner that's readable and actionable, put in the time and effort to make the data configurable. List only specific time frames or types of records like property records if that information is important.
Validate
As a researcher, you can't always take data at face value. Some data sources may simply be out of date. People may try to obfuscate or distribute misinformation. The rise of synthetic identity creation to perpetrate fraud is the most recent example of why public records searchers should avoid relying on personally identifiable information alone in their investigations. It's more important than ever to confirm search results with other, independent sources.
"The risk is very high," confirmed an assistant vice president of financial intelligence. "At the end of the day, at the bank, you want to know who your customers are … to make sure they are legit. [You need to know] that the institution is not being used as a vehicle for money laundering."
Tip – Compare results from one source with another. Don't rely solely on online search engines and social media posts, where it's easy for individuals to assume avatars and falsified identities. Compare the same information (e.g. name, address) across multiple sources to highlight inconsistencies. Then seek out additional data to resolve the discrepancies.
Apply
Data is only as valuable as its utility. When using validated data to commit to a decision, you need effective and efficient ways to turn your research into action. "Ultimately, you're trying to put a product out, which is going to save people time. And if it saves people's time, it saves them money," stated an insurance managing director.
What's more, public records searchers need to ensure that they are applying data lawfully. Regulatory constraints prohibit the use of information found in certain public records, such as consumer credit reports, to make hiring decisions, for example.
Tip – Before any public records research begins, make sure that the intended use of the data you uncover is legal. Review regulations such as the Fair Credit Reporting Act. Better yet, consult with your organization's legal counsel for any uncertainties.
Refresh
Like good food, data has a shelf life that must be considered. People move, change names, jobs, and marital status. Someone who doesn't show an arrest record at noon today could wind up in cuffs this afternoon. While databases relying on documents that must be renewed (i.e., motor vehicle license registration) decay slower than those based on information that's simply stored for years without change, investigators need to have confidence that the information they find is as current as possible.
Tip – When searching public records for information on people, assets or businesses, make certain that the sources you're using refresh their data regularly. Likewise, ensure you have access to the date each record was created so that you can make your own determination about the data's freshness.
Time is money for public records searchers
Efficiently and effectively managing each phase of the data life cycle is vital. Poor management can result in excess costs, lengthy investigations and searches, and inaccurate results. For professionals who deal with matters of great consequence, this risk is unacceptable.
Fortunately, there's a better way. Instead of stitching together a search with multiple platforms and then manually managing each phase of the data life cycle, public records searchers can take advantage of a unified public records solution. Such programs aggregate data, automate data management tasks and integrate multiple search products, enabling users to search quickly with confidence in the data they receive. Take this instance related by a government IT specialist to Thomson Reuters:
"We had a huge project where we were going to go to trial and needed to find 20 employees willing to testify for a very important case. So, generally, we would send out investigators to knock on doors and try to find these people, [who] tend to move around a lot." By using a unified public records solution, the IT specialist reported, "We were able to run a search on all the people and actually found 50 that were willing to testify…without actually traveling anywhere. We saved a lot of taxpayer dollars, and I think that is something that everyone would appreciate."
Learn more about how Thomson Reuters helps public records searchers get the information they need at thomsonreuters.com/public-records.
Facebook
Twitter
Linkedin