Let's say you are looking for something in Westlaw Edge that discusses a specific legal principal in great detail — and doesn't merely mention the principal once in passing.
While you can always run a regular search in Westlaw Edge — and use all of the cutting-edge search options that come with that option — there is another route you can try. The ATLEAST function.
The ATLEAST function requires Westlaw Edge to only display results in which the sources mention a particular term or phrase "at least" x number of times.  The general idea is that the more times a source mentions a specific topic, the more likely it will focus on that topic.
How do I use the ATLEAST function in Westlaw Edge?
Simply click on the "Advanced" search option under the search field.

Once the Advanced search screen pops up, you can enter specific terms or phrases into any of the top three fields, which include, "Find documents that have:"
All of these terms
Any of these terms
This exact phrase
Which field should you use? The one that makes the most sense given your desired search terms. For example, if you want cases and other sources that talk about "promissory estoppel," you could enter this phrase into the third field. Then click on the "Term frequency" button to the right.
In the pop-up window that appears, check the box next to the phrase, select the number of times you want the phrase to appear in your source from the drop down (in this case, five), click "OK," and then run the search. Now your results list will only include sources in which this phrase is used five times.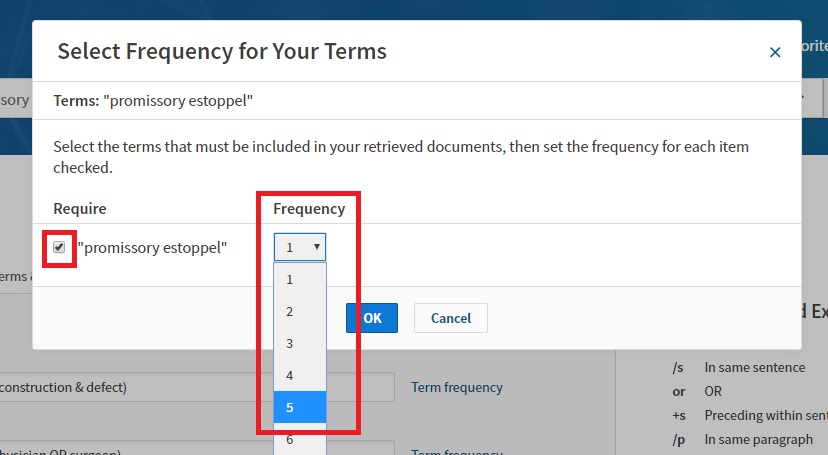 Another option for using the ATLEAST function is to simply enter in a Boolean terms-and-connectors search. For instance, if you enter in the following search terms into the main search box, you will get the same results as the Advanced search described above: ATLEAST5("promissory estoppel"). Basically, this search tells Westlaw Edge that you are only looking for results that mention the phrase "promissory estoppel" at least five times in them.
Facebook
Twitter
Linkedin