Stay ahead in an ever-changing world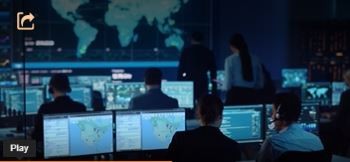 01:00
You're a professional who is responsible for stopping fraudulent transactions, mitigating risks, and protecting businesses and communities. We get it, and it's not easy. Many of us have been in your shoes. You're making the best of an ever-changing environment, often with tools that have not adapted to new threats. And bad actors are continuously evolving their tactics. That's why now more than ever, organizations need a risk-based, dynamic approach.
Combining our expertise with the breadth and depth of our data, AI-powered analytics and actionable information, together we're helping you solve some of the most pressing challenges facing your organization. With risk and fraud solutions from Thomson Reuters, you can tip the balance back towards those doing good in the world. It's time we connected so you can have a trusted partner on your side.
Prevent, detect, and investigate risk & fraud
Stay on top of large volumes of data and bad actors looking to exploit system weaknesses. We can assist you in preventing those risks by helping you answer and analyze fundamental questions like: Who is this person or entity? Should we do business with them?
Detect areas of highest risk by combining your data with our proprietary and public records. Our configurable solutions include risk scoring models and behavior-based analytics that integrate right into your workflow.
Locate bad actors or assets more quickly, reveal relationships sooner, and close more gaps in your investigations with the most accurate, up-to-date public records available on your subjects.
We can cover your needs with a spectrum of solutions – no matter the complexity
Navigate to find solutions to fit your needs
A trusted source for societal institutions and businesses for over 150 years
How we've helped communities, organizations, and law enforcement
Thanks to CLEAR, I have managed to assist in the arrest of 9 outstanding warrants and counting in my short 7 years with the bureau. I really do appreciate this service. I look forward to the upgrades"
When our policyholders are struck by someone who just decided to drive that day with no insurance, CLEAR helps make it possible to reimburse our company and also our policyholder for what was paid out in the claim.
Trends in risk & fraud across businesses and government agencies
Ready to speak to a consultant?
Fill out the form to learn how Thomson Reuters can assist you prevent, detect, and investigate risk & fraud.
Thomson Reuters is not a consumer reporting agency and none of its services or the data contained therein constitute a 'consumer report' as such term is defined in the Federal Fair Credit Reporting Act (FCRA), 15 U.S.C. sec. 1681 et seq. The data provided to you may not be used as a factor in consumer debt collection decisioning, establishing a consumer's eligibility for credit, insurance, employment, government benefits, or housing, or for any other purpose authorized under the FCRA. By accessing one of our services, you agree not to use the service or data for any purpose authorized under the FCRA or in relation to taking an adverse action relating to a consumer application.