Legal Tracker features
Empowering legal departments to achieve more with less 
Streamline your legal operations with Legal Tracker, the corporate legal department industry's most widely used software for legal matter and spend management, e-billing, and benchmarking analytics

Increase the efficiency of your in-house legal department's operations with automated e-billing, budgeting, and information-sharing tools.
Electronic billing
One single, searchable e-invoicing system eliminates paper approvals. Empower legal departments to automate currency conversion and enforce timekeeper rates, expense compliance, AFAs, and other billing guidelines. Set legal budget and spending alerts by time, matter, or phase. Separate tracking of domestic and foreign taxes aids financial recordkeeping.
Matter management
Instant access to a repository of all legal matters, combined with the tools and data needed to demonstrate your department's value against outside counsel. Customizable automation aids matter entry and updates, while intuitive controls and search filtering make it easy to upload and sort documents.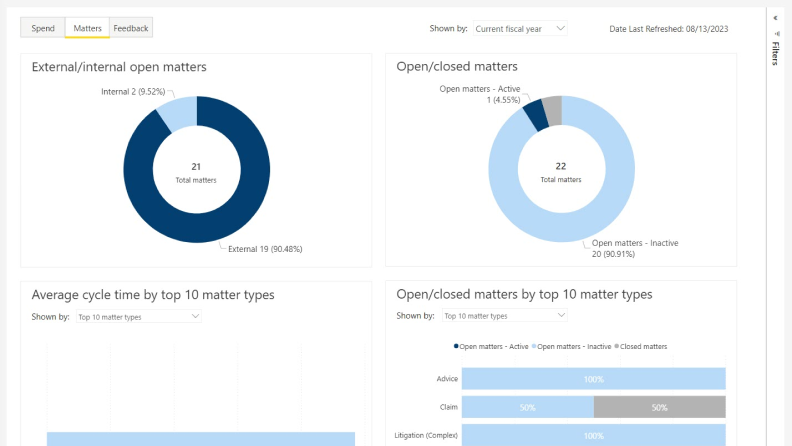 Boost your department's productivity and maximize resources with Legal Tracker
Empower your legal department to navigate laws, currencies, and languages in jurisdictions worldwide.
Advanced AI
Refine your legal department's invoice review process and unlock increased savings with the power of artificial intelligence. Generative AI-powered natural-language processing and advanced multi-language models can simplify internal workflows and unlock your team's expertise.
Language packs
Quickly overcome language barriers and localize the Legal Tracker experience. Language packs contain translations for most non-configurable elements of the Tracker interface.
Currency and formatting 
Gain support for 160 currencies along with user-personalized currency and number formats. Use your own company-supplied exchange rates or rely on Legal Tracker's built-in rates.
Data residency 
Choose whether you want your data stored in the U.S., the UK, Germany, Australia, or Canada. Your team can work confidently across the globe while knowing your data is safe with Legal Tracker.
Break down silos with instantly searchable legal matter information located in one spot
Benchmark your data against high-performing legal departments, make informed budgeting decisions, and demonstrate value for your leadership team.
Legal analytics
Access aggregated data from 1,800 law departments and 120,000 law firms worldwide while comparing your legal spend and risk data against similar departments. Use Legal Tracker to drill down and sort data by industry, spend, department or company size, specific types of work, metro area, classification, and law firm performance by substantive law.
Report generator 
Gain access to hundreds of reports with easy-to-use filters and one-click drill-down reporting for additional detail. Trend analysis shows changes over time, so you can easily track results on all legal matters.
Report scheduler 
Generate and distribute vital reports quickly and effortlessly with Legal Tracker. Automated reporting runs and emails reports to users on a schedule of your choosing.
See what peer companies spend and use real-time data to demonstrate the value your in-house legal department provides
Enhance the Legal Tracker experience by integrating the apps your legal department depends on every day.
iManage and NetDocuments
Direct integration allows linking Legal Tracker matters to iManage workspaces and folders, enhancing iManage's document management and collaboration features.
Tracker for Microsoft Outlook 
Quickly generate matters and instantly review, dispute, or approve invoices from your Outlook reading pane. Save more time by adding documents and emails directly to Tracker.
SharePoint online
Seamlessly integrate document management workflows by copying and importing documents between SharePoint and Legal Tracker.
Legal hold
Create an associated legal hold matter inside Legal Tracker's creation workflow and use the matter-level legal holds tab to gain insights on associated holds. Matters can easily be linked or unlinked between systems.
Accounts Payable Data Exchange API 
Securely transfer approved invoice data to accounts payable systems and push invoice payment information into Legal Tracker. Quickly update invoice payment information and download batch content, including detailed invoice spreadsheets and copies or summaries of batched invoices.
Power BI
Legal Tracker's Power BI Data Connector allows organizations and their users to connect to Legal Tracker's Data Warehouse and access data seamlessly and securely through its APIs via their Microsoft Power BI subscription.
Tableau Connect 
Legal Tracker's Tableau Connect enables organizations to directly connect Legal Tracker's Data Warehouse and Data API to Tableau, allowing data extraction to coincide with creating and publishing dashboards outside of Legal Tracker.
Extend the Legal Tracker experience into the apps your department uses most
Questions about Legal Tracker? We're here to support you. 
888-728-7677
Call us or submit your email and a sales representative will contact you within one business day.
Legal Tracker support
View product training and support
Already a customer?
Sign in to Legal Tracker