CLEAR Risk Inform - Risk Assessment Tool
ELECTRONIC RISK ASSESSMENT
CLEAR Risk Inform
Access a complete view of the risk of your subjects

Get immediate risk insights for individuals and businesses in just one search
Protect your organization against risk with reliable information you can trust. With a century of experience analyzing complex data, Thomson Reuters has simplified and organized criminal records across all state and federal criminal jurisdictions. Quickly review risk indicators such as arrests, bankruptcies, redundant SSNs, synthetic identity, and more.
Whether you are choosing to do business with a vendor, or are onboarding a new provider, truly knowing them doesn't have to be unduly burdensome. CLEAR Risk Inform lets you automate and configure your risk analysis to fit the unique requirements of your organization. A simple search process ensures consistent results while reducing human error.
Questions? Call 1-888-728-7677
What you get when you use CLEAR Risk Inform
Evaluate your customer by data grouped into key risk factors. Receive a score that immediately identifies if the subject carries too much risk.
Analytics flag subjects with bad risk profiles, while identifying approved transactions that meet your risk threshold score.
CLEAR Risk Inform prevents inaccurate or missing information and is much more efficient than manual collection.
You can set your own risk tolerance by choosing the factors contributing to a score.
CLEAR Risk Inform comes with a simple but thorough display of the information you need.
Staff can use CLEAR Risk Inform in a consistent method in multiple workflows across your organization
See how CLEAR Risk Inform works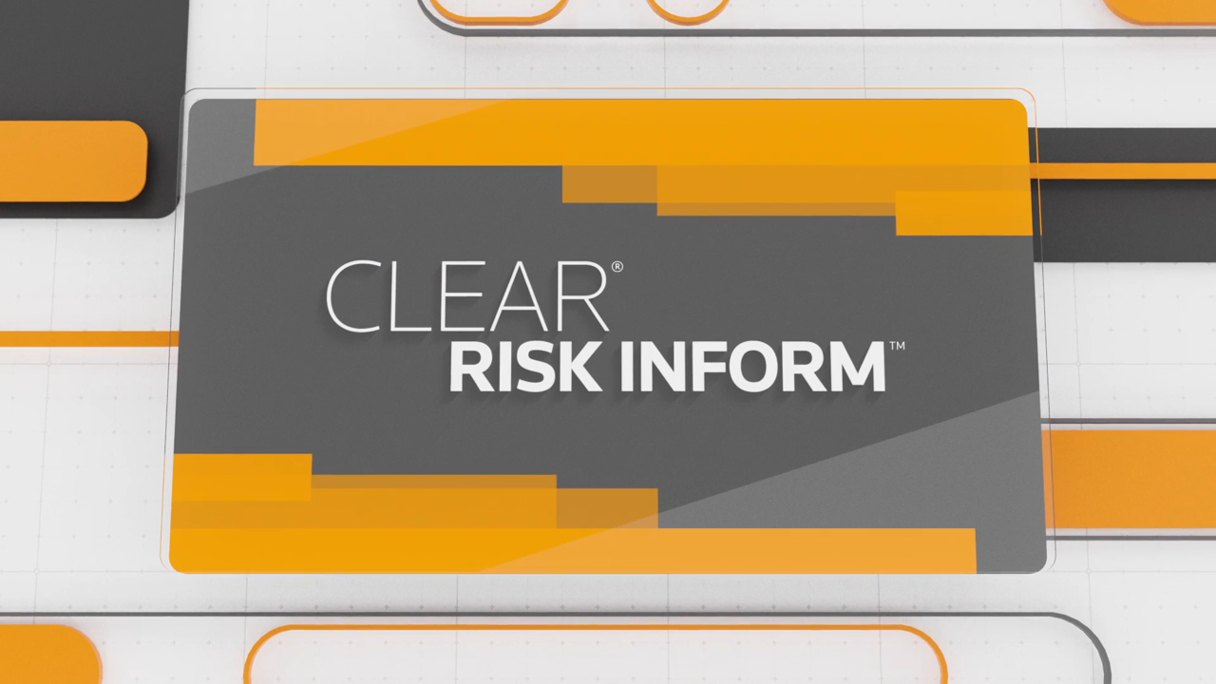 02:16
Learn more about advanced CLEAR capabilities
Want to see CLEAR in action?

Take the next step with a demo of CLEAR Risk Inform capabilities
Thomson Reuters is not a consumer reporting agency and none of its services or the data contained therein constitute a 'consumer report' as such term is defined in the Federal Fair Credit Reporting Act (FCRA), 15 U.S.C. sec. 1681 et seq. The data provided to you may not be used as a factor in consumer debt collection decisioning, establishing a consumer's eligibility for credit, insurance, employment, government benefits, or housing, or for any other purpose authorized under the FCRA. By accessing one of our services, you agree not to use the service or data for any purpose authorized under the FCRA or in relation to taking an adverse action relating to a consumer application.