CLEAR Risk Inform features
Bolster your workflow with enhanced risk assessment and analysis tools
Quickly highlight hidden adverse indicators with the features and functionality offered in CLEAR Risk Inform



Quickly understand the risk of your subjects through summarized risk analysis, scoring, and customizable criteria.
Adverse risk flags
Catch risks quickly during analysis by spotting signs of synthetic identities, criminal and arrest records, sanctions, and other concerns.
Categorized risk scoring
Prioritize and further investigate high-risk subjects based on calculated risk scoring set by your organization. Risk scores are calculated by accumulating individual scores for adverse records, such as multiple SSNs, death indicators, and criminal and arrest records.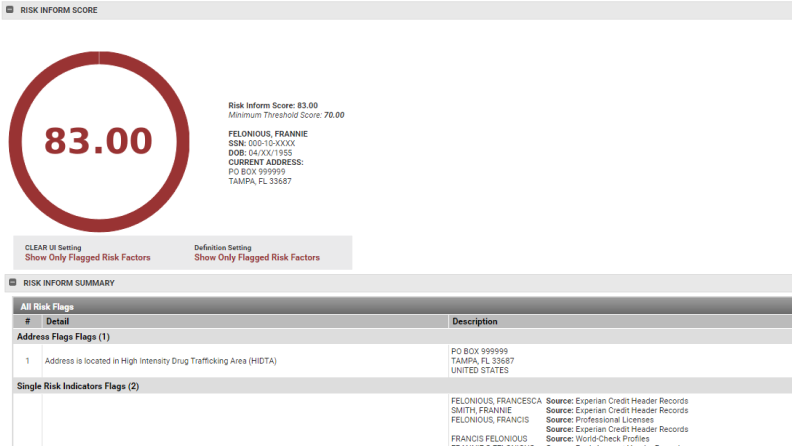 Customizable criteria 
Customize settings to fit your organization's specific needs surrounding risks and increase productivity among users.
Associate analytics 
Discover relatives and associates connected to an individual. This user-friendly table indicates any adverse past and relevant ties with your search subjects.
Transparent data sourcing 
Increase confidence and better understand where your search results come from to help with documentation requirements.
Get flexible risk management data delivered to fit your organization's needs.
Flexible data delivery
Desktop, API, and batch options are available to meet your data needs — whether you need to utilize an intuitive interface, conduct bulk searching, or integrate data into your organization's existing system.
Customizable reports
Efficiently generate comprehensive reports on individuals and businesses. Report sections are fully customizable, allowing you to include relevant information and save templates for future use.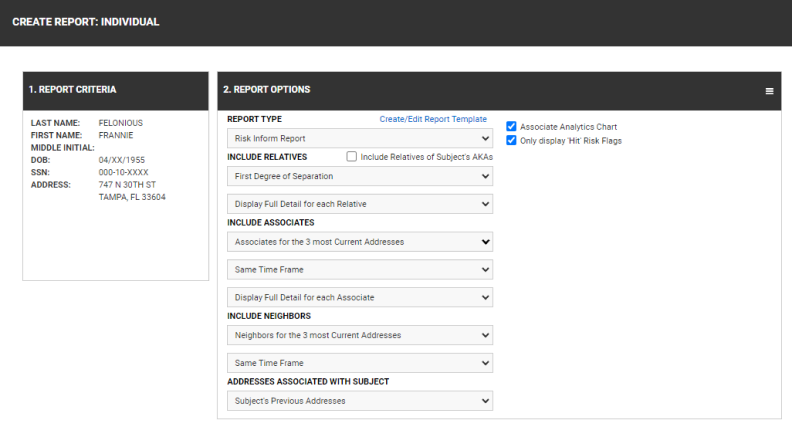 Experience new levels of flexibility with CLEAR Risk Inform
Questions about CLEAR Risk Inform? We're here to support you. 
888-728-7677
Call us or submit your email and a sales representative will contact you within one business day.
CLEAR Risk Inform support
View product training and support
Already a customer?
Sign in to CLEAR Risk Inform
Thomson Reuters is not a consumer reporting agency and none of its services or the data contained therein constitute a "consumer report" as such term is defined in the Federal Fair Credit Reporting Act (FCRA), 15 U.S.C. sec. 1681 et seq. The data provided to you may not be used as a factor in consumer debt collection decisioning; establishing a consumer's eligibility for credit, insurance, employment, government benefits, or housing; or for any other purpose authorized under the FCRA. By accessing one of our services, you agree not to use the service or data for any purpose authorized under the FCRA or in relation to taking an adverse action relating to a consumer application.