CLEAR Adverse Media - Adverse Media Screening
Online investigation software
CLEAR Adverse Media  
There's no hiding. Protect your reputation by revealing sources of adverse news and media.
Don't waste precious time jumping between websites, search engines, or news feeds to detect information on a subject or organization
Instead safeguard your organization's reputation, time and resources by utilizing a defined adverse media screening policy for risk mitigation and fraud prevention. Thomson Reuters CLEAR Adverse Media offers a one stop platform to investigate web and news media pertaining to a specific subject or organization. Plus, with Adverse Media Sanctions, access integrated sanctions, politically exposed persons (PEP), state-owned entities (SOE) and third-party data, so you can see the entire picture of an individual or business and any risk they pose.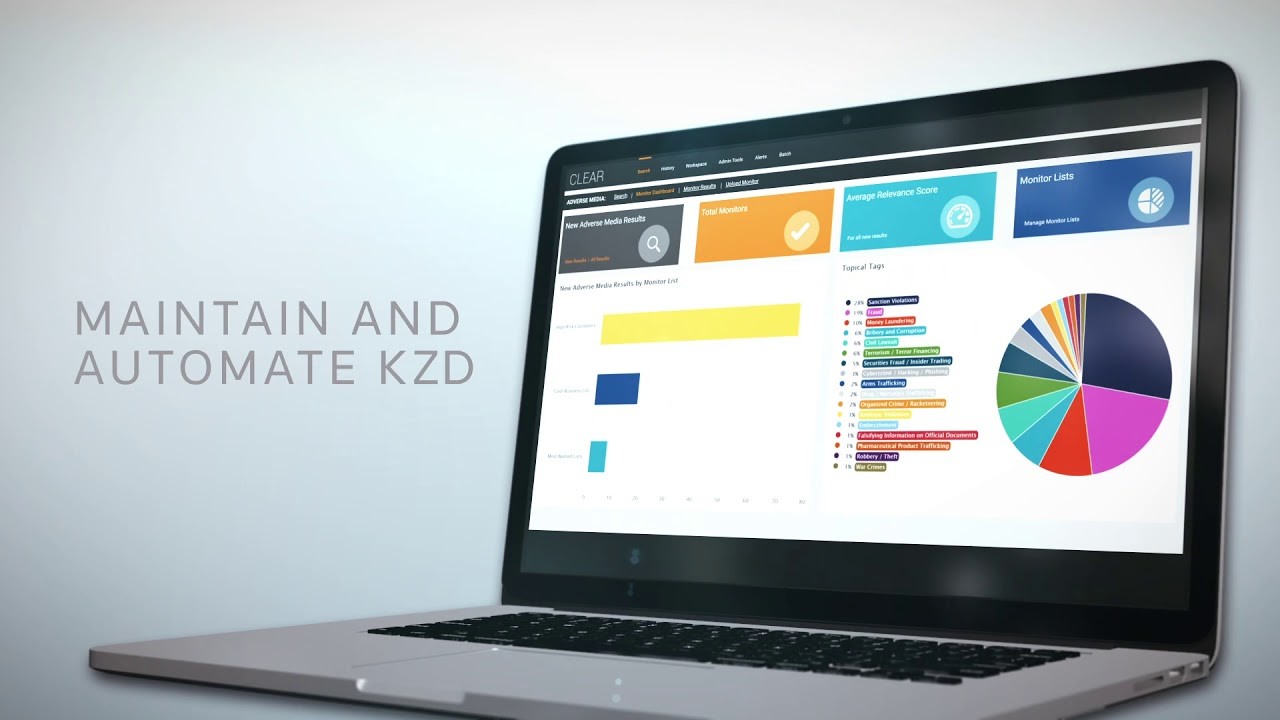 01:42
What you get when you use CLEAR Adverse Media
Access holistic and transparent data from millions of global sources, including real-time news and information
Relevancy scoring of the source – score that comes back for each source
Provides full text document with links out to underlying source
Integrate data into your existing systems with an API connection
Streamline review with key words and different search narrowing capabilities such as date ranges, city, state, etc.
Conduct international adverse media reviews with global information and sources
Access all adverse media in one place
Instead of spending hours manually filtering through different sources and switching from one media platform to another, easily access all the information you need within one tool. From local, regional and national news reports, to international news sources, industry sources, and regulatory and law enforcement information this detection platform allows for a comprehensive and diligent investigation of your subject.
With a shared dashboard, the monitoring results page allows for your team to quickly mark whether a source has been reviewed and is relevant to your investigation. Adverse Media is one cohesive team platform where you can assign specific lists to specific users - at a person level, group level, or organization level; reducing the potential of duplicate work therefore increasing productivity.
Get immediate updates on all your high-risk customers
Introducing CLEAR Adverse Media Sanctions
Quickly see the entire picture of an individual or business and any risk they pose. Your team can easily review customer/subject lists and filter by different topical tags with the shared monitoring dashboard. This visual interactive breakdown also allows your team to split investigation duties and stay informed when new adverse media or sanction results come in for a particular subject. 
Learn more about CLEAR's advanced capabilities
---
Make informed conclusions through trusted data
Adverse Media is the solution to expanding and simplifying your organization's investigation screening and workflow capabilities. Want to see Adverse Media in action? Click here to take the next steps for an Adverse Media demo.
Thomson Reuters is not a consumer reporting agency and none of its services or the data contained therein constitute a 'consumer report' as such term is defined in the Federal Fair Credit Reporting Act (FCRA), 15 U.S.C. sec. 1681 et seq. The data provided to you may not be used as a factor in consumer debt collection decisioning, establishing a consumer's eligibility for credit, insurance, employment, government benefits, or housing, or for any other purpose authorized under the FCRA. By accessing one of our services, you agree not to use the service or data for any purpose authorized under the FCRA or in relation to taking an adverse action relating to a consumer application.