Online investigation software
Contact Trace
Identify contacts faster and further prevent transmission

Efficiently manage your contact trace process and increase staff productivity with Thomson Reuters Contact Trace
Thomson Reuters understands the magnitude of the government's challenge in responding to and mitigating the spread of COVID-19. Arm your contact tracers with a scalable, cloud-based application that leverages accurate contact details, derived from public records, and reporting capabilities. Thomson Reuters Contact Trace, is a case management solution designed to help organizations most efficiently manage their case investigations, contact tracing activites, and contact follow-up.
Review advanced link analysis so that a data subject's network can be visualized and tracked
Visualize potential exposure hotspots for focused attention
Reporting capabilities that facilitate the necessary State and Federal reports to ensure continued relief funding streams
Balance your caseload and track progress across your large, remote team while seeing real-time case updates
We have a proven track record of success with government agencies and are confident that our unique capabilities can support the needs of agencies seeking a secure and trusted contact trace solution. Simple onboarding and web-based training will have your contact trace team up to speed quickly.

A proven solution to contact trace
Our contact trace dashboard was designed in partnership with a state public health infections disease department and has recently been enhanced to meet the recommendations from the CDC on contact tracing procedures. The tool leverages Thomson Reuters CLEAR data to improve the efficiency of finding individuals' known associates and locating potentially exposed people for notification purposes.
To support contact traceability, it's important to uncover associates of persons who might have been exposed to COVID-19. Contact Trace combines CLEAR data and cutting-edge technology to bring all contact information together in a single customized dashboard.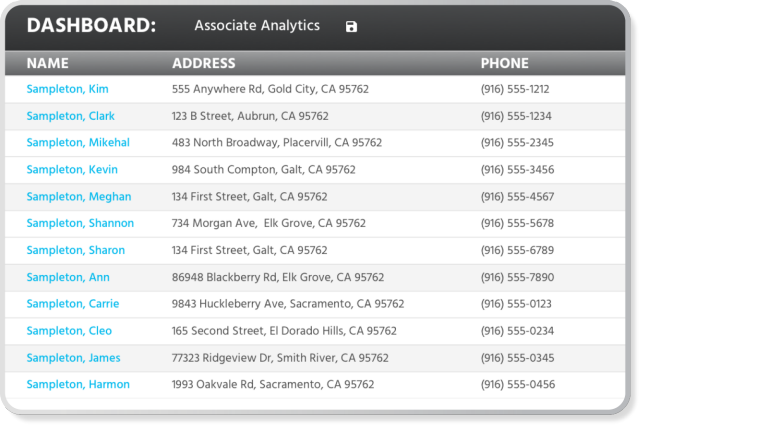 Increase contact trace efficiency with up-to-date contact records. View accurate, current information including addresses, phone numbers, and more of persons who might have been exposed to COVID-19.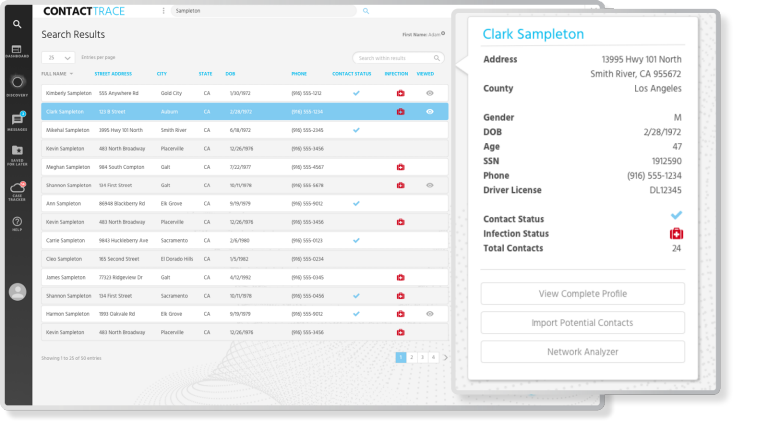 Request a free virtual demo of Contact Trace
The best way to understand what Thomson Reuters can do for your contact trace efforts is to see it first-hand. Submit the form and one of our experts will contact you to schedule a demonstration of Contact Trace.
Thomson Reuters is not a consumer reporting agency and none of its services or the data contained therein constitute a 'consumer report' as such term is defined in the Federal Fair Credit Reporting Act (FCRA), 15 U.S.C. sec. 1681 et seq. The data provided to you may not be used as a factor in consumer debt collection decisioning, establishing a consumer's eligibility for credit, insurance, employment, government benefits, or housing, or for any other purpose authorized under the FCRA. By accessing one of our services, you agree not to use the service or data for any purpose authorized under the FCRA or in relation to taking an adverse action relating to a consumer application.
Thomson Reuters Contact Trace Solutions may only be used for the limited purpose of supporting individuals with a suspected or confirmed infection such as COVID-19 and notifying individuals that you reasonably believe may be at risk of also contracting the infection. You agree that all data will be maintained as strictly confidential and will not be shared except as necessary in furtherance of this limited purpose. No adverse or punitive action may be taken against an individual based on information obtained through your use of the solution. Product access is subject to your ongoing compliance with applicable federal, state, and local laws including those governing the privacy and security of health information.