Thomson Reuters eDiscovery Point

Reduce the unnecessary burden of discovery with comprehensive ediscovery software, document review, and ediscovery services

Modern discovery as it should be
Reduce the unnecessary burden and cost of discovery with our award-winning eDiscovery Point and ediscovery services. Our modern technology and services are adaptable and streamline inherent complexities of today's discovery.
From the intuitive user interface to service and support teams who stand at the ready to help, everything about our suite of ediscovery software and services is designed to enable greater efficiency and pricing predictability.
Get reliable information quickly using robust technology and services provided by experts who can assist every step of the way: from collection, review, and production.
Experience greater confidence with award-winning technology designed and supported by teams with decades of experience developing litigation technology and using it.
Move through discovery projects even faster with intuitive technology and service teams who stand at the ready to help with any discovery task. Plus simplified pricing and unlimited free licenses enable you to get started quickly and budget with confidence.

eDiscovery Point's clean, intuitive interface helps you meet today's deadline and workload challenges. Get through the work quickly with:

• Drag-and-drop functionality for quick upload and processing
• Familiar Westlaw-like sign-on and search syntax
• One-click redactions and notes

At no extra charge, you get expert support and service dedicated to making your experience with eDiscovery Point as effortless as possible:
A Case Manager dedicated to your organization to assist with your matters and data
Unlimited technical support answered by a live person
Unlimited live product training and ediscovery education
Our consultants can also guide you on strategies for data collection, culling, and review, ensuring that you have the most efficient and defensible approach in place for your project.

More certified ediscovery specialists than any other organization

Discover new levels of speed, accuracy and control with eDiscovery Point software:
The unique "Pre-Review" stage facilitates cost control and supports the non-linear nature of litigation
Data assessment tools help unlock key insights in your matter
Powerful search delivers accurate results from text and metadata simultaneously
Our experienced professionals can help at any point in the process.
Data Services: Leverage consultants and engineers when additional expertise is needed to work with your data
Have confidence working with a well established provider, recognized by the industry and trusted by thousands of legal professionals for their discovery needs.

You can trust eDiscovery Point software to deliver strong results and mitigate risk. Our software offers:
• A widely-recognized and award-winning ediscovery solution
• Complete data privacy thanks to a highly secure platform
• The confidence that comes from knowing it was designed by teams with decades of experience developing and using litigation technology
One way we set ourselves a part from the competition is through the expertise and experience of our service organization.
Case managers have an average of 14 years of ediscovery experience
Watch how eDiscovery Point works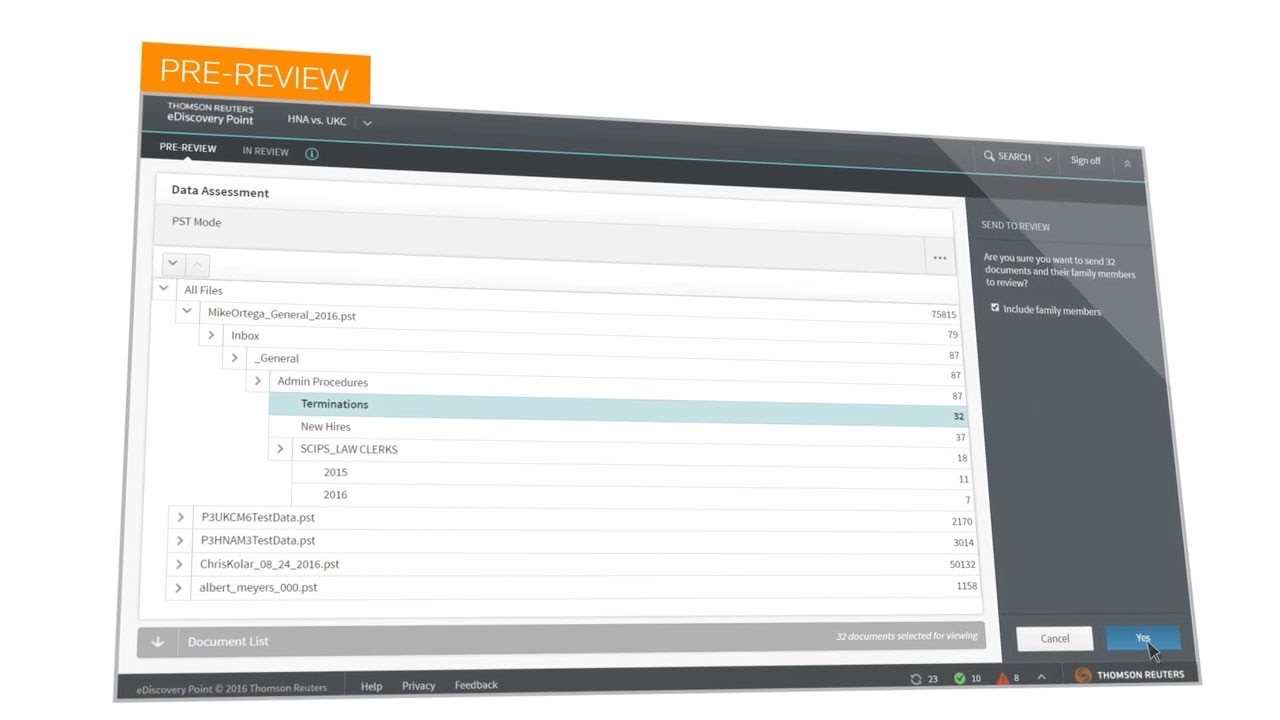 02:01
Thomson Reuters eDiscovery Point: How it Works