The power of Practical Compliance
Compliance and regulation
The power of Practical Compliance
Unlock actionable guidance to navigate complex regulatory issues
Access the power of Practical Compliance
Clear, easy-to-understand resources help compliance professionals confidently stay up-to-date on regulatory requirements, understand jurisdictional differences, create policies and procedures faster, and proactively manage risk across the organization.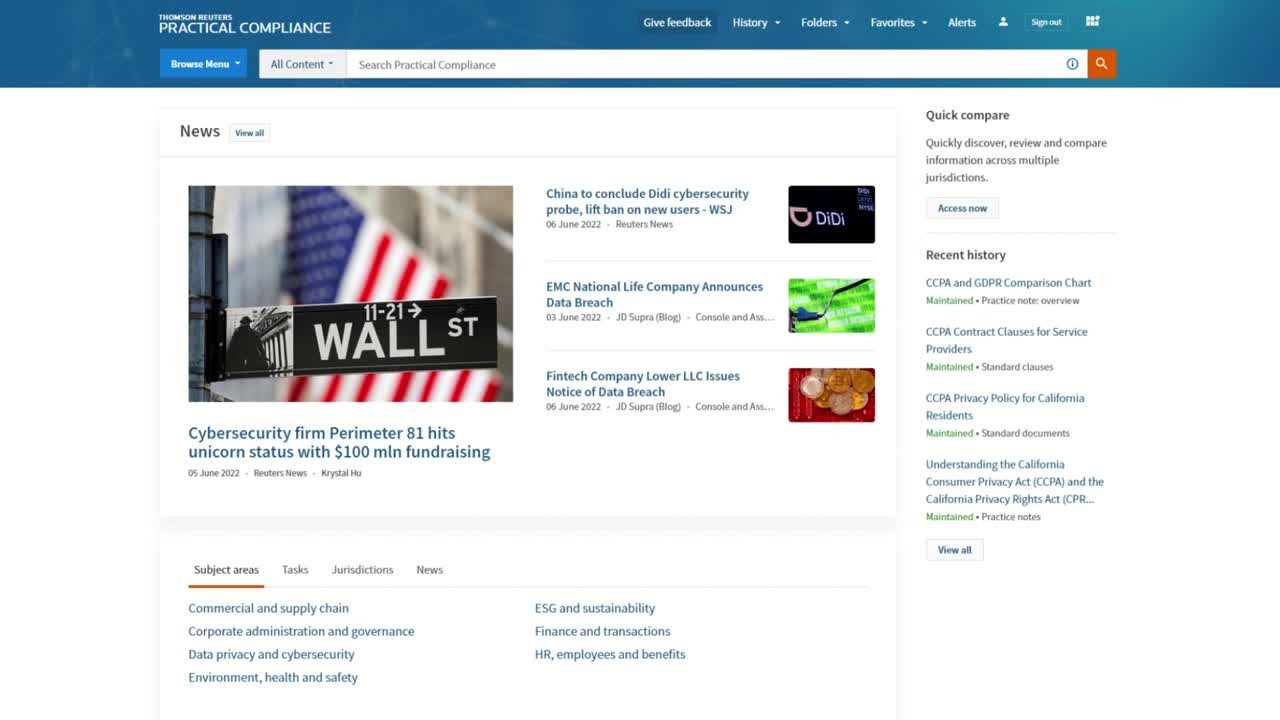 02:02
The actionable guidance you need
Covering all key corporate compliance requirements, kept up to date by our team of experts
Follow industry trusted processes designed specifically to meet compliance needs
Deeper insight into latest news, regulations, guidance, and enforcement approaches
Confidently navigate regulatory issues
Practical Compliance covers all core subject areas and tasks
---
Commercial and supply chain
Corporate administration and governance
Data privacy and cybersecurity
Environment, health and safety
ESG and sustainability
Finance and transactions
Financial Services
Human resources, employees, and benefits
Organized by workflow tasks
---
Identify and assess risk
Design policies and processes
Implement controls
Communicate and train
Monitor and audit
Manage investigations
Tackle enforcement and litigation
Easily understand how local laws impact your business
Use the Quick Compare feature to explore and build charts to easily compare information across different jurisdictions.
Follow industry trusted processes
Align with market practice by benchmarking policies, procedures, and practices against rigorous Practical Law market standards.
Data Privacy & Cybersecurity
The Practical Compliance Data Privacy and Cybersecurity subject area* also includes primary source regulatory information, news and materials from governing and enforcement agencies. Understand data privacy changes and the impact on your organization with practice notes, checklists, and country Q&A comparison.
Resources are organized the way you work so you can find what you need quickly.
Understand requirements and issues in the jurisdictions where your company does business.
Compare information across jurisdictions
Use the Quick Compare feature to explore and build charts to easily compare information across different jurisdictions.
Know your research is complete with maintained toolkits
Feel assured your research is complete
Get alerts when things change
Real-time global privacy regulation updates and analysis.
Experts with real-world experience
The team of expert editors dedicated to creating and maintaining the resources you can rely on.
Request free access today!
Try Practical Compliance for 7 days. No credit card is required. Cancel anytime during the trial period.