Thomson Reuters CLEAR and FinScan are the leaders in investigations, public records, and watch-list screening. They have come together to deliver the smarter and faster way to conduct screening, remediation, and enhanced due diligence through a holistic solution.

All-in-one integrated platform
Get one-click access to the investigations database from your remediation screen
Streamline your enhanced due diligence with automated documentation and audit trails
Save time and effort by accessing all the information you need in one central location
Achieve consistent firm-wide compliance, making it easy to do the right thing and hard to do the wrong thing
Be regulator-ready at any time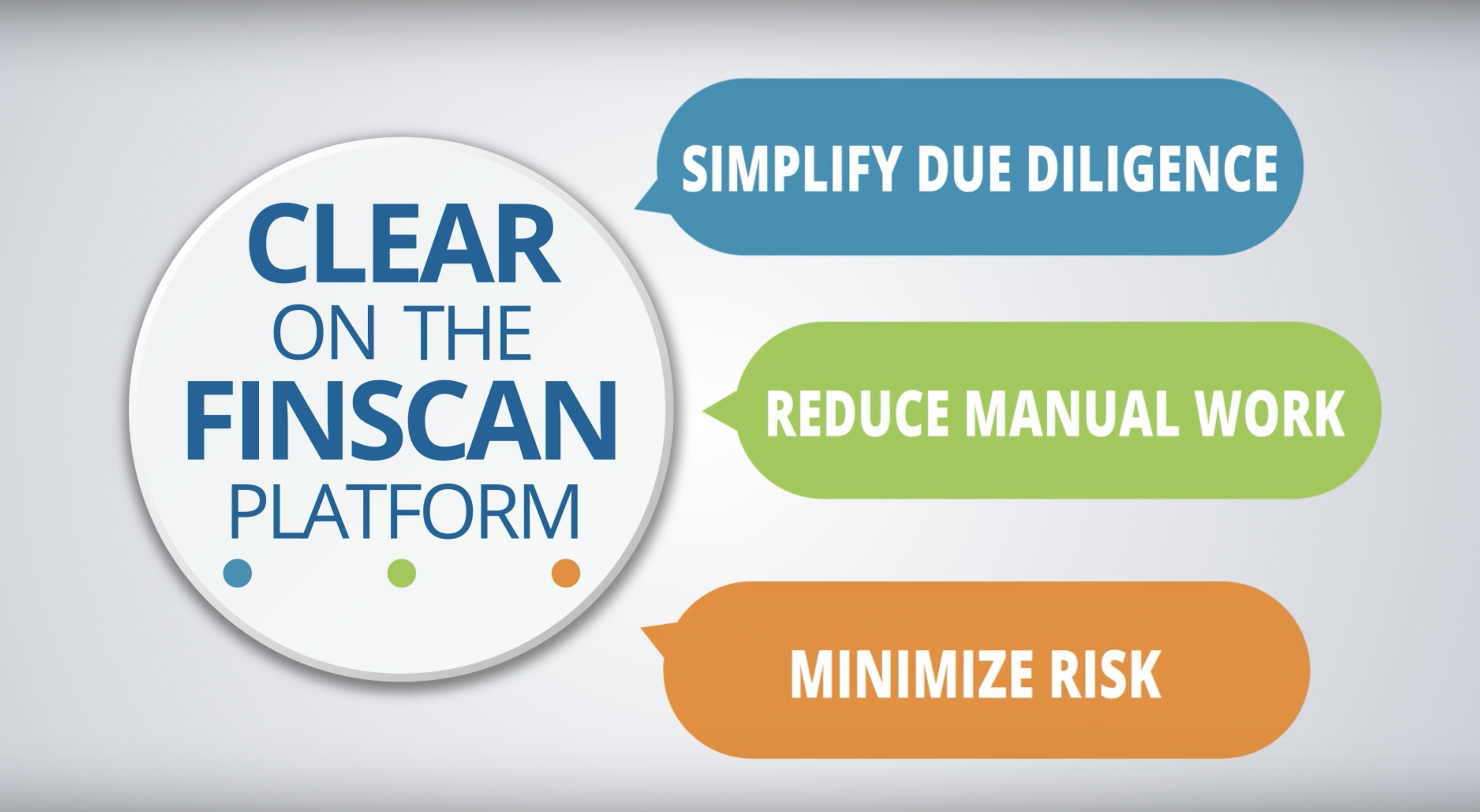 01:55
More efficient review of alerts through one integrated workflow
Search CLEAR right from the FinScan review screen as you are reviewing your alerts
Access CLEAR Quick Analysis Flags and enhanced due diligence reports within FinScan for more comprehensive information
Use custom filters to focus on only the data you want
Automated documentation and audit trails make it easy to prove your due diligence
Eliminates the need to manually create documentation of your enhanced due diligence
All your CLEAR due diligence and investigation reports are automatically saved under your FinScan customer profiles for future review and audits, saving valuable time and resources
See how Thomson Reuters CLEAR makes it easier to locate people, businesses, assets, and other critical information

Thomson Reuters is not a consumer reporting agency and none of its services or the data contained therein constitute a 'consumer report' as such term is defined in the Federal Fair Credit Reporting Act (FCRA), 15 U.S.C. sec. 1681 et seq. The data provided to you may not be used as a factor in consumer debt collection decisioning, establishing a consumer's eligibility for credit, insurance, employment, government benefits, or housing, or for any other purpose authorized under the FCRA. By accessing one of our services, you agree not to use the service or data for any purpose authorized under the FCRA or in relation to taking an adverse action relating to a consumer application.