Legal
Legal billing management software and solutions
Find legal billing management solutions to help manage invoices, track for matter and spend management, and centralize everything you need to manage your firm or organization
Simplify and streamline the way you run your legal operations
Connect all areas of your legal billing management to meet the needs of your clients and your organization.
eBillingHub
The leading electronic billing solution for law firms. Prepare, submit, track, and manage invoices and streamline your billing process; automate tasks; eliminate errors; and get paid faster.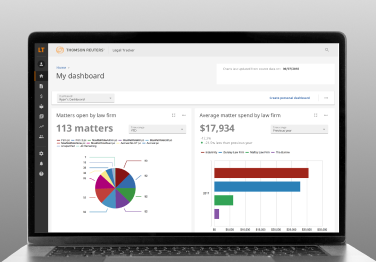 Legal Tracker
Take the work out of your workflow and streamline operations management in your corporate legal department. Use this artificial intelligence-powered solution for e-billing, spend management, and benchmarking analytics.
Discover more about our business development solutions
Whether you are looking for legal research tools, productivity solutions, financial management software, or investigative and compliance solutions, uncover products that will give your organization the boost it needs.
Questions about our products and services? We're here to support you.
888-728-7677
Call us or submit your email and a sales representative will contact you within one business day.
Need help?
View account and product support
Already a customer?
Go to product logins