Digital evidence management
Case Center for courts
Organize, share, review, and present documentary and multimedia hearing materials in a single, cloud-based repository
Case Center for courts features
Receive, review, and admit evidence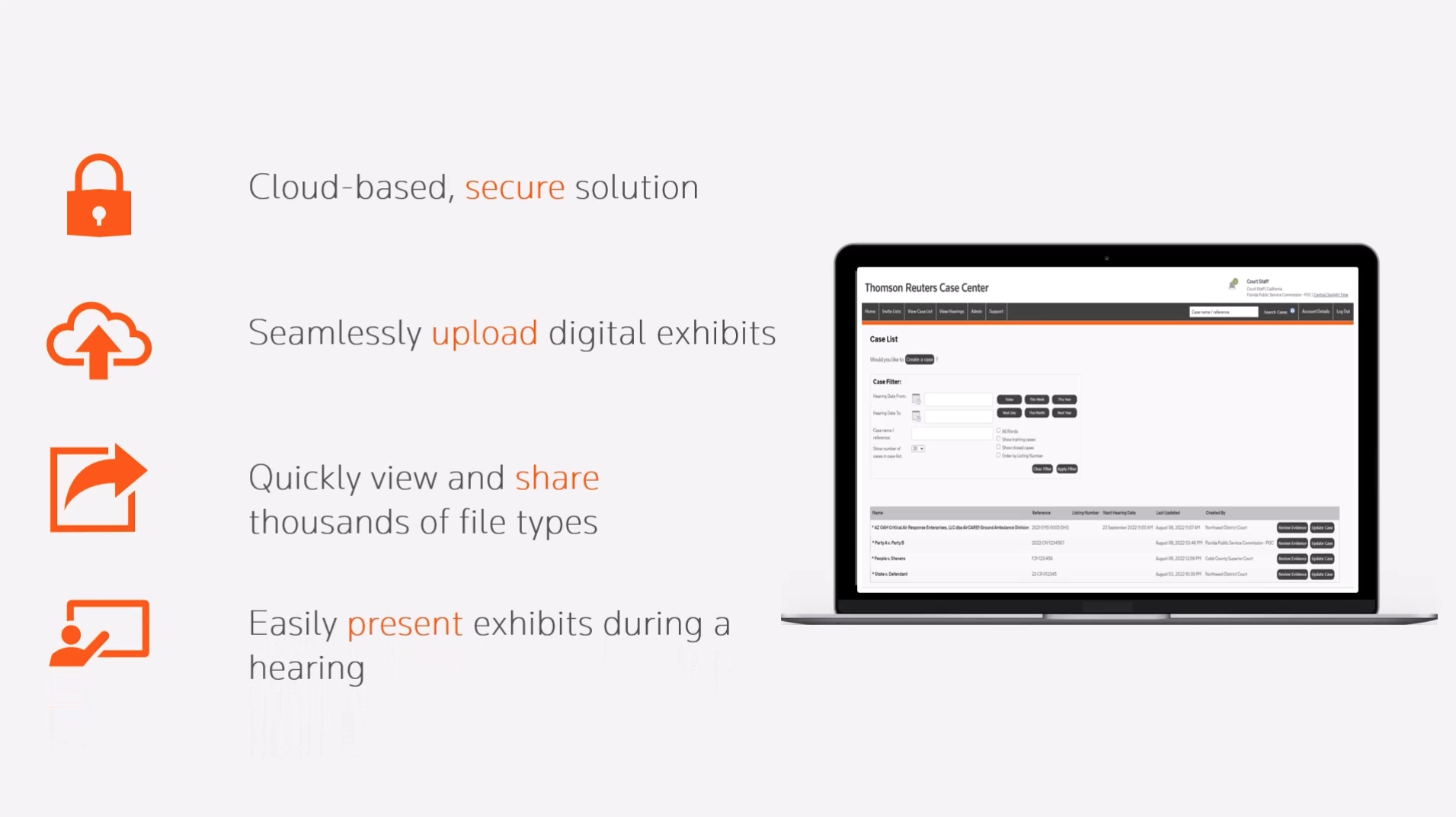 05:40
Case Center allows you to securely receive, review, admit, and present evidence regardless of format, from case documents to multimedia, in a dedicated review workspace. Parties and self-represented litigants can upload materials from a mobile phone or computer. Everything uploaded to a case is indexed and paginated into fully searchable case files and marked exhibits are automatically placed in an exhibit case file for easy identification.
Access a single source of evidence
In a single system, Case Center gives you access to all case materials efficiently and effectively. Judges, parties, court staff, and self-represented users can securely access it from any location, on any device with a full audit trail of all user actions. By inviting users to access evidence in one location, you can securely grant time restricted, file restricted, and redacted case access, with user specific views for juries or witnesses.
Quickly tackle increased caseloads and backlogs
Courts are the key institution to building fair, effective, and dependable justice, but the pandemic has resulted in increased caseloads and rising case backlogs. By making materials instantly available to all parties, Case Center reduces demands for continuations and other delays. Cases progress more quickly with intuitive, easy-to-use document markup tools, integrated case presentation, increased search efficiency, and an intuitive design that requires fewer clicks to find documents.
Hold more productive hearings
Digital solutions must ensure that hearings are easy to follow for all participants — regardless of physical location. Case Center allows participants to follow in real time in person or virtually with a common set of hearing materials. Direct everyone to the right document instantly and even present video files in sync. Stream multimedia within the browser in both virtual and in-person hearings with no additional tech required, allowing you to optimize hearing time and accelerate access to justice.
Case Center and courts insights
Thomson Reuters Institute
2023 State of the Courts Report
Get an exclusive look into the state of the courts to better understand challenges in the judicial system, specifically around hearings, evidence, caseloads, and technology in the post-pandemic world.
Learn how Case Center can complement a Case Management System
Case Management Systems and Digital Evidence Platforms are two unique ecosystems, two unique services. Both platforms help support a paperless strategy. While a Case Management System is an important piece for courts, it does not fulfill the tasks or offer the features required in a hearing and trial; that is where Case Center steps in to solve problems.
Ready to learn more?
Schedule a free demo and see for yourself how easy it is to transform the way your court handles evidence