Online investigation software
CLEAR for anti-money laundering
Create a consistent and well documented AML Investigation with CLEAR    
Financial crime isn't just about finance…
It's also about knowing your customer, stopping trafficking, navigating state and federal laws, and keeping up with never-ending sanctions. Thomson Reuters CLEAR anti-money laundering tool brings together a vast collection of public and proprietary records, sophisticated analytics, and live data into a single working environment, providing the data you need transparently and quickly.
Manage risk with confidence
Harness the power of CLEAR ID Confirm & CLEAR Risk Inform to know your customer. Confidently compare information and understand it's the origin and why it is important. Quickly identify high-risk items with customizable ranking and search criteria.  
Declutter web and news search results
No need to conduct multiple inquiries within different search engines and news websites. Establish news and adverse media monitors for subjects of interest and receive one comprehensive report using CLEAR Adverse Media. A relevance score helps to prioritize what result should be studied first through the expansive data.
Boost the quality of your data
Access robust data in a single environment that is free from clutter and chaos often experienced with public records. CLEAR builds a current and reliable picture of each person or business you want to evaluate with quality, time-stamped and sourced information. Minimize workloads and increase efficiency with high-quality data.
Everyday Heroes: The Polaris Project
See how the Polaris Project combats trafficking by leveraging data analytics to understand and share attributes of illicit massage businesses with the help of Thomson Reuters.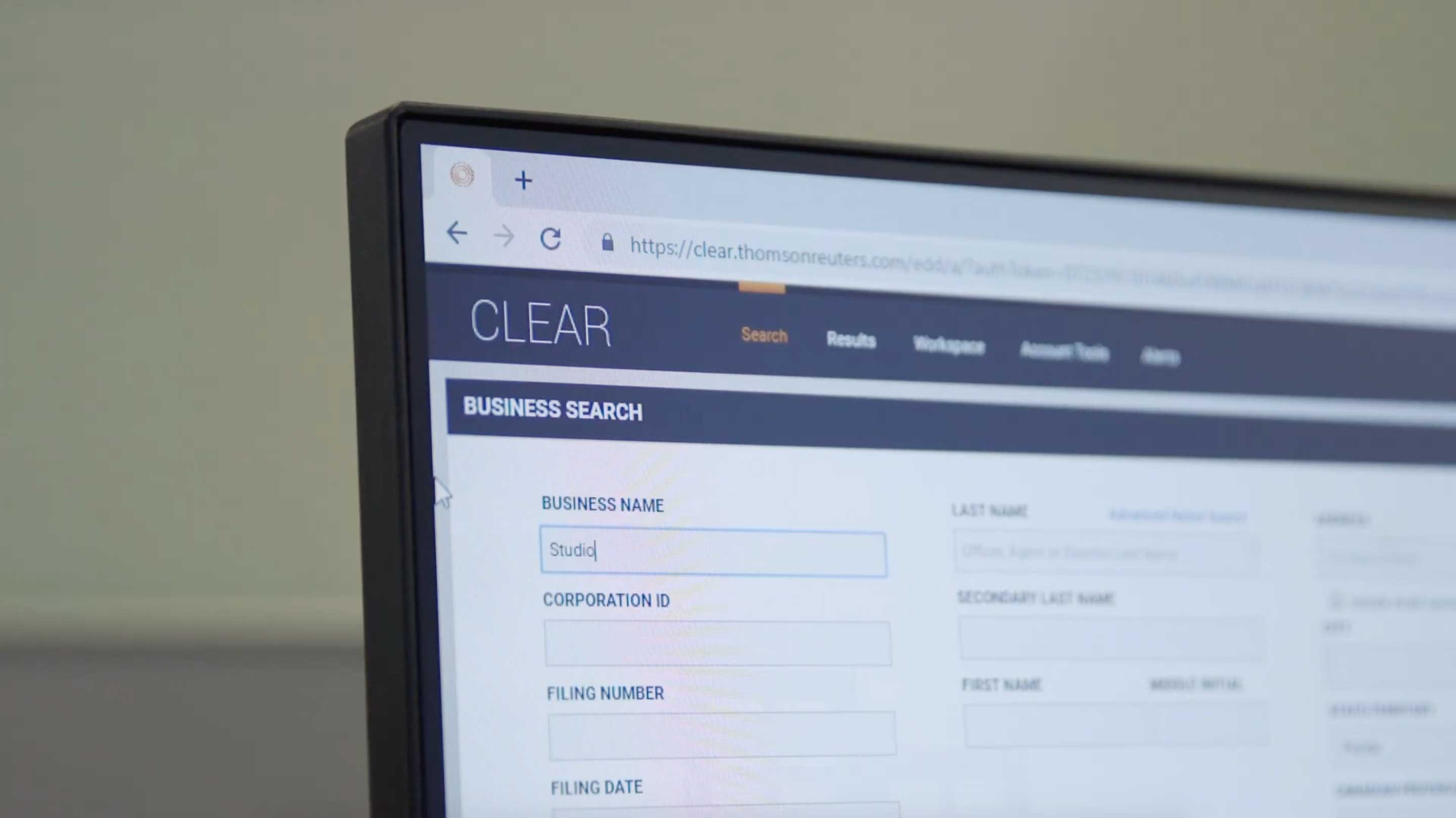 02:53
Thomson Reuters is proud to partner with ACAMS – the world's largest membership-based organization dedicated to enhancing the knowledge, skills, and expertise of AML and financial crime detection and prevention professionals.
Use powerful data points to get work done faster with access to credit header information available from all 3 credit agencies, real-time arrest records, vehicle registrations, and phone numbers.
Institutionalize a consistent process across your organization with a customizable design that aligns to your already established risk parameters.
CLEAR is available in the way you want to work, be it for one off online investigations, large scale batch reviews, or directly inputting public records into your system with an API.
Reduce time spent reviewing cases. Customers report that cases that used to take hours, now take minutes.
Receive key information through alerts and monitoring to keep ahead of risks to your business. Match scoring and data resolution puts forth the most relevant information to give you greater confidence and peace of mind that vital information is not being missed.
Ready to see CLEAR in action?
Call 1-888-728-7677 or fill out this form to get a free demo of CLEAR
Thomson Reuters is not a consumer reporting agency and none of its services or the data contained therein constitute a 'consumer report' as such term is defined in the Federal Fair Credit Reporting Act (FCRA), 15 U.S.C. sec. 1681 et seq. The data provided to you may not be used as a factor in consumer debt collection decisioning, establishing a consumer's eligibility for credit, insurance, employment, government benefits, or housing, or for any other purpose authorized under the FCRA. By accessing one of our services, you agree not to use the service or data for any purpose authorized under the FCRA or in relation to taking an adverse action relating to a consumer application.