Online investigation software
CLEAR for know your vendor
Quickly and easily verify your vendors with CLEAR
Why it's important to know your vendor
In this time of great need and unfamiliarity, it is important to know and trust who you work with is in good standing. With the spread of COVID-19, we know changing regulations and technology can create challenges to verify vendors. You may experience issues such as disconnected and inaccurate data, budget and personnel restraints, and restrictive workflows that prevent you from effectively completing your vendor identification program. With Thomson Reuters CLEAR, conduct identity verification, risk analysis, and flag vendors for further investigation in minutes instead of hours.
Manage front-end risk by leveraging the most current and accurate data
Verify initial vendor identity for accuracy of information, minimize potential for fraud, and meet regulatory requirements. Identify any risk associated with the vendor you are investigating, such as death records, redundant SSNs, OFAC and PEP listings, work affiliations, and businesses tied to the same FEIN.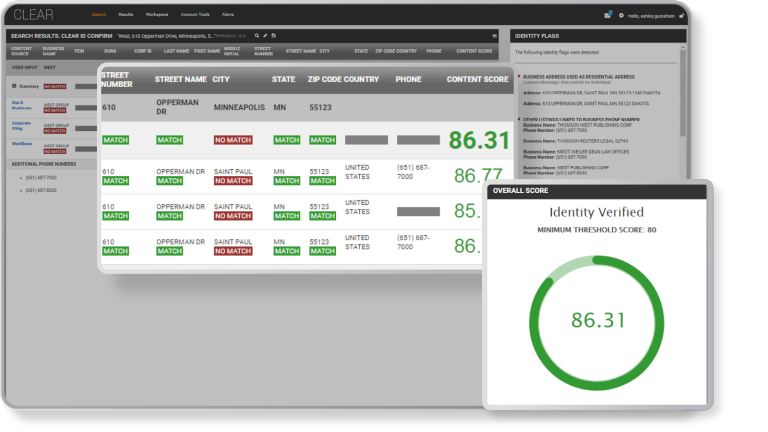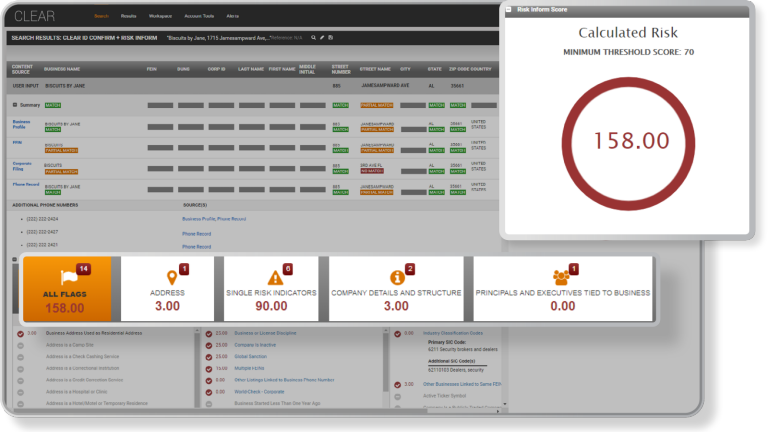 Get immediate risk insights for individuals and businesses in just one search
Automate and configure your risk analysis to fit the unique requirements of your organization. Quickly review risk indicators such as arrests, bankruptcies, sanctions, synthetic identity, and more. Receive a score that immediately identifies if the vendor carries too much risk.
Easily conduct business due diligence
See key information that indicates level of risk associated with a person or business. Save time by eliminating the need to dig through vast amounts of data by getting a high-level view of risks associated to your subject. These flags provide an additional layer of protection against identity fraud and allow your organization to know when further due diligence investigation is needed.

Always be confident the data you're referencing is credible and reliable. Only CLEAR allows you to see where the data came from, when it was supplied, and who supplied it.
Real-time credit headers from all three credit agencies, motor vehicle gateways, and incarceration and arrest gateway combined with our powerful phone and utility data puts more live information at your fingertips.
The Company Family Tree feature allows users to easily visualize relationships between parent and subsidiary companies, principals, and Ultimate Beneficial Owner (UBO) and to better understand the level of ownership involved.
Conduct high-volume searches of current and historical public records at once with on-demand, fixed-rate options
Identify business history and if it's operating under a DBA or fictitious business name, sales revenue, sales volume, and critical information related to the business for merger and acquisition reasons and more.
The Associate Analytics feature is designed to allow users to quickly scan a list of the subject's associates for inclusion of OFAC lists. Therefore, users can quickly assess potential negative affiliations with people and businesses.

Learn more about how CLEAR can help you be confident in your vendor choice
Sign up today to receive a free demo of this game-changing investigative software
Thomson Reuters is not a consumer reporting agency and none of its services or the data contained therein constitute a 'consumer report' as such term is defined in the Federal Fair Credit Reporting Act (FCRA), 15 U.S.C. sec. 1681 et seq. The data provided to you may not be used as a factor in consumer debt collection decisioning, establishing a consumer's eligibility for credit, insurance, employment, government benefits, or housing, or for any other purpose authorized under the FCRA. By accessing one of our services, you agree not to use the service or data for any purpose authorized under the FCRA or in relation to taking an adverse action relating to a consumer application.