Fraud Detect features
See the power of advanced fraud analytics and machine learning 
Analyze anomalies and patterns within program data and identify where bigger challenges, like fraud, exist

Streamline investigations and improve efficiency with advanced analytics and an intuitive interface.
Profile
Fraud Detect gives you a comprehensive and customizable view of information, alerts, and transactions for every program participant.
Scorecard
View high-risk participants within your program in a stack-ranked list based off a predetermined risk score. View score details such as dollars associated with that specific risk.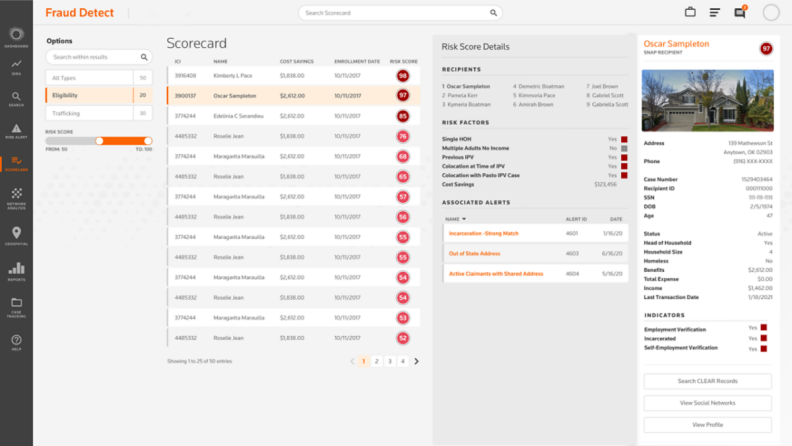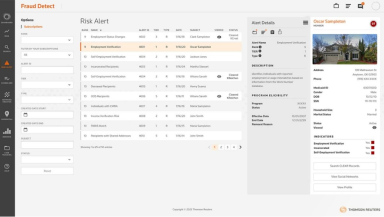 Risk alerts
Subscribe to specific alerts and view which providers or individuals trigger that alert. Alerts include deceased providers, providers with a criminal history, and incarcerated beneficiaries. View the risk alert window for more details on what triggered the notification.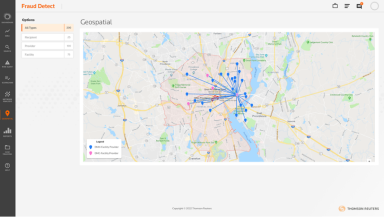 Geospatial
Get a visual representation of provider and claimant transactions to determine patterns of behavior that may be fraudulent. All program participants are geocoded within Fraud Detect to easily assess potential risky behavior.
Enhance your fraud investigations with these robust analytic solutions.
Claims analysis
Claims analysis helps further identify anomalies and patterns of fraud with visualizations that compare a provider's claims data with those of similar providers.
Network analysis
See patterns quickly and easily without your team having to build out the query. Leverage source and public records data to show the linked results that will help support your investigation.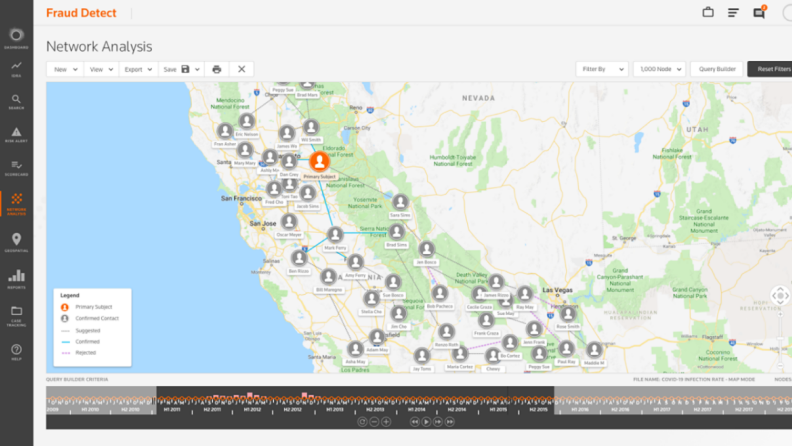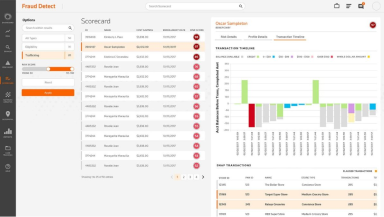 SNAP transaction analytics 
Specifically for SNAP agencies, this feature provides additional information about claimants. It allows investigators to drill down to see detailed information about SNAP benefit recipients and visualize transaction activities over a specific timeframe.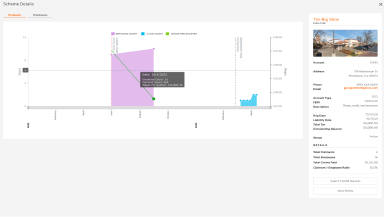 Fictitious employer 
Specifically for unemployment, agencies can analyze the relationship between wage record submission and account establishment. Merge tax and unemployment insurance data into one interface and receive risk alerts for key themes that indicate fraud.
Questions about Fraud Detect? We're here to support you.
916-389-7800
Call us or submit your email and a sales representative will contact you within one business day.
Fraud Detect support
View product support
Get answers to your Fraud Detect questions
Email product support
Thomson Reuters is not a consumer reporting agency and none of its services or the data contained therein constitute a "consumer report" as such term is defined in the Federal Fair Credit Reporting Act (FCRA), 15 U.S.C. sec. 1681 et seq. The data provided to you may not be used as a factor in consumer debt collection decisioning; establishing a consumer's eligibility for credit, insurance, employment, government benefits, or housing; or for any other purpose authorized under the FCRA. By accessing one of our services, you agree not to use the service or data for any purpose authorized under the FCRA or in relation to taking an adverse action relating to a consumer application.