Introducing HighQ 5.5
Get up to speed on the latest feature enhancements and put them to work for you
Discover what's new in HighQ
Explore the enhancements that will help you manage projects more effectively and improve productivity. HighQ 5.5 delivers customer-driven enhancements to help you improve project and contract management, deliver richer insights and customizations, manage your essential files with more flexibility, and more.
Manage projects more effectively with richer insights and customizations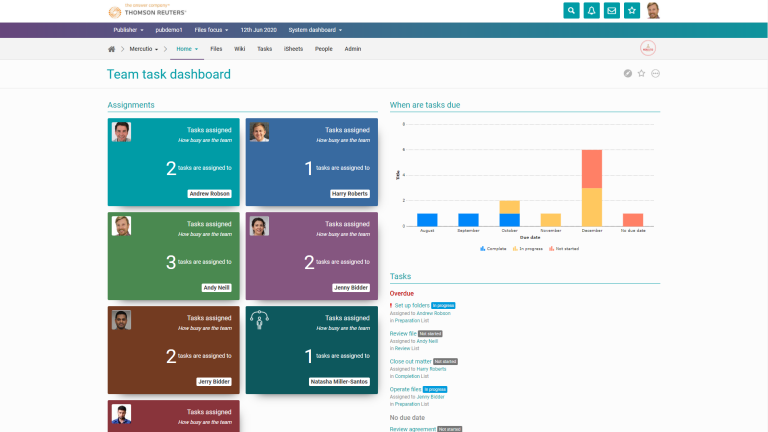 You can create more repeatable and granular project plans with task templates and sub-lists. Task templates enable you to capture and memorialize project knowledge and reuse complete sets of tasks for any matter. Sub-lists provide more granularity in managing tasks by creating hierarchical structures, useful for managing complex projects.
HighQ 5.5 gives you and your clients more insight on the progress and resource capacity for projects. Newly added data visualization KPI panels of tasks and assignees clearly display how work is divided, progressing, and more. In addition, now you can customize the branding and colors of dashboards for a more polished client experience.
Increase productivity and get everyday work done even faster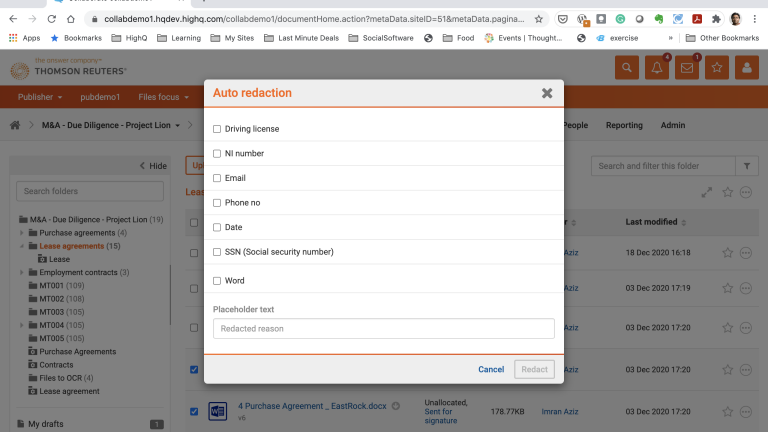 Managing documents is challenging, especially when adding numerous documents to folders with existing files. With HighQ 5.5, you no longer run the risk of adding the same file more than once. Deduplication on file upload will quickly and securely remove redundant files, so you can confidently manage documents and avoid the distractions and frustrations of duplicate files. Automatic bulk redaction is another way to quickly and easily protect sensitive information.
HighQ 5.5 lets you create more powerful and useful iSheets with one-click duplication and the auto-generation of individual iSheet records. Collaboration is also easier with the ability to comment and share on iSheet records instead of the entire iSheet.
Negotiate, manage, and execute contracts with more ease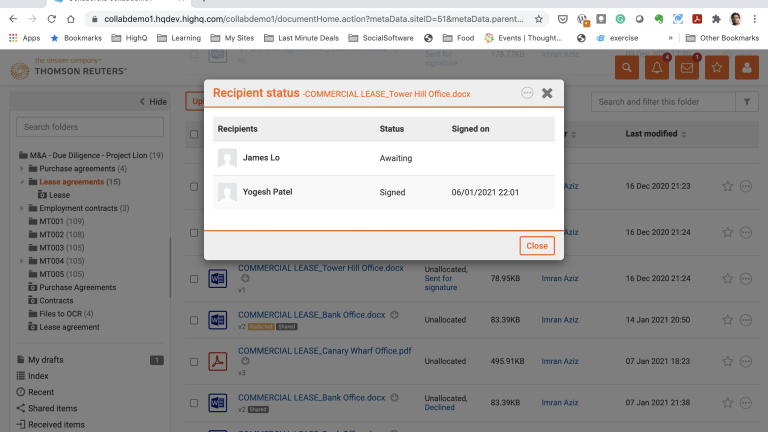 The release of 5.5 delivers on client requests for more options to share information with external parties and allow for their edits. The introduction of smart folders makes it easier to organize documents for a specific use. You can group files based on specific criterion and share them with others. This allows you to share only the files you want without having to grant access to the complete folder hierarchy.
Enhanced signature tracking is another key enhancement, providing better insight to the signing process when multiple individual signatures are required. Multiple signature tracking with DocuSign reveals who has signed and whose signatures are still required. This works great with Smart folders as you can easily assemble all files that still require a client's signature and send in one smart folder.
Manage your essential files more effectively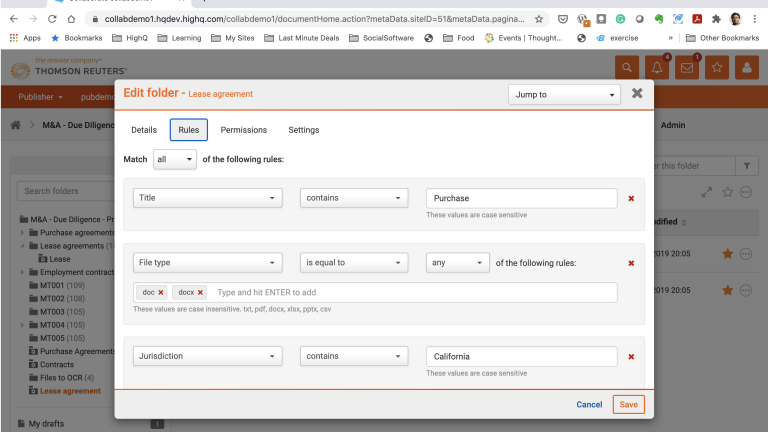 Working with and collaborating on files is at the core of HighQ. HighQ Drive can now sync content sites and provides on-demand smart-syncing for Mac users allowing for access to locally saved files while storing them in the cloud. When viewing documents, you can now choose to make private notes and annotations, helpful for when your comments are only relevant to you. Plus, there are several new ways to share files, giving you more granular control over document access and visibility.
Drive efficiencies by automating high-volume, routine documents or complex suites of documents using more powerful HighQ document automation powered by Contract Express.
Manage projects more effectively with sub-tasks, workflow audits, and workflow automation for lists.
Quickly and easily share the most relevant documents of your case in a single document bundle with bates stamping.
Perform deeper contract analysis with clause training, clustering, and improved Kira integration.
Accelerate the time it takes to deploy a site or stylize articles. New theme templates and article layouts make the creation of client portals, intranets, and articles faster.

Ready to expand your HighQ capabilities?
Discover how HighQ can help your organization be more automated, efficient, and accessible