Westlaw Classic features
Legal research service trusted by generations 
Westlaw Classic gives you access to comprehensive content and editorial enhancements that will help you save time on research tasks

Find accurate answers faster with editorial material that helps you understand the law.
The West Key Number System
The master classification system of U.S. caselaw for over 100 years helps you easily find and move between relevant cases addressing a specific point of law in any jurisdiction.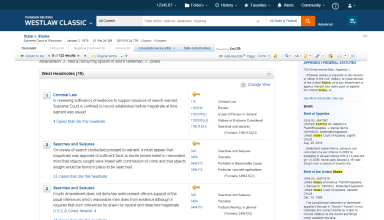 Headnotes
Rely on summaries of specific points of law addressed in a particular case, written by our attorney-editors to quickly review which points of law were addressed by the court and how it ruled. Applicable headnotes are always listed at the top of a case to easily identify those that match your facts and the desired outcome.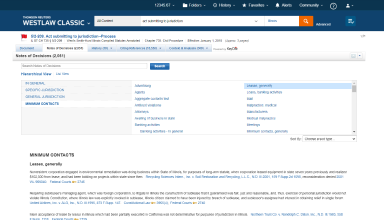 Notes of Decisions
Connect brief summaries of important cases to the statute or regulation they interpret so you can quickly understand the most current interpretation of the law. Summaries are also organized by topic or procedure to allow you to focus on particular applications of the statute or regulation.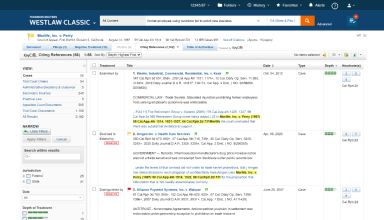 KeyCite 
The industry's most complete, accurate, and up-to-the-minute citation service instantly verifies whether a case, statute, regulation, or administrative decision has been invalidated.
Elevate your research with leading technology.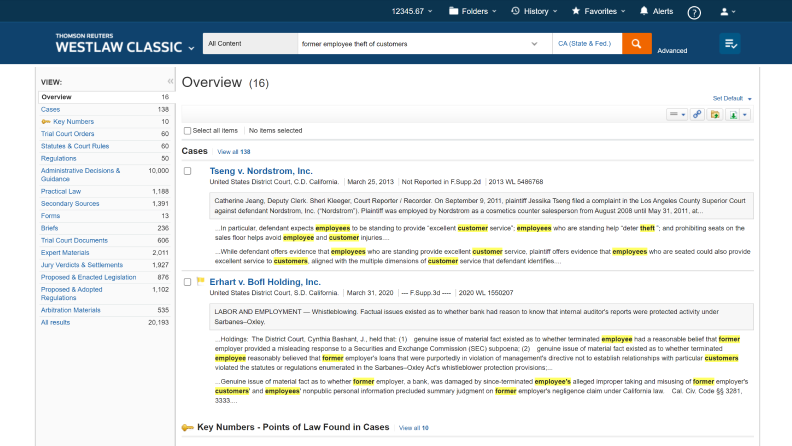 WestSearch
The legal search engine powering Westlaw, WestSearch leverages unique editorial content to identify highly relevant materials for the legal concept searched. Find accurate answers faster and complete your research with confidence.
Research Recommendations
Ensures accurate and thorough research by presenting legal-issue patterns in your document interactions and by finding additional relevant documents and Key Numbers recommended from editorial tools and common usage patterns.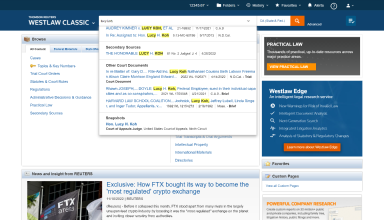 Snapshots
Helps you zero in on related search information by retrieving background history on attorneys, judges, experts, and companies and selects the most commonly cited statutes.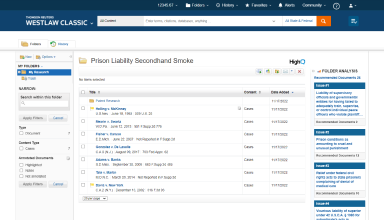 Folder Analysis 
Ensures you're considering every angle by identifying legal issues present through automatic analysis of cases in a folder.
Westlaw offers the most comprehensive, accurate, and up-to-date collection of legal information.
Caselaw
Exclusive access to the National Reporter System and the most current caselaw content, as well as additional federal and state court opinions that have not been published in a print reporter series.
Top analytical resources
Access an unparalleled collection with resources such as Wright & Miller Federal Practice and Procedure, Corpus Juris Secundum (C.J.S.), Causes of Action (COA), the complete collection of American Jurisprudence Library (Am Jur Library), and the complete collection of Restatement of the Law.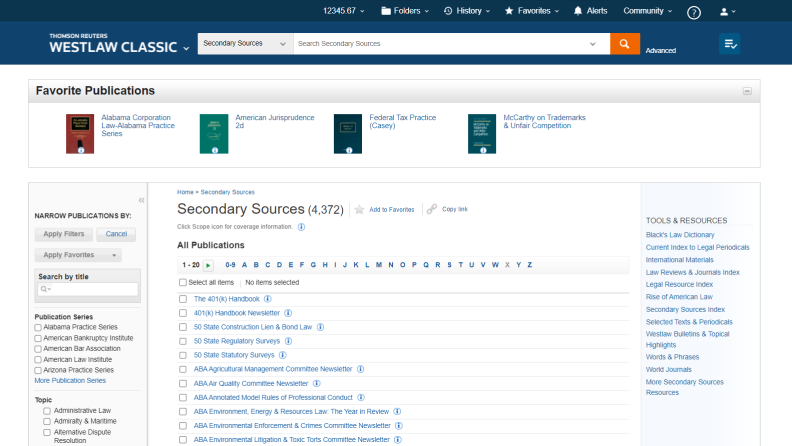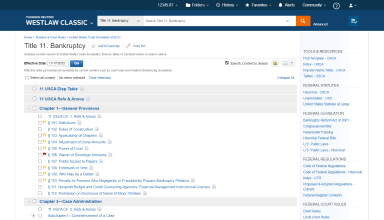 Statutes and Regulations 
Westlaw provides full coverage of statutes and regulations covering all 50 states, the District of Columbia, and other territories, as well as the most comprehensive Annotated CFR and exclusive access to the USCA. No other service offers a statute index in all 50 states and the District of Columbia.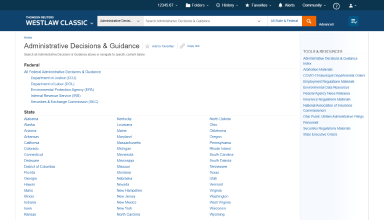 Administrative decisions and guidance 
State and federal-issued administrative decisions and guidance as well as select federal agency staff letters and opinions.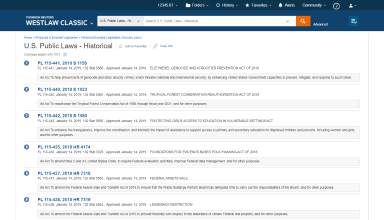 Bills and session laws 
Enacted bills and joint resolutions of Congress.
Coverage is based on the jurisdictions in your subscription.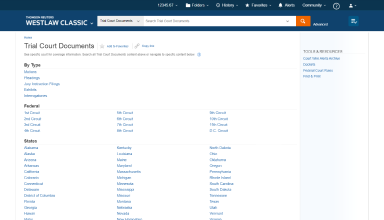 Trial court documents 
Includes pleadings, motions, and memoranda.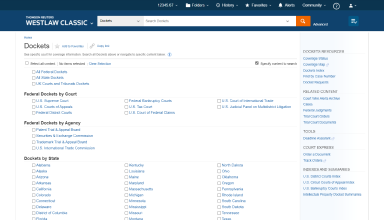 Dockets 
Available for all U.S. district courts and for many state courts.
State and federal appellate briefs 
Trial court orders, expert testimony, and more.
Legislative history 
Includes congressional committee reports, the Congressional Record, bill drafts, transcripts of legislative hearings, executive orders, and other documents.
Coverage is based on the jurisdictions in your subscription.
Jury instructions 
Form or pattern jury charges approved by a state bar association or similar group.
Coverage is based on the jurisdictions in your subscription.
American Law Reports (ALR) 
No other legal research provider offers the complete ALR series, which is one of the leading research and case-finding tools.
State and federal practice series and guides 
Authoritative analytical law series covering many topics. Procedural guides include key citations to statutes, rules, cases, forms, and "how-to" practice pointers.
Law reviews and journals 
Stay current with selected law reviews and bar journals.
Content varies based on your subscription.
Key Rules 
Outlines of the applicable rules of practice, timing requirements, filing and service requirements, hearing information, checklists, and other pertinent documents related to pleadings, motions, requests, notices, and applications in selected courts.
Behind the technology is human expertise providing you with time-savings.
Attorney-editors 
Our team of bar-admitted attorney-editors analyzes, categorizes, and summarizes the law, creating editorial enhancements to help you research more efficiently — and with greater accuracy.
Reference Attorneys 
The industry's premier team of legal research support professionals are available 24/7 to keep your research moving forward. Every Reference Attorney is a bar-admitted legal research expert with a deep understanding of our solutions.
Question about Westlaw Classic? We're here to support you. 
888-728-7677
Call us or submit your email and a sales representative will contact you within one business day.
Product support
View product training and support
Already a customer?
Sign in to Westlaw Classic