Online investigation software
CLEAR enhancements

See the updates and improvements to this powerful investigative tool
See what's new with Thomson Reuters CLEAR
Support and feedback from customers like you helps us deliver the right enhancements to expand your investigative reach.
Get immediate risk insights in one search associated to a subject or business. CLEAR Risk Inform provides detailed, configurable risk scoring based on public records and criminal data for analysts and investigators so they can confidently identify and assess risk.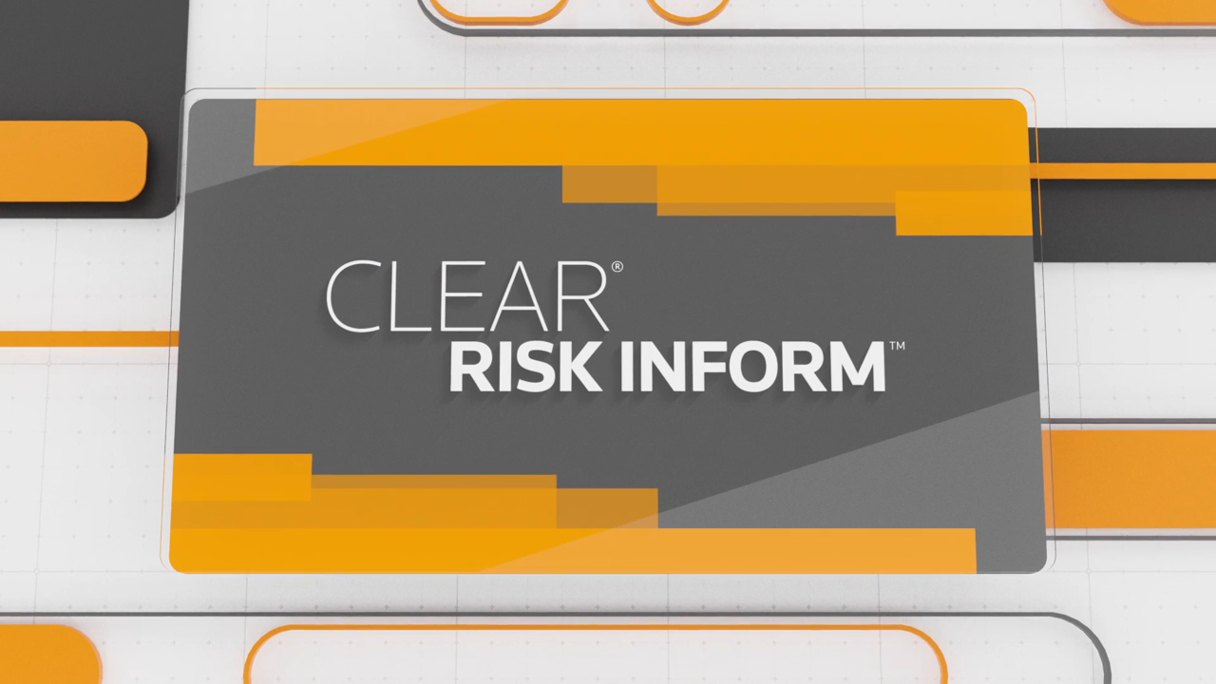 02:16
CLEAR Risk Inform features
Immediately know the level of risk associated to the subject with detailed criminal history, showing hundreds of risk flags across an array of offenses, standardized, with detailed case type identification and the total number of charges/convictions.
Customize risk scoring by selecting factors that reflect your tolerance for risk while optimizing your workflow and increasing efficiencies.
This content encompasses all entities that have Marijuana Related Business (MRB) connections in jurisdictions with marijuana licensing. Review related parties for other people and businesses that might be tied to a MRB, as well as receive alerts if anything changes.
This content has been enhanced to normalize names of jurisdiction – specific criminal charges into a general category. This enhancement enables better understanding of what is meant by the criminal charge in a jurisdiction.
CLEAR LinkCharts have been updated to perform without Java applets. Utilize CLEAR LinkCharts to expose relationships between entities that may not be readily apparent without extensive analysis. LinkCharts can also be exported to i2 Analyst Notebook for additional review.
Additional flags are now triggered when a subject has an associate or relative with particular records tied to them. These include a Marijuana Related Business (MRB), OFAC, Global Sanction, or PEP listing; a prison address on record; and address discrepancies.
CLEAR now has coverage for content from all three credit bureaus. The Equifax credit header content set includes over 352 million records, such as: name, last known address, SSN, month of birth, and more.
Leverage Passport Checker to help identify potential passport forgery. Enter information found on a passport to generate two lines of Machine-Readable Zone (MRZ) text. Compare the output to the passport in question to determine if it's valid.
Updated search capabilities
The ability to filter news searches to only US newspapers and remove duplicate news documents are available for all news searches. Search by names within a single search box that can be used without entering first or last name.
The query validation that has been added to CLEAR will now provide error messages that offer greater context around issues with the query itself. This allows you to focus on what needs to be fixed with your query to return relevant results.
Additional mapping functionality has been added to the Map Analytics module. Now you can add a person result to the map to see the most recent individuals who have been residing at a particular address.
CLEAR now offers the ability to access underlying source documents for alerts, AKA names, and Date of Birth results.
Now you can search for business credit reports in CLEAR with an input exceeding 40 characters and not receive an error message.
This enhancement to CLEAR has removed the requirements to have Real-Time Incarceration & Arrest Records included when conducting a person search. RTIA information will now pull into a Quick Analysis Flag identified by a Yes/No indicator and provide information directly from the gateway.
Questions about CLEAR enhancements?
Contact your client manager directly, or reach out to our customer support team
Thomson Reuters is not a consumer reporting agency and none of its services or the data contained therein constitute a 'consumer report' as such term is defined in the Federal Fair Credit Reporting Act (FCRA), 15 U.S.C. sec. 1681 et seq. The data provided to you may not be used as a factor in consumer debt collection decisioning, establishing a consumer's eligibility for credit, insurance, employment, government benefits, or housing, or for any other purpose authorized under the FCRA. By accessing one of our services, you agree not to use the service or data for any purpose authorized under the FCRA or in relation to taking an adverse action relating to a consumer application.