Clear - Online investigation software
Recent updates
Learn about the latest updates to features and capabilities of CLEAR
ELECTRONIC IDENTITY VERIFICATION
CLEAR ID Confirm International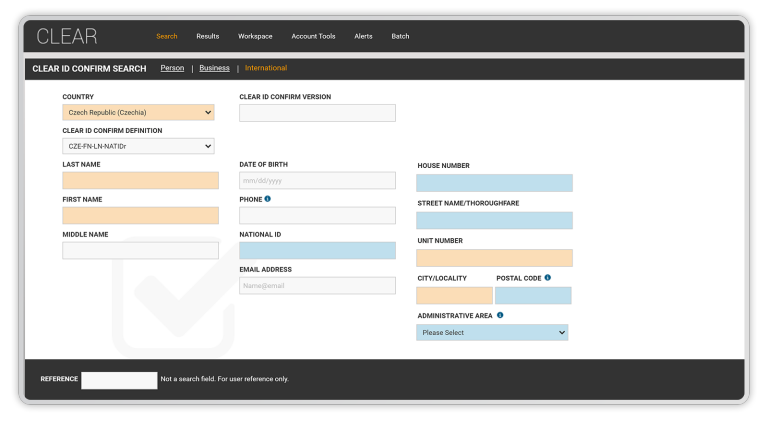 Thomson Reuters® CLEAR ID Confirm International provides expanded identification verification for international and non-US subjects. Confirm identities within 31 countries, with scoring and key risk factors highlighted. Run a search for one or two sources to compare the data the subject provided and verify if their country has the same information.
ONLINE INVESTIGATION SOFTWARE
Safeguard your organization's reputation, time, and resources by utilizing a distinct adverse media screening policy for fraud prevention. Thomson Reuters® CLEAR Adverse Media offers a one-stop platform to investigate web and news media pertaining to a specific subject while providing a relevancy rating so your organization can be aware of potential risk as it develops.
The Criminal records are classified in more granular Quick Analysis Flags categories: Criminal Record, Criminal Record- Low Level Traffic Offense, and Criminal Record-Uncategorized.
CLEAR Skip Tracing is now available in an API format.
When conducting a search if a death is on file for the subject, you will see it before you open the result.When hovering over the indicator, date of deathwill appear.
The favorites search bar includes six pre-selected searches that are utilized the most. However, these time-saving searches can be customized to match your workflow. Other search types are accessible within the more tab, located on the bottom.
Updated search capabilities
More than 550 million non-financial records are now accessible in CLEAR. This improved coverage of individuals with no credit history will help you located these hard to find individuals during your investigation.
Quick analysis flags have been updated for easier review and analysis. Yes and No indicators have been brought closer to the flag being analyzed.
Enjoy shorter reports headers, cleaner indication between sections and records, and an overall cleaner experience by removing the fields that did not return results.
Reports are now faster to create and can be created witin multiple spots within the CLEAR interface.
Questions about CLEAR enhancements?
Contact your client manager directly, or reach out to our customer support team
Thomson Reuters is not a consumer reporting agency and none of its services or the data contained therein constitute a 'consumer report' as such term is defined in the Federal Fair Credit Reporting Act (FCRA), 15 U.S.C. sec. 1681 et seq. The data provided to you may not be used as a factor in consumer debt collection decisioning, establishing a consumer's eligibility for credit, insurance, employment, government benefits, or housing, or for any other purpose authorized under the FCRA. By accessing one of our services, you agree not to use the service or data for any purpose authorized under the FCRA or in relation to taking an adverse action relating to a consumer application.