Strengthen your firm with independent legal market data
Sharplegal captures and interrogates empirical market data that law firms use to develop successful strategic plans. Insights generated through the Sharplegal study bring science and rigor to the decision-making process. Use these insights to set strategic direction, validate investment decisions, and drive successful change.
Add a research-led scientific approach to your planning

Each research program is built on a scientific and robust approach to the design, data collection, and analysis.

Base your decisions on unparalleled market insights

Size matters in an era of big data. We have over 25 million data points supporting our findings on how professional services firms need to adapt, locally and globally.

Access trusted advisors to drive sustainable growth

Expert market research analysts play a critical role in translating empirical data into practical tools and advice on how firms need to evolve to build a sustainable competitive advantage.
Stay on top of changing priorities and trends
The depth of market data that Sharplegal generates is delivered not just as stimulating content to refine strategic planning but alongside practical advice and tools that put firms in a position to adapt positively and profitably.
Anticipate current and future client demands in the markets that matter most.
Build more loyal and rewarding client relationships.
Use powerful data to create competitive advantages while reducing risk.
Maximize strategic impact
Insights from Sharplegal facilitate dynamic decision making to reduce risk and deliver competitive advantage by ensuring you can:
Align to clients' strategic agendas, enhance the client experience, and make account teams work more effectively

Assess market opportunity and potential for market share expansion
Monitor and benchmark your firm's performance, including brand and competitive landscape analysis
Better understand trends happening in the markets that matter most to your firm
Evaluate innovation ROI and spend on technology
Identify the levers to enhance diversity, inclusion, and sustainability agendas
How Sharplegal can help you achieve impact for your firm
Access yearly interviews with more than 2,100 senior legal decision makers across 22 industries and 8 geographic regions.
Give your law firm the right market research data to gain a true edge in the markets that matter.
Better understand the changing legal market from the client's perspective to help enable firm growth.
The unique feedback Sharplegal provides on current market trends has enabled us to fine tune our brand strategy. Sharplegal has also helped to identify and measure the success of our strategic plan.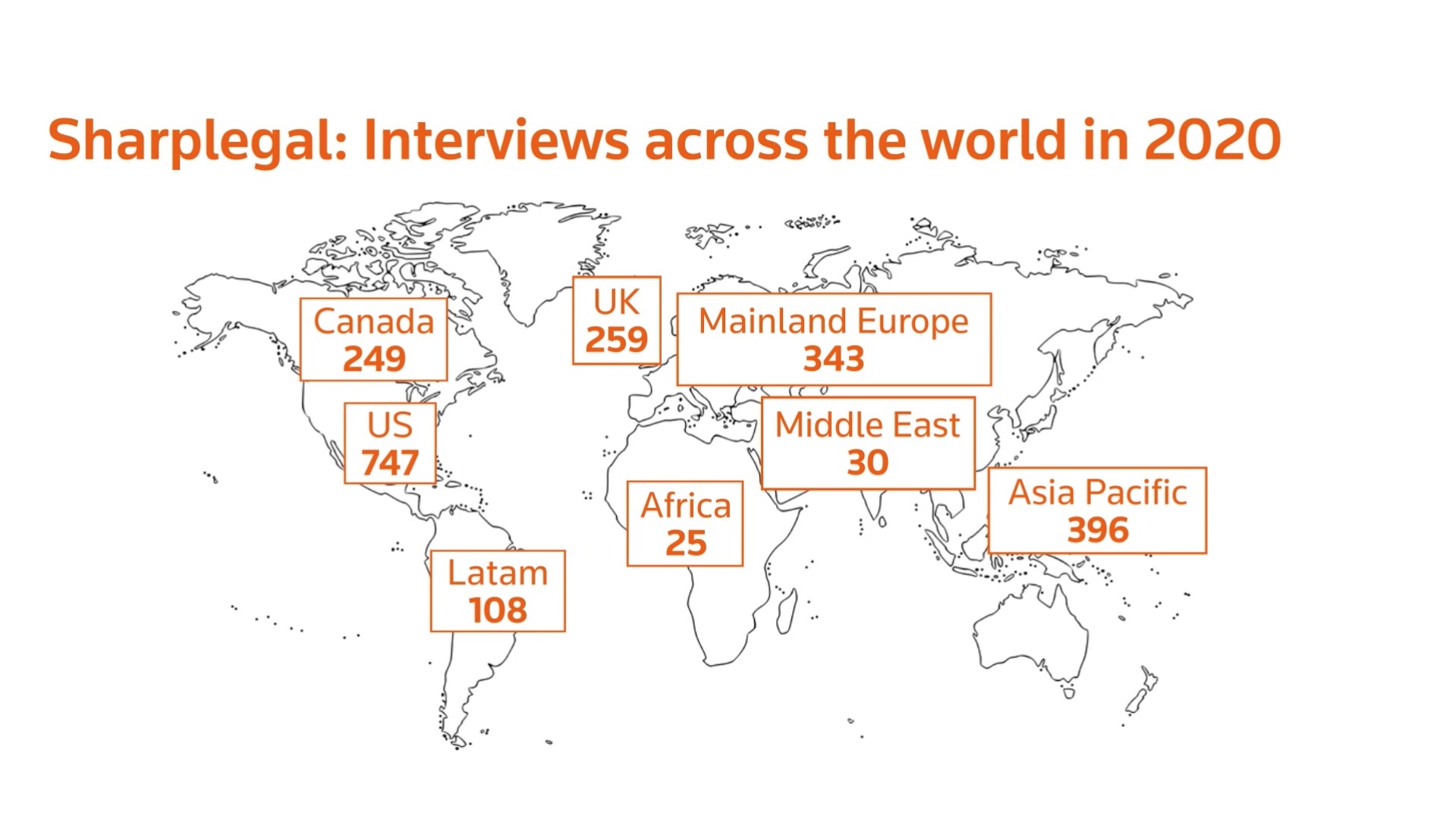 00:34
Put our data to work for you with Sharplegal
Contact us today to learn more about our transformative tools and insights for law firms