Litigation Analytics
Gain a strategic edge with data-driven insights
Crafting your strongest approach
Planning a sound litigation strategy and managing your clients' expectations requires accounting for a whole host of variables: case type, venue, legal issues, and judge – just to name a few. First-hand observation and anecdotes only go so far when anticipating all the variables inherent in litigation. Even for experienced litigators, personal knowledge has its blind spots.
Data-driven insights
Litigation Analytics on Westlaw Edge delivers the context you need to build your strategy. It mines court and docket data to provide data-driven insights on judges, courts, attorneys, law firms, and case types across the broadest coverage of state and federal court dockets in the industry.
See the power of Litigation Analytics
Craft advanced strategies
Rely on empirical data to build your strategy.
How can I better understand involved parties?
What is the likely outcome for my case?
What is the expected timeline?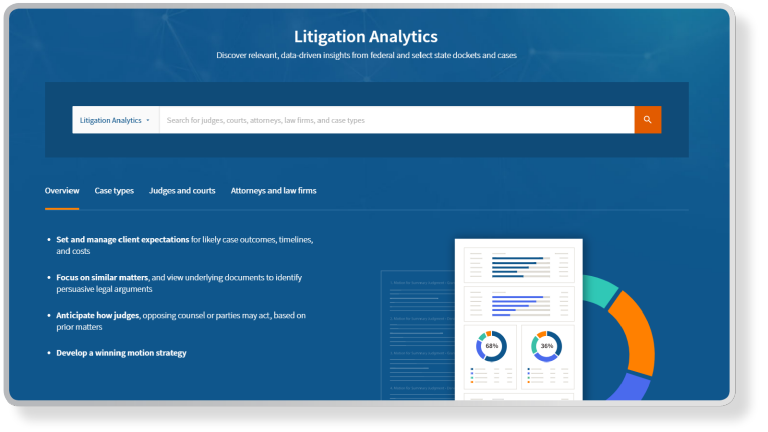 Make your strongest argument
Understand what precedents your judge has relied on in similar cases.   
What cases did my judge rely on for my issue and how often?
How likely is my judge to cite to another judge from a different jurisdiction?
What are the outliers?
Understand the opposition
Get greater insight on the tendencies of attorneys and law firms.
How experienced is opposing counsel for a particular issue?
What is opposing counsel's success record on motions to dismiss?
How does the firm fare for this motion in front of my particular judge?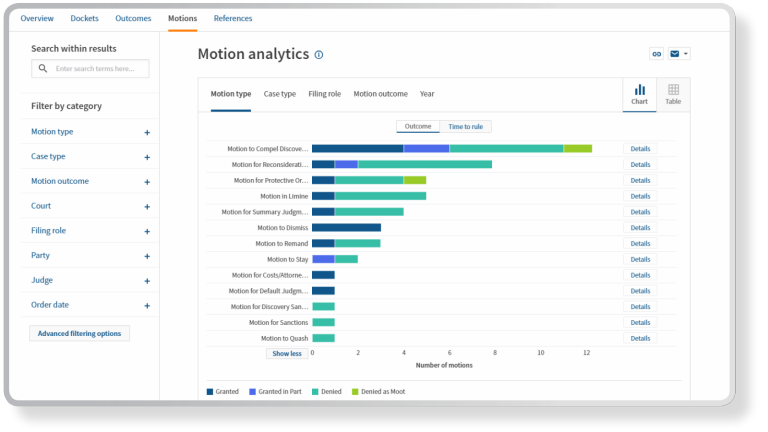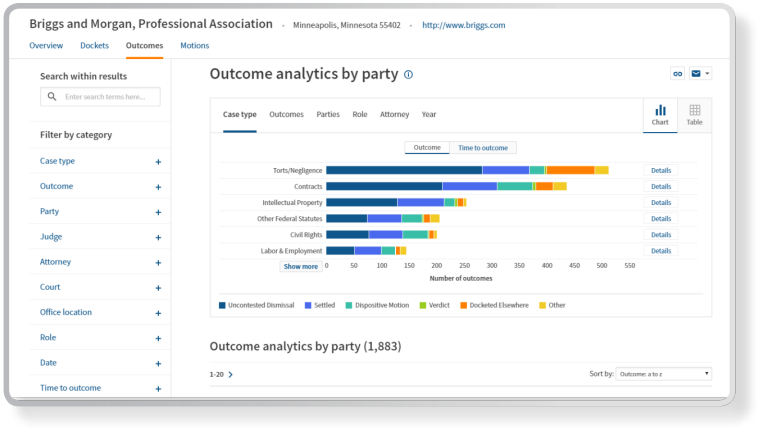 Gather more context when choosing outside counsel by reviewing a counsel's previous litigations outcomes.
Who are the most experienced attorneys for any particular issue?
Who is the most experienced firm in the jurisdiction to represent my client?
Build stronger client relationships
Set realistic expectations on outcomes, timelines, and expense.
How long will it take to resolve this type of case in front of my judge?
How often does my judge grant summary judgment motions?
Which court is the best suited for my client's claim?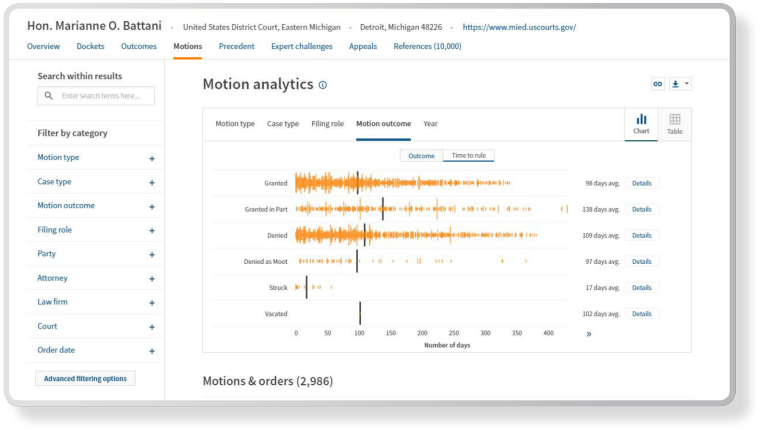 See what's new on Litigation Analytics
Greater transparency, new active judges page, and an improved judge overview page