Litigation Analytics
Gain a strategic edge with data-driven insights
Discover a new level of insight
Litigation Analytics delivers relevant data-driven insights on judges, courts, damages, attorneys, law firms, and case types across the most practice areas. Easily gather relevant information to build the strongest case strategy and respond to clients even faster with the initial case context around likely outcome, timeline, and cost.
Quickly assess and value litigation with Damages, now available in Litigation Analytics on Westlaw Edge. Simply choose your courts and case types from the Damages tab on the Litigation Analytics home page and use appropriate filters to uncover and evaluate awarded damages. Whether you're looking to determine cost-benefit analysis of taking on a case, settlement negotiation approach, or possible client risks or exposures, Damages will help you determine the best course of action.
See what Litigation Analytics can do for you
Better set and manage client expectations in terms of cost, timing, and likely outcome by understanding the most probable results. Get a sense of how long it will take to resolve this type of case in front of your judge, how often your judge grants summary judgment motions, and which court is best suited for your client's claim.
Get the most relevant highlights for your judge, including ruling tendencies, speed, case type experience, appeals, recent activity, and more. Tailor judge analytics data using filters to narrow your results.
Quickly understand the context of your judge compared to the court average, compare judges, or apply new dynamic filters to narrow your results. Plus, apply dynamic filters and control display options.
Understand what precedents your judge has relied on in similar cases. Find out which cases your judge relies on for your issue and how often, how likely your judge is to cite to another judge from a different jurisdiction, and if there are any outliers.
Get greater insight on the tendencies of attorneys and law firms. Know how experienced the opposing counsel is for a particular issue, what the opposing counsel's success record is on motions to dismiss, and how the firm fares for a motion in front of your judge.
Gather more context when choosing outside counsel by reviewing a law firm's previous litigations outcomes. Identify the most experienced attorneys for your issue. Have confidence you are choosing the most experienced firm in the jurisdiction to represent your client.
Easily toggle between state and federal analytics separately.
Learn more about the detailed coverage information for your analysis. Plus, see full details on what's included with an enhanced coverage map accessible from any Litigation Analytics page.
New! Filter your analytics by the Public Health Emergencies case type where you can narrow results by five sub-types, including: Coronavirus/COVID-19, Epidemics/Pandemics, Opioid Litigation, Influenza & Viruses, and AIDS & HIV.
Advantages of data-driven insights
See how a judge typically rules, subject matter expertise, time to rule, and authority they tend to cite.
Manage expectations around timing, cost, and likely outcome by understanding the most probable results.
See example motions a judge has granted for a case type and find related facts in the motion.
Craft your strongest approach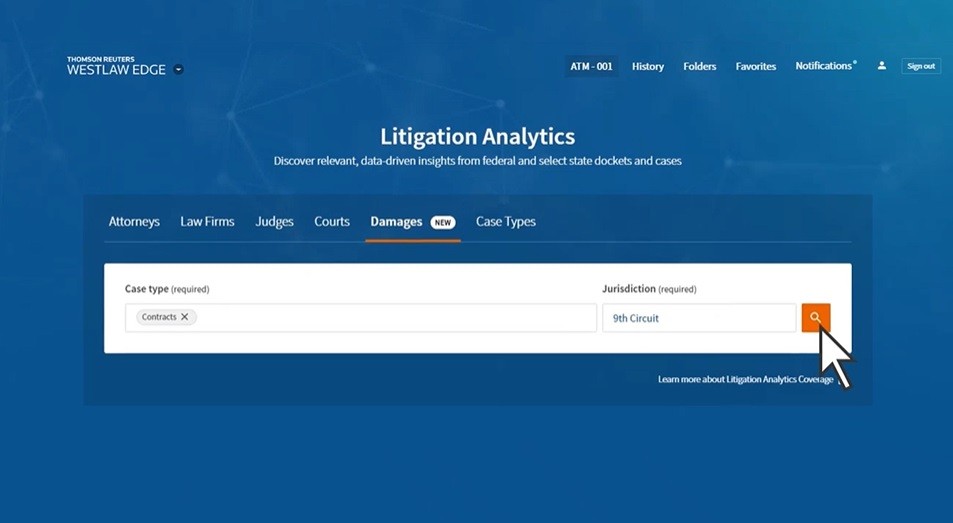 01:43
To have this analytical information integrated within Westlaw Edge is a game changer.